What to Expect: Penn State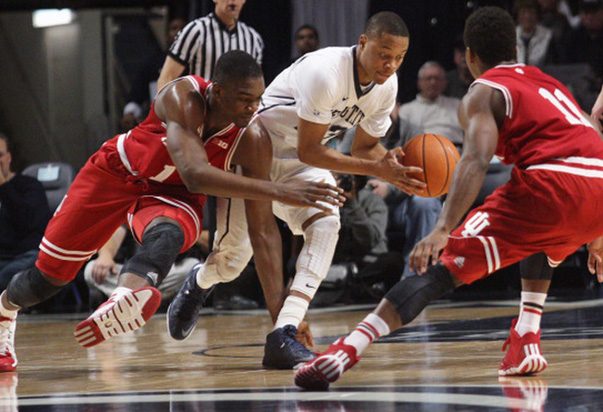 Indiana will look to complete a season sweep on Wednesday when it welcomes Penn State to Assembly Hall. The Hoosiers trailed by 15 in the first meeting between the teams on Jan. 11, but prevailed 79-76 over the Nittany Lions for their only road win of the season thus far.
The game will be broadcast on BTN at 7 p.m. ET and on the IU radio network (Sirius 108, XM 190):
As the calendar prepares to hit mid-February, Indiana is running out of time to make a run and a climb up in the Big Ten standings. The Hoosiers have avoided losing more than two in a row in league play, but they've been unable to string together the necessary wins to get back to .500 in league play.
With just eight conference games left, we've hit the point where one of two things will happen: IU could reel off two or three in a row and get in position for nine conference wins and keep its NCAA tournament hopes alive. Or the Hoosiers could continue along the path we've seen in recent weeks: A win at home followed by an inability to close the door on the road with a second half lead. That path would likely only be good enough for seven or eight conference wins and a berth in the N.I.T.
In a season where the Hoosiers continue to search for consistency, this is the week where they must find it. On the schedule is a Penn State team that's reeling a bit after two straight conference losses, including a home loss at the hands of Illinois. And then it's on to Purdue, a team that's in nearly the same boat as IU from an experience standpoint with less overall talent.
At 14-9 overall and 4-6 in the Big Ten, Indiana's margin for error is small. And as the days continue to pass on the calendar, it's become now or never time if the Hoosiers are going to make a push for a third straight NCAA tournament appearance.
PERSONNEL
At the top of the scouting report for the Nittany Lions are a pair of guards, D.J. Newbill and Tim Frazier, who are accounting for 30.1 of the team's 70.9 points per game in league play. Frazier has been the more efficient player in Big Ten games with an effective field goal percentage of 49.1, but Newbill is the team's leading scorer in conference at 16.2 points per game with an eFG% of 45.4.
As pointed in out in the Big Ten power rankings over at UMHoops.com, both players are exceptional in isolation situations: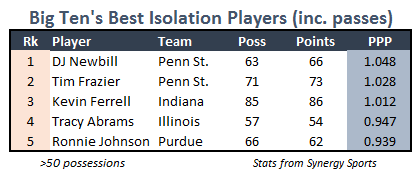 Where both players struggle is shooting from the perimeter — Newbill is only hitting 26.7 of his 3s in conference and Frazier is hitting just 32 percent of his trey attempts. Frazier is also Penn State's best distributor with an assist rate of 28 percent, but he's also turnover prone with an average of three per game.
Three guards — Geno Thorpe, John Johnson and Graham Woodward — see minutes of the bench with Johnson and Woodward as the two more frequent contributors. Johnson has been even worse from the perimeter than Newbill with a 3-point percentage of just 22.5 in conference while Woodward hits 40 percent of his 3s.
In the frontcourt, Pat Chambers went with Donovan Jack, Brandon Taylor and Ross Travis in the loss to Illinois, but that could potentially change as Woodward has been starting some as of late. Taylor is the best scorer of the three (8.7 ppg), but is hitting just 35.2 percent of his 2s and 31.1 percent of his 3s. He's also an average rebounder (4.4 rpg) for a player with his size at 6-foot-7 and 235 pounds.
Travis has also shot in poorly in Big Ten play, hitting just 37.3 percent of his 2s, while Jack, who prefers to operate primarily on the perimeter, has the best effective field goal percentage on the frontline at 47.2.
TEMPO-FREE PREVIEW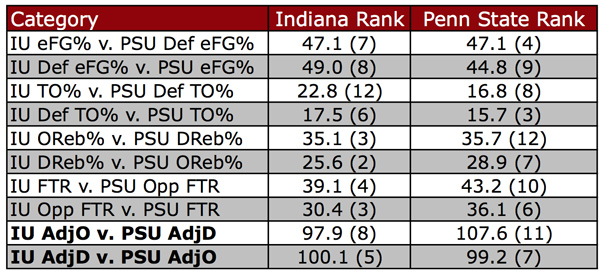 Both teams have similar offensive outputs thus far in Big Ten play. Indiana is scoring .98 points per possession and Penn State is at .99. The Hoosiers, however, have a top five defense while Penn State is closing in on the conference cellar.
The Nittany Lions don't turn it over much and they're also solid defending the 3-pointer in league games, but there are several key areas that IU should be able to exploit:
· Get to the line: Penn State is actually second in the conference in 2-point field goal percentage defense, but the Nittany Lions have struggled to keep teams off the foul line, which is a strength of Indiana's offense when it attacks.

· Crash the boards: Penn State is the Big Ten's worst defensive rebounding team and in the win at the Bryce Jordan Center, Indiana rebounded 48.6 percent of its misses. Even if Indiana isn't shooting well, second chance points will be there for the taking.
Also of note: The Nittany Lions rank second in the Big Ten in block percentage, so it's important for Indiana, a team that doesn't finish particularly well through contact, to avoid forcing the issue around the basket.
WHAT IT COMES DOWN TO
Of Indiana's remaining games, Pomeroy ranks this as the best chance for a win at 76 percent and his model likes Indiana to win, 74-67. Sagarin likes Indiana by closer to eight points and the Vegas line opened with the Hoosiers favored by eight as well.
Penn State, like Indiana, has one road win in conference, an impressive 71-70 triumph in overtime against Ohio State back on Jan. 29. In a year that's truly been unpredictable, it's tough to say whether that Nittany Lions team, or the one with three conference road losses by 13 or more, will show up.
For Indiana, this is a must-win to keep any hope alive of pushing back to the .500 mark in conference play and given how big of a mismatch Noah Vonleh is for Penn State to handle inside, it's a great opportunity to involve the big man early and often. Prior to the game at Michigan State last month, we wrote that it was gut check time for the Hoosiers. On Wednesday night, it's now or never time if Indiana is to make a strong push going as the calendar quickly heads towards March.
(Photo credit: Craig Houtz/GoPSUSports.com)
Filed to: Penn State Nittany Lions