Notes, quotes from Tom Crean on Big Ten teleconference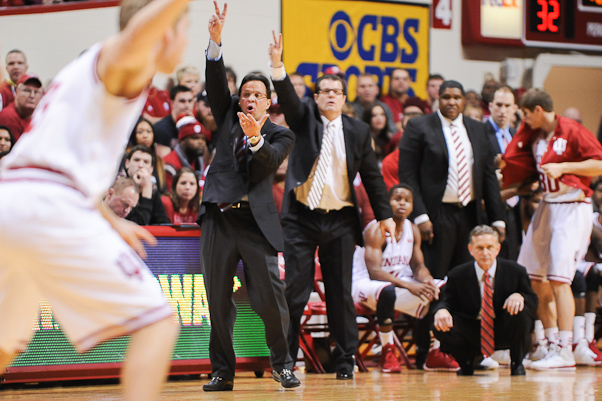 The Big Ten held its weekly coaches teleconference on Monday morning to review the sixth week of conference play. Here are some notes and quotes from Tom Crean's appearance:
· Prior to the call, the conference announced that Wisconsin's Nigel Hayes was named the league's freshman of the week for the third time this season and Ohio State's Aaron Craft was named the league's player of the week for the second time this season.
· Opening statement: "Our focus right now is just on the week ahead and getting back to practice today after taking yesterday off and totally being locked into Penn State after we go through the corrections and the good and the not so good from the other night and what we can learn from that. We're ready to roll."
· Crean was asked about coaching a team that draws a strong response and how his message to his players about dealing with fan behavior has changed or evolved: "I think the biggest thing and obviously I'm sure that every coach in the country is going to be reminding their team of it today, if they didn't yesterday … and the bottom line for us is that you can't ever let anybody get in the way of your career, get in the way of the way of your responsibility to your team and most importantly, you can't ever let anybody get to you in a way that's going to affect you in a negative way.
"It's a lot easier said than done, there's no question about that. The bottom line is, the more that you can treat, especially on the road, which is hard, but the more that you can treat the noise and treat the barbs and treat all of that as just faceless and nameless, the better you're going to be. Again, that's hard to do. It's very, very hard to do. It's very easy to talk about it. It's a lot harder to actually do it because you want people to have an incredibly competitive spirit when they're playing. It doesn't matter if you're a coach or you're a player, it's very, very hard to turn that off. And if you turn it off too quickly, you don't win games. But the bottom line is you've got to keep trying to remind people that the fight is within the lines. The fight is within the 94 feet. The fight is within the football field, the baseball diamond, whatever it is. You keep the fight in there, you keep your edge in there and you try to treat the rest of it just as noise that you work through."
· Crean was asked whether there is a line to be drawn between a great atmosphere and an abusive atmosphere and if there's anything schools need to do to safeguard against it: "I definitely think there's a line. I'm always begging for an incredible home court advantage because we have such a large student body, the largest in the country for games and you want that. And you can't just rely on human decency to override the emotion and the passion of the game. And I do think that the line gets crossed constantly. I'm not in our student section, I'm not in our fan section, but when you go on the road, and I'm sure there would be opposing people who would come in here that may feel the same way, but you go on the road and the line does get crossed.
"The best thing you can do is cheer for your team. The best thing you can do is root against the other team without making it so personal. The bottom line is that we're not going to legislate that, we're not going to govern that. I think when it crosses the line, I think that's where security or administration or people that are put in charge of it should feel that ability to remove somebody from it, if it crosses the line. I think when you start to really get abusive in a personal nature, get abusive with your language, first off it's not fair to the people who are sitting next to you or the people that are sitting around you. And then you don't want that agitation to create. There's many, many environments that don't cross the line and it's just a great experience, not necessarily a great experience for the road team, but you don't want it to be a great experience for them. But you don't want it to be one where it's so abusive that it breaks their spirit in the sense of what they're out there to do. And I think that's where the line gets crossed a lot of times."
· On if he would have changed the defense and gone zone in Minnesota's final possession after looking at the film: "No, at the end of the day, Richard (Pitino) did a great thing. He had a poor foul shooter in the game and he took him out at the timeout. So there really wasn't anybody in the game at that point, especially with the seven second differential like I said the other night, you're going to trust your defense. It really comes down to this: When we looked at how we were playing the ball, we were doing a great job playing the ball and then you extend it. And the last thing you want to do against a young man with that speed and quickness is get extended. And we were doing a really good job of trying to keep it off balance and we let him get to his right hand and the bottom line is, I'm not sure the zone would have changed it with the spacing that they had on the court. The bottom line is that once in a while, you've got to win your own battle. And the one-on-one battle that sometimes ensues in games like that, you've got to stay true to your technique, stay true to the detail of it and it rarely ever comes down to one possession or I really don't think that should ever be lost it in. They made one more big play than we did is really what it comes down to. And it was a big play and it was a deciding play. The bottom line is, you've got to trust your defense in that situation and I'm not sure getting zone without a ball screen, if the ball screen would have come then it's a natural that we're going to flow right into the zone, but without that, you've just got to stand there and just win the battle."
· On Jeremy Hollowell's response after missing three games and also on Troy Williams: "The practice part of it, Troy's had some really good weeks, Jeremy's had some good days. And as Jeremy turns those days into weeks, I think it's going to be even better for him. But when he goes in with a defensive mindset and 'I've gotta be aggressive on both ends of the floor,' going in with a rebounding mindset, attacking the basket, good things happen for him. And he went in with that kind of approach the other day. And I think the more that he's consistent in practice with that approach, the more that he can carry it over into games.
"Troy just continues to get better and better. And we're going through the learning process. The learning curve with three freshman and Evan (Gordon) being new to us and all of those things, they're still new to this league. No matter how many games you play, you're still new to it. It's not an excuse and they've got to continue to get that understanding of what it takes in the league and what it takes to be locked in to every possession. When you have young guys and you have guys that haven't been through it as much, you have to live with some of the mistakes as you get to the successes. And I think in Troy's case, he's always practiced very hard, now there's more of an efficiency to him and I think that's going to continue to carry out in the game as long as he continues to have the same approach."
Filed to: Jeremy Hollowell, Tom Crean, Troy Williams