Bubble Watch: IU out in latest projections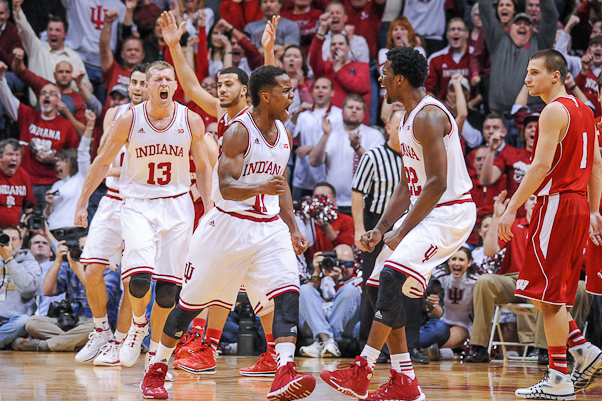 The title "March Watch" has been jettisoned out in favor of "Bubble Watch" for now as Indiana is officially a bubble team in early February. At this point the past two seasons, the NCAA tournament discussion regarding the Hoosiers was about seeding and location.
The debut of Bubble Watch takes a look at IU's current nitty gritty profile, some of the current competition for at-large spots and what the Hoosiers might need to do to reach the tournament for a third straight season.
Overview
It's been a roller coaster season so far in Bloomington as Indiana has home wins over a pair of top 10 (at the time) teams in Michigan and Wisconsin, but also has a home loss to Northwestern and just two wins away from Assembly Hall. With nine conference games to go, including five on the road, there's still plenty of time for Indiana to strengthen its resume.
Nitty Gritty Profile
· Record: 14-8 (4-5 Big Ten)
· RPI: 64
· SOS: 54
· Home Record: 12-2
· Away Record: 1-4
· Neutral Court Record: 1-2
· vs. RPI Top 50: 2-4
· vs. RPI Top 51-100: 3-3
Current Projections
· ESPN Bracketology (Joe Lunardi): Fourth team in "first four out"
· CBS Sports (Jerry Palm): Not among "first four out"
· Crashing the Dance: Fifth team out
Not surprisingly, none of the three projections we're currently tracking have Indiana in the tournament, but the win over Michigan on Sunday put the Hoosiers back in the discussion.
Potentially working in Indiana's favor is the number of RPI top 50 games remaining on its schedule compared to some of its primary bubble competition (this list of teams is using Lunardi's latest bracket math):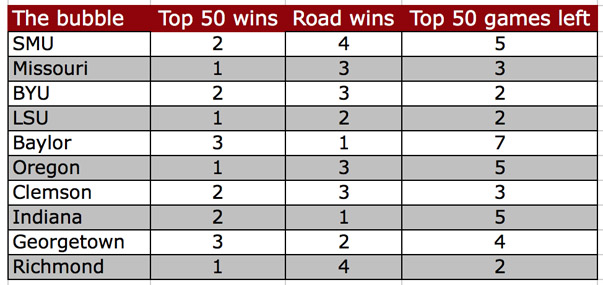 Missouri, BYU and LSU all look vulnerable given the amount of top 50 games they have remaining and the strength of the SEC (7th in RPI) and the West Coast (9th in RPI). Specifically, LSU has both of its remaining top 50 games on the road (at Kentucky and at Florida) while Missouri has at Florida and Tennessee twice.
From this group, Baylor, Oregon, Indiana and Georgetown are probably the three teams with the most chances to impress the selection committee.
Of Indiana's remaining RPI Top 50 games, three of them are on the road (Minnesota, Wisconsin and Michigan), so a win in any of those will hold tremendous value. With only four remaining home games, the Hoosiers need at least one road win to give themselves a chance a .500 or better record in Big Ten play.
While a .500 record in the Big Ten may not eliminate the need to win a game at the conference tournament in Indianapolis, it's hard to see a team that wins 19 games and nine games in a top two conference being left out.
A look at the conference as a whole
As for the Big Ten at-large, most of the projections have it as a six-bid league. Right now, you can probably only put Iowa, Michigan State and Michigan as the teams that are "locks" to make it at this point and that's because teams like Ohio State, Wisconsin and Minnesota already have five conference losses each.
In looking at the potential for other teams to join the bubble, Northwestern and Nebraska currently make the strongest cases as the Wildcats are 5-5 in Big Ten play with two top 50 wins and four road wins and the Cornhuskers are 3-5 in league play but have just two top 50 wins and zero road wins. Illinois, which once looked to be in good shape after a solid non-conference record and a 2-0 start in league play, is in a complete free fall.
2014 Tournament Sites
· First round: Dayton
· Second, third round: Buffalo, Milwaukee, Orlando, Raleigh, San Antonio, San Diego, Spokane, St. Louis
· Regional: Anaheim, Indianapolis, Memphis, New York
· Final Four: Dallas
Filed to: NCAA Tournament