March Watch: Hoosiers look like a lock for No. 1 seed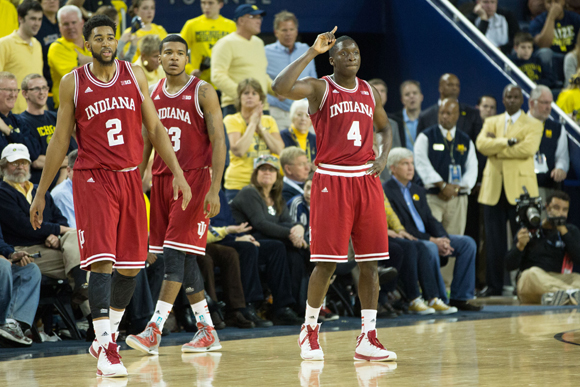 Only four days remain until Selection Sunday and with a win at Michigan and an outright Big Ten championship, Indiana appears to be a lock for No. 1 seed. Our final edition of March Watch brings you the latest numbers behind IU's nitty gritty profile and also a look at possible matchups for the Hoosiers in the opening round of the NCAA Tournament.
Overview
The Hoosiers have played once since our last update, winning a road game against Michigan and completing a regular season sweep of the Wolverines. With a Big Ten regular season championship that included road wins over Michigan, Michigan State and Ohio State, the Hoosiers boast arguably the most impressive resume of any team in the country. In the latest s-curve of ESPN bracketologist Joe Lunardi, Indiana is No. 2 behind Duke. ($)
Nitty Gritty Profile
· Record: 26-5 (14-4 Big Ten)
· RPI: 5
· SOS: 11
· Home Record: 17-2
· Away Record: 7-2
· Neutral Court Record: 2-1
· vs. RPI Top 50: 8-5
· vs. RPI Top 51-100: 3-0
Indiana's RPI rose five spots since our last update and its strength of schedule figure jumped up three spots.
Bracket Projections
· ESPN Bracketology (Joe Lunardi): 1 seed (Midwest) vs. Western Kentucky in Dayton
· CBS Sports (Jerry Palm): 1 seed (Midwest) vs. James Madison/Southern in Dayton
· Sports Illustrated (Andy Glockner): 1 seed (Midwest) vs. Southern/Western Kentucky in Dayton
All three bracket projections we've been tracking since January have Indiana as the No. 1 seed in the Midwest regional which will be played at Lucas Oil Stadium in Indianapolis. Of interest now are the potential regional opponents for the Hoosiers and each bracket offers different scenarios. Lunardi groups IU with Georgetown (2), New Mexico (3) and Oklahoma State (4). Palm has the Hoosiers with Georgetown (2), Miami (FL) (3) and Kansas State (4). Glockner's scenario includes Louisville (2), Florida (3) and Kansas State (4). The Louisville scenario looks unlikely if the Cardinals win the Big East Tournament as they could be in line for a No. 1 seed of their own, most likely in the South regional. Crashing the Dance, which uses brackets from the past to predict what the selection committee will do, has IU as the third No. 1 seed.
Tournament Sites (distance in miles from Bloomington in parenthesis)
· First round: Dayton (139)
· Second, third rounds: Auburn Hills (295), Austin (881), Dayton (139), Kansas City (435), Lexington (133), Philadelphia (608), Salt Lake City (1343), San Jose (1908)
· Regional: Arlington (723), Indianapolis (45), Los Angeles (1791), Washington D.C. (515)
· Final Four: Atlanta
Filed to: NCAA Tournament