What to Expect: Nebraska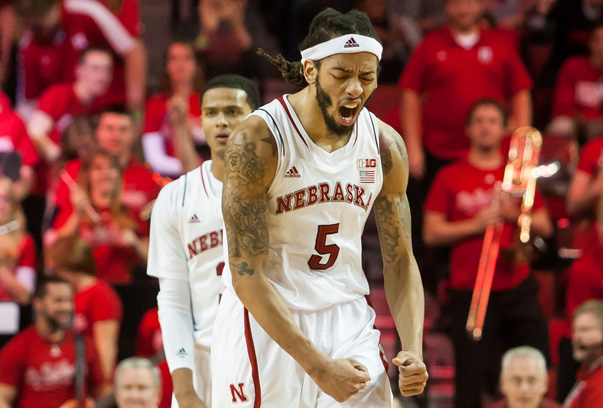 Indiana goes back on the road on Thursday evening for a meeting with Nebraska, which is 9-1 in Pinnacle Bank Arena. It will be the first trip for the Hoosiers to the new venue, which opened last August.
The game will be broadcast at 8:15 p.m. ET on BTN and on the IU radio network:
After evening up its home record in Big Ten play, Indiana will have a chance to do the same thing with its road record in league play on Thursday in Lincoln. It'll be no easy task, as Nebraska is 2-1 at home in the Big Ten at home with wins over Ohio State and Minnesota and a one-point loss to Michigan in early January.
And while going into Nebraska and getting a win the past two years hasn't been difficult — the Huskers were 7-11 at home over their first two Big Ten seasons — things are different this year.
The addition of second-year coach Tim Miles, who is bringing much needed enthusiasm to the program, along with the new building that is attracting sellouts, makes Nebraska a program that seems to be on the rise.
"It's been amazing for our whole community and our basketball program especially," Miles said of Pinnacle Bank Arena on Monday during the Big Ten coaches teleconference. "It's a great place to play. It's got a neat energy level when you're in there. It's got a great vibe to it. It carries noise really well and our guys like it."
In a conference with 10 of 12 teams that already have three or more losses in league play, this upcoming three game stretch (at Nebraska, Michigan, at Minnesota) is critical as Indiana closes in on the halfway point of league play. A couple of wins could put the Hoosiers in line for a finish in the top half of the league.
Two or three losses, on the other hand, could make seven league wins the ceiling. Such is life in 2014 in the Big Ten, which is once again the nation's toughest league.
PERSONNEL
If you're going to make a list of the best Big Ten players you've never heard of, go ahead and put Cornhuskers wing Terran Petteway at the top. The 6-foot-6 sophomore, who transferred from Texas Tech, is averaging 19.7 points per game in league play and according to Synergy Sports, is the best pick-and-roll player in the league with 1.24 points per possession. Petteway is coming off his best performance of his career, a 35-point torching of Minnesota. Petteway is using 29.7 of Nebraska's possessions and is shooting 83.6 percent from the foul line, 48.5 percent on 2s and 39.2 percent on 3s.
Nebraska's backcourt depth took a hit this week when Miles announced the dismissal of backup point guard Deverell Biggs, who was second on the team in scoring in league games at 10.8 points per game.
Senior Ray Gallegos and freshman Tai Webster start alongside Petteway in the backcourt and both players bring a little something different. Gallegos has taken a team-high 94 attempts from behind the 3-point line, where he's hitting 37.2 percent. Webster, a freshman and native of New Zealand, does a solid job getting to the line (73.6 free throw rate), but is turnover prone (26 percent) and a work in progress. Sophomore point guard Benny Parker figures to be the biggest beneficiary from the Biggs dismissal, as he'll slide into the role of backup for Gallegos and Webster.
Nebraska's frontcourt isn't spectacular, but it's very solid. Shavon Shields, who has some guard skills, plays the role of undersized four and is averaging 11 points and 5.9 rebounds per game. Shields is a decent 3-point shooter (35.5 percent), but is most dangerous as a slasher who can get to the foul line (60.9 free throw rate). Walter Pitchford, who transferred from Florida and was a one-time recruiting target of Indiana, starts at the five and can step out and shoot it. Pitchford is hitting 37.9 percent from distance and is only turning it over on 3.4 percent of his possessions.
Pitchford's back up is 6-foot-8, 255-pound wide body Leslee Smith, who is easily Nebraska's best rebounder (13.8 OR%, 21.6 DR%). Smith also makes the most of the offensive opportunities he receives as he's hitting close to 60 percent of his shots.
TEMPO-FREE PREVIEW
As we did with Illinois, we're switching things up here a bit as both teams have a healthy enough sample size to display conference-only stats and ranks: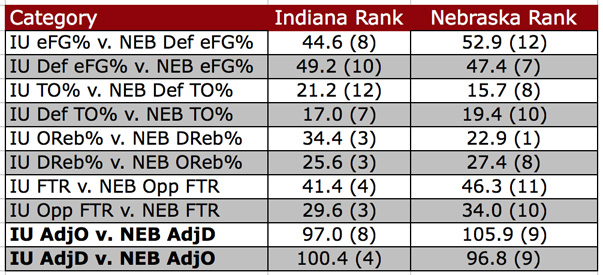 The major factor in this game for Indiana may come down to how well the Hoosiers are able to get to the foul line. Nebraska fouls quite a bit, doesn't defend 2s very well (52.4 percent in Big Ten games) and is also last in conference play in blocking shots (6.9 block percentage in Big Ten). Simply put, Indiana has to get to the rim and either finish shots or get to the foul line.
The turnover battle also looms large as both teams have been turnover prone (21.2 percent for IU vs. 19.4 percent for Nebraska), and in a game that has a chance to be played with some pace, avoiding the sloppy turnovers that have plagued IU in many of its losses will be critical.
One area where IU may struggle to find success is the offensive glass as Nebraska is the Big Ten's best defensive rebounding team. Opponents are rebounding just 22.9 percent of their misses against the Cornhuskers and given that IU's lowest offensive rebounding percentage in Big Ten play to-date has been 27.3, it'll be interesting to see if the Hoosiers can find any traction there.
WHAT IT COMES DOWN TO
The Pomeroy prediction likes Nebraska to win, 72-69, and gives the Hoosiers just a 38 percent chance to leave Lincoln with a victory. Sagarin likes Nebraska by 1.5.
Given how good Nebraska has been at home and the energy its crowd is bringing in the first year of Pinnacle Bank Arena, Indiana must bring the energy it had early in East Lansing as opposed to the sluggish start it had in State College, a game the Hoosiers needed a valiant comeback effort to win.
Nebraska is hot at home, with consecutive wins over Ohio State and Minnesota, but the Hoosiers certainly have a difficult matchup for the Huskers to handle with Noah Vonleh and also have a chance to create problems by getting into the lane and to the basket. Looking at the remaining road schedule, this is, statistically, the third-most winnable game remaining behind Northwestern and Purdue and one that will go a long way if IU is to make a push at .500 or better in league play.
(Photo credit: HailVarsity.com)
Filed to: Nebraska Cornhuskers, Tim Miles