Indiana's win over Illinois 'a big confidence builder'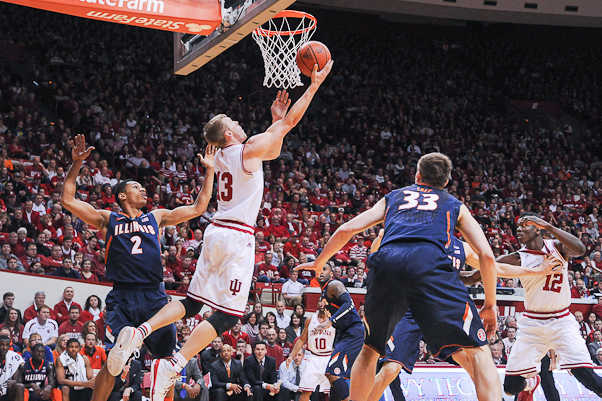 After Indiana's 56-46 win over Illinois (13-8, 2-6) on Sunday afternoon in which the Hoosiers shot only 40.8 percent from the field and got only four points from freshman Noah Vonleh, Indiana (13-7, 3-4) coach Tom Crean was asked whether he thought his team could have won with those numbers earlier this season.
"For lack of thinking about it deeper, I would say probably no," he replied.
After all, the Hoosiers had similar numbers in their 59-58 loss to Connecticut earlier this year, when they shot an identical 40.8 percent and got zero points from Vonleh. And in games this season, before Sunday, that the Hoosiers have scored less than 60 points, they were 0-4.
Crean did not even need to look further back than 26 days earlier, when Indiana and Illinois played in Champaign, Ill., in their Big Ten opener. That game, the Hoosiers allowed 83 points and turned the ball over 23 times in an overtime loss.
On Sunday, though, Crean spoke after a victory in which the Hoosiers showed the grit they didn't even have earlier this season. Against Illinois, Indiana scored less than 60 points, yet allowed the fewest points in a Big Ten game in Crean's tenure — the fewest since a 65-43, Jan. 23, 2008, win against Iowa.
"I think a lot of us have a better sense of how each of us are going to play, where we're going to be out on the court," sophomore Yogi Ferrell said. "We're definitely trusting each other a lot more, I feel like, than we did before."
The Hoosiers credit that newly-gained trust simply due to games played as a team. They have been in low-scoring struggles before, and they have also been in back-and-forth battles, epitomized by recent wins at Penn State and against then-No. 3 Wisconsin.
Before Illinois, they weren't able to execute as consistently in a low-scoring affair. And in the first half against the Illini, the Hoosiers turned the ball over eight times and shot only a 39.6 effective field goal percentage, barely holding a 26-24 edge.
In the second half, however, Indiana found that offensive efficiency it had been lacking all along. Behind 15 Ferrell points, the Hoosiers shot a 48.0 eFG% and turned the ball over only five times. And in continuing to build its identity of getting the ball into the paint, despite perhaps a slower pace, Indiana had 14 points in that category in the second half alone.
"Where a week ago we might have tried to force the issue a little bit, we might have gotten stagnant, today we continued to have great movement," Crean said. "We continued to play out of corners. We continued to make the next pass. We didn't force action, turnovers."
As Indiana built its confidence on offense, its defense kept the team ahead. Utilizing a mix of defenses, including a 2-3 zone that Ferrell says works "great" for the Hoosiers, Indiana held Illinois to an 18-for-54 clip from the field and a 5-for-23 mark from beyond the arc.
And even with all those misses, the Illini had only four offensive rebounds on the afternoon. Though this season they average a 33.7 offensive rebounding percentage, on Sunday, their percentage was only 10.8.
Vonleh, despite scoring only four points, had 11 defensive rebounds and led the Hoosiers' defensive effort in allowing zero second-chance points.
"Us being young isn't a factor at all," Ferrell said. "It just comes down to us being patient, really. We've got to have more of a defensive mindset."
Indiana's players have been hearing the same message from Crean all season: play smarter and play hard. On Sunday, the Hoosiers did just that. "Games like this exponentially raise their confidence level," Crean said.
And with 11 games remaining on the regular season schedule — seven of those against teams with a conference record at or below .500 — the Hoosiers have plenty more opportunities to build on Sunday's success.
"It just gives us confidence knowing we're right there (in the Big Ten), and win a few more games, and we'll be right in the mix," sophomore Austin Etherington said. "I think that's a big confidence builder for us as a team to go and move forward on it."
Filed to: Illinois Fighting Illini, Tom Crean