Five takeaways from Indiana's win over Illinois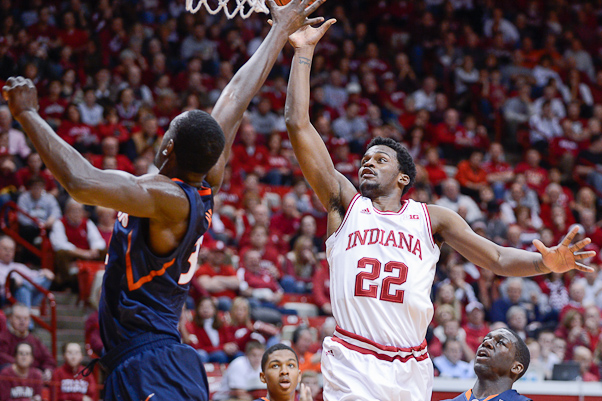 Indiana picked up its third conference win on Sunday with a 56-46 victory over Illinois at Assembly Hall. The Hoosiers are now 13-7 overall and 3-4 in the Big Ten.
Here's a look at five takeaways from IU's third conference win:
· Robinson's role continues to expand: Stanford Robinson made his first career start on Tuesday at Michigan State and the freshman's role continues to grow as the conference season moves along. Robinson took a team-high 12 shots on Sunday, but was the only Hoosier besides Ferrell in double figures in scoring with 10 points.
Through seven Big Ten games, Robinson is averaging 7.9 points and 3.9 rebounds in 22.6 minutes per game. Illinois coach John Groce said that Robinson is a totally different player than he was nearly a month ago in Champaign.
"To me the guy that stood out was Stanford Robinson," Groce said. "The improvement he's made from game one against us to game two in just a month was very noticeable today. I thought he defended well and I thought he made big plays for them late."
· Noah Vonleh dominated the game without scoring: As IU's most efficient offensive weapon, Big Ten opponents are playing to take Vonleh away and make his teammates beat them. On Sunday, Illinois did a solid job denying Vonleh the ball and collapsing on him when he was able to catch it, but it was his impact on the defensive glass that changed the game.
For the tenth time in 20 games, Vonleh collected 10 or more rebounds and his work on the defensive glass was a game changer. Illinois entered Sunday's game rebounding 33 percent of its misses, but only grabbed 10.8 percent of its misses against IU and failed to register any second chance points.
· Ferrell steps up in the second half: At halftime, not much was going right offensively for the Hoosiers as Vonleh, Ferrell and Will Sheehey had combined for just four points. The second 20 minutes, however, were a different story as IU's sophomore point guard stepped to the forefront to score 15 points.
Overall, it was an efficient effort for Ferrell, who finished with 17 points on 4-of-7 shooting from the field and 8-of-8 shooting from the foul line. He added five assists, four rebounds, three turnovers and a steal in a team-high 36 minutes.
"(After halftime) I was just picking my spots a little better," Ferrell said. "I know I had a bunch of turnovers at the beginning of the game. They kind of boxed me in a little bit. They played great help side defense."
· Sheehey did a little bit of everything: After missing Tuesday's game in East Lansing with an ankle injury, Sheehey's status leading into Sunday was a bit uncertain. Tom Crean said he was optimistic about the progress of Sheehey's ankle on Friday, but never definitively said that Sheehey would be able to go.
But IU's most experienced player returned for a game the Hoosiers absolutely needed to have and played a well rounded game. His work on the glass — nine rebounds — was stellar and he also had five points, three assists, a block and a steal in 29 minutes.
· Indiana's defense is holding its own in Big Ten play: The Hoosiers have struggled offensively for much of the season, but are holding their own defensively in the nation's toughest conference.
Through seven league games, Indiana is allowing just 1 point per possession, which ranks fourth in the conference. Overall, the Hoosiers have the nation's 24th best defense, according to KenPom.com. In his postgame comments, Crean talked about where his team needs to continue to grow defensively.
"Can we keep building the concept of keeping the dribble in front of us? Because if we can keep the dribble in front of us, now we can zone, now we can press, now we can switch, all those different things," he said.
Filed to: Noah Vonleh, Stanford Robinson, Yogi Ferrell