The Minute After: Illinois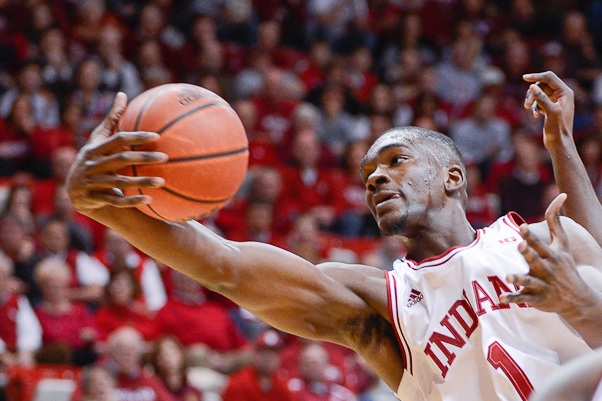 Thoughts on a 56-46 win over the Illini:
This one wins no awards. You don't frame it and place on the mantle above the fireplace. Still, in a Big Ten season where wins are never a guarantee for these Hoosiers, it's a much-needed victory in a game IU just couldn't afford to lose.
Both of these offenses were atrocious in the first half — a collection of missed shots, bad turnovers and wrong decisions. Indiana scored just .75 points per possession by the break, the Illini just .69. The teams combined to shoot just 4-of-18 from distance. Yogi Ferrell, Noah Vonleh and Will Sheehey had just a total of four points between them. Austin Etherington saved the day. He scored in new ways — an up-and-under, free throws after rolling to the basket — and entered halftime with seven points during 10 minutes of action. Troy Williams added six of eight before the break and hit a nice turnaround jumper after posting up. Yet, Williams's decision-making — going for the home run play and missing a tip dunk, dribbling the ball off the perimeter and turning it over — remains suspect at times.
Yogi Ferrell would heat up in the second half and score 15 of his 17 for the Hoosiers after the break. His penetration made Indiana's offense go and it helped open up some things for his teammates. He was also a perfect 8-of-8 from the charity stripe including some late ones to seal it on an afternoon the Hoosiers missed the front of some one-and-ones and shot just 68 percent from the line.
Stanford Robinson (10 points on 5-of-12 shooting) continues to get into the lane and score at the basket. He missed all three of his free throws today, though, and probably would like to have that missed dunk at the end of the game back. Despite a better performance on offense and a few runs that gave the Hoosiers a sizable lead, the Illini would keep crawling back. An 11-point lead with 13 to go dwindled to three points. A nine-point lead with 5:55 to go wasn't able to be pushed out any farther and the Illini were only two possessions away (six points) for much of the remainder of the game until IU was able to seal it late.
Indiana also kept the Illini out of full comeback territory by rebounding the ball with force. Vonleh had 14 during an afternoon he never got going offensively. Illinois rebounded just 10.8 percent of its misses and had zero second-chance points. It also shot just six free throws for the contest (11.1 free throw rate) and made just 5-of-23 (21.7 percent) from distance. It turned the ball over on 20.3 percent of its possessions (as did the Hoosiers), had an effective field goal percentage of just 37.9 and scored only .72 points per possession.
It was an awful offensive outing for a team that's now lost six straight in league play and isn't finding any answers.
It's off to Nebraska on Thursday. Another winnable game for these Hoosiers. But on the road, the Hoosiers might need a little more than they showed today to get it done.
Filed to: Illinois Fighting Illini