Notes and quotes from Tom Crean's teleconference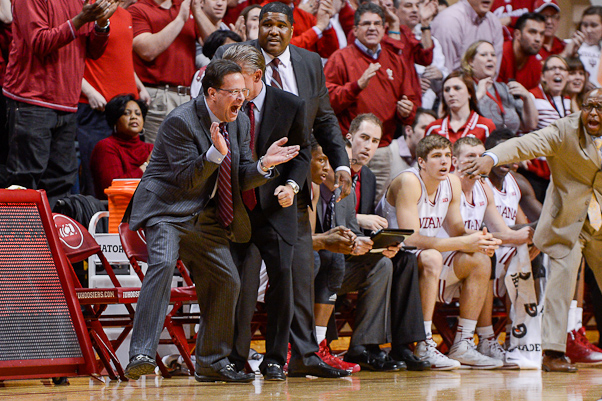 Friday morning, Indiana held a teleconference featuring head coach Tom Crean to preview Sunday's matchup against Illinois. Here are some notes and quotes from Crean's remarks:
· The first question directed at Crean was geared toward the health status of senior Will Sheehey, which we posted a full update on earlier today.
· Crean was asked about what improvements he has seen from his team since its Big Ten opener on Dec. 31 at Illinois. Instead, he elaborated on what his team continues to need to do to improve, saying, "When we make mistakes, sometimes they are self-inflicted. A great example is the other night (at Michigan State) — we had young guys having very veteran moments, where we did some great things defensively and offensively. But then we also had some young guys that had some freshmen moments with tough shots or mistakes on screens.
"And what we are trying to get across to them are two things: the best teams and best players make you pay for mistakes and the margin of error that you have in this league is so small, that's why you have to keep your mistakes as minimal as possible and treat every possession as the most important possession in the game. Now that is very hard for a young team to get to, but I do think we are making strides in that area. I think our desire to compete to win, understanding more and more has been very strong and a lot better."
· Crean said he thinks Illinois is going to come into Assembly Hall on Sunday night with "a ton of excitement and energy" and that the Hoosiers will have to match that if they want to win. The Illini have lost five straight games since a 2-0 start to the Big Ten season, but Crean thinks that's more the grind of the Big Ten affecting the Illini rather than a simple lack of Jon Groce having a good team.
"They are still a very veteran group, there is no question about that. They do a great job of getting to the basket. They have had some tough shooting nights, like many teams in this league can have.
"I think they are just a product of this league. You have to make shots in this league and they are hard to get, they are very, very hard to get. There are a lot of different ways to play and there are a lot of different styles inside of a game, no matter what your style of play is, it is always going to be different because of the other team and it is going to change throughout the game."· Crean was asked what made Illinois's Rayvonte Rice so effective in the Hoosiers' and Illini's first matchup this season.
"He got to the basket," he said. "Pure and simple he got to the basket. He creates angles and he is very strong and creates contact. He got to the free throw line as well as the basket and made some shots. He is a great competitor and you can see that. He has uncanny ability to use his body and get around people."
In that game in Champaign, Rice scored a season-high 29 points off 8-of-20 shooting, 11-of-15 free throws and also had eight rebounds to go along with two assists.
· Crean was asked about his team's struggles in making layups. Crean responded by saying it's still a work in progress, perhaps a lack of fundamentals in pressure situations and also playing through contact. Crean referenced, though, that teams across the league are struggling with playing through contact, but that his team cannot afford to not play through physicality.
"Because of the length and athleticism in this league, it is a lot easier said than done," Crean said. "Every situation is different. We are no different than other teams in this league, and I just make a point of it because it is what has hurt us some.
· Crean was asked about the development of Troy Williams and Stanford Robinson, to date. Crean noted the biggest thing with Williams was that his staff is still working on teaching him how to simply slow down and play smarter. But he also acknowledged, "You have to have patience with Troy because speed and getting to the rim and playing fast are part of his game. But helping him get that internal compass and clock that slows him down a little bit, that takes a little bit of time. You have to develop that."
On Robinson, Crean said, "What Stanford Robinson has been is a guy that has continued to develop his skills. He has continued to develop the ability to go both ways. He has a very natural instinct at being able to get to the basket. He is improving his shot. He is improving at not playing in tight spaces, which is where a lot of his turnovers came. Or they come from not pounding the dribble and turning it into a drive versus just dribbling the basketball and using a crossover as part of his game instead of a weapon.
"I think the next thing that we can see from him is continuing to have improved decision-making on the court. He has to make his close shots and layups. If it's a clean layup, take it. If it's contact, take the contact and make the play to get to the foul line with confidence."
· Crean was asked about the overall competitiveness of the Big Ten this season. He replied that especially this year, every possession is that much more critical than in years past, that you never know which play is going to win — or lose — the game for your team.
"You have to have confidence; you have to have energy; you have to be able to play through your mistakes," Crean said. "So much of it in this league is being able to have a short memory and move on and not live in the last success or the last failure. You just have to move forward. And I think that is what will withstand it over a period of time in this league."
· Crean believes assistant Kenny Johnson will be a head coach for a Division I program in the near future. "It's a matter of when, not if," Crean said.
Johnson has been a crucial part of Indiana's recruiting success in the East, as the former Towson assistant and AAU coach has plenty of East Coast ties.
Filed to: Stanford Robinson, Tom Crean, Troy Williams