Indiana hopes to have Will Sheehey on Sunday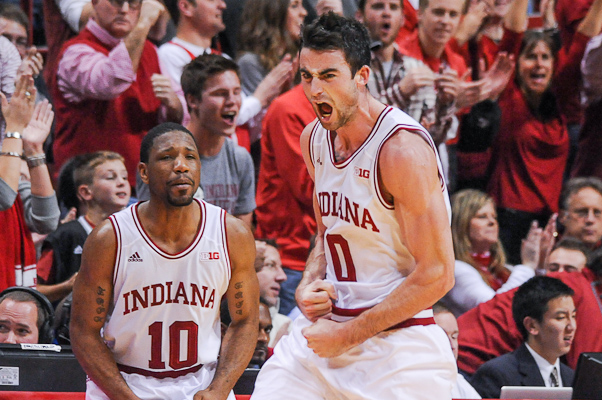 Indiana senior forward Will Sheehey, who missed Tuesday's 71-66 loss at No. 3 Michigan State with a left ankle injury, has been limited in practice this week, but the Hoosiers hope to have him ready to go against Illinois on Sunday.
Sheehey, who is averaging 10.4 points, 4.0 rebounds and 1.7 assists in 27.7 minutes per game, rolled his ankle in IU's 54-47 loss to Northwestern on Jan. 18.
The 6-foot-7 senior dressed against Michigan State, but Tom Crean said after that game that Sheehey "wasn't close to being able to go."
In his absence, redshirt sophomore Austin Etherington made his first career start and totaled three points, three rebounds, two steals and four turnovers before fouling out in 19 minutes.
Now with a critical home game looming against an Illinois team that has dropped five straight games, Indiana is hopeful that it will have its most experienced player available.
"We're hopeful that he's going to play," Crean said this morning. "He did a little bit yesterday. And I'm not able to say if he was ahead of schedule or behind it, but I think to have him out there was a real good thing. He just didn't do very much but he did some non-contact work and things of that nature.
"We'll see how it goes over the next few days. But I think after yesterday, we'd be hopeful."
Sheehey has dealt with ankle injuries throughout his career in Bloomington.
He missed five games during his sophomore season after slipping on a loose ball in practice. This past summer, Sheehey suffered an ankle injury at adidas Nations in California.
After IU's loss to Northwestern, he sounded confident that he wouldn't miss a significant amount of time.
"I'm going to be alright. I've just got bad ankles," Sheehey said. "Rolled it once before, so it's just going to be sore."
Filed to: Will Sheehey