Draft watch: Vonleh's stock trending upward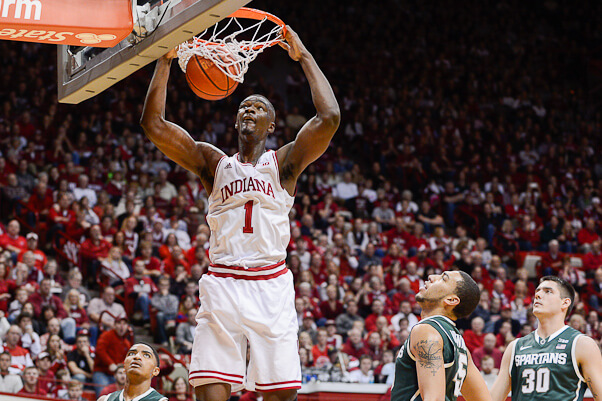 Noah Vonleh is averaging 12.4 points and 9.4 rebounds through 19 games of his freshman season at Indiana and his long term potential continues to place him in the early discussion for the lottery of the 2014 NBA draft.
In our latest edition of draft watch, we take a detailed look at where Vonleh's stock stands through six conference games:
Noah Vonleh
ESPN: (9) Draft Express: (8) NBADraft.net: (16) Sports Illustrated: (9)
· Analysis: Two of the more well known NBA draft analysts — ESPN.com's Chad Ford and DraftExpress.com's Jonathan Givony — both continue to rate Vonleh in the top 10 of their early projections. As he's continued to gain comfort in the college game, Vonleh has started to step out more on the perimeter. He's finding success there, too, as he's knocked down 9-of-12 of his 3-point shots in conference play after hitting just of one of his six attempts in non-conference play.
He's also been dominant on the glass with four games of nine rebounds or more and is getting to the line with regularity with a free throw rate (FTA/FGA) of 82.8 percent. There's even been some talk that Vonleh could surpass Kentucky's Julius Randle ($) as the better long term prospect in the eyes of NBA scouts.
As we mentioned in our most recent update, one major factor that Vonleh will have to consider is the potential benefit of coming back for another season and entering what figures to be a less top heavy draft in 2015. For example, the No. 3 pick this June stands to earn approximately $5.3 million more than the No. 10 pick over his first three seasons in the league. For his part, Vonleh isn't thinking much about the NBA according to this recent feature by The Indianapolis Star's Zach Osterman.
· Expert opinion: "I'm falling in love. Been watching him a lot lately. He's been shooting the three lately and his stroke looks really pure. With his size and athletic ability, he becomes a very interesting prospect. In some ways, and Kevin Pelton and I were emailing about this a bit last night, I think there's an argument to make that he might be a better long-term power forward prospect than Julius Randle. Most scouts don't agree with that yet, but I think there's some upside there that there might not be with Randle. He's a for sure Top 10 pick and might be the one guy who cracks into the Top 5." – Ford on a recent ESPN.com chat.
Filed to: Noah Vonleh