Spartans second-half run dooms Hoosiers in 71-66 loss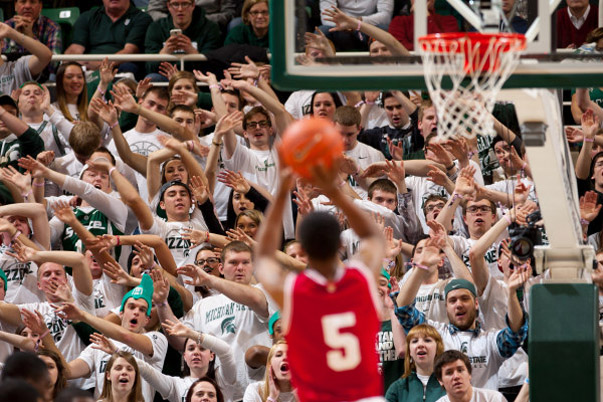 On Tuesday night in East Lansing, with less than 11 minutes remaining against Michigan State, Indiana had a five-point lead against the No. 3 team in the nation. It was a far cry from only three days earlier, in which the Hoosiers were stunned at home by a then 8-10 Northwestern squad.
Instead, the Hoosiers were ahead of the No. 3 Spartans and were getting to the free throw line, attacking the basket and challenging the Spartans on defense. But like many great teams, the Spartans made a run. And the Hoosiers had no answer.
Propelled by a 21-6 run from the 10:37 to the 3:00 mark of the second half, Michigan State (18-1, 7-0) held off Indiana (12-7, 2-4) in a 71-66 win at the Breslin Center.
"I'm real proud of my team, to be honest with you, because I think we really did a great job the last couple of days of establishing even more togetherness," Indiana coach Tom Crean said. "And it showed tonight. We did some really good things."
Before Michigan State went on that game-winning run, though, Indiana had battled its way to a 46-41 lead in perhaps the toughest road environment it had played in, to date. Michigan State coach Tom Izzo said the Hoosiers looked like the team that beat Wisconsin only a week earlier — not the team that lost to Northwestern on Saturday. Indiana attacked the basket and Michigan State couldn't stop it.
But then, at the 10:37 mark, just after a Noah Vonleh turnover — one of 18 on the night for the Hoosiers — senior Evan Gordon fouled Spartans sophomore Gary Harris. He made both free throws. On the next possession, after Indiana freshman Troy Williams missed a layup, he would drill a 3-pointer to tie the game at 46. Indiana's lead was gone.
"(Harris) put us on his back during that stretch," Izzo said. "He made some big plays and big shots and came off screens ready to shoot."
Suddenly, the Spartans were alive.
Over the next seven minutes of play, they built their lead. Denzel Valentine scored five points. Branden Dawson added another five. Gary Harris made another 3-pointer, three of his 24 points on the night on 8-of-13 shooting.
All the while, though, Indiana struggled offensively. In that same stretch, the Hoosiers missed six layups — they missed 11 in the second half, overall — and recorded four turnovers. It gave the Spartans the perfect ingredients for a run.
"Really the crux of the game, we missed some of the same shots we were making earlier in the game," Crean said.
"They made some baskets and we missed some close shots at the rim. We found great shots, we'd like to have back a couple, but for the most part we just didn't make shots that we were making around the rim. Not necessarily layups, but just stuff that was right there where we want it. But we've got to finish."
Still, late in Tuesday's game, the Hoosiers made one more run, avoiding another 17-point defeat at the hands of the Spartans.
In the final 3:00, Indiana actually outscored the Spartans, 14-9, and even cut the deficit to three points with 16 seconds left after freshman Stanford Robinson — who made his first career start — drove to the basket and knocked down a layup.
Michigan State, however, would make the free throws they needed down the stretch, sealing their five-point victory over the Hoosiers.
"We're not really going to accept this defeat," sophomore Yogi Ferrell said. "We know we felt like we played hard, kind of down to the wire. We're proud of the way we played, but at the end of the day we didn't get the win.
"We're just going to go back to the drawing board and try to use what we did here, playing especially in the tough crowd that it is against one of the best teams in the country, and try and carry that throughout the rest of the season."
Sheehey benched with ankle injury
Well before Indiana took the court on Tuesday night against Michigan State, Crean knew senior Will Sheehey wouldn't be playing against the No. 3 Spartans.
After sustaining an ankle injury against Northwestern on Saturday, Sheehey had missed Monday's practice despite playing late in the game against the Wildcats. Crean said that by the time of Tuesday's shootaround, he knew Sheehey would not be able to play against the Spartans.
"We weren't going to press him," Crean said. "He wasn't close to being able to go today."
And Crean is not even sure when Sheehey will return. He said it is a "day-to-day" process right now, based on how he responds to treatment.
Sheehey started all 18 games this season before sitting on Tuesday and is averaging 10.4 points, 4.0 rebounds and 1.8 assists in 27.7 minutes per game.
"We hope he's ready to go Sunday," Crean said. "But I don't have any idea right now."
Hollowell sees first game action since Jan. 4
Coming off the bench on Tuesday night, sophomore Jeremy Hollowell played his first minutes since Jan. 4 after Crean sat the former starter due to a "lack of focus."
Hollowell was subbed in within the first 10 minutes of the game and played a total 15 minutes against the Spartans, scoring eight points and grabbing two rebounds on the night.
"He moved the ball, he attacked, he finished, that's what we need," Crean said. "We don't just need him to be playing."
Over the past four games, Crean and Indiana's coaching staff have dodged questions on why Hollowell hasn't played, saying, "he'll play when we put him in," and that the issue was simply due to a lack of focus.
He went through warm-ups and participated in practices, but did not play against Penn State, Wisconsin or Northwestern. Well, even Hollowell was unaware he would be playing until Crean told him to come off the bench in the first half on Tuesday.
"He didn't know when he was going in," Crean said. "I know he wanted to go in, I don't think he knew he was going to go in, but I thought he did a good job."
(Photo credit: Matthew Mitchell, MSUSpartans.com)
Filed to: Jeremy Hollowell, Michigan State Spartans, Will Sheehey