Film Session: Demps' run
With 12:28 remaining in Saturday's loss to the Wildcats, Jonny Marlin, Jeff Howard, Troy Williams and Will Sheehey checked into the ballgame and joined Evan Gordon on the court. The Hoosiers trailed by six. It was a unit that was able to pump in points on a day the Hoosiers struggled to make shots. Noah Vonleh hit two free throws after he was fouled on an offensive rebound putback. Vonleh would also score in semi-transition, as he beat Northwestern's defense to the basket and got position at the hoop for a non-contested layup.
Vonleh added a 3-pointer because the Wildcats decided not to challenge hard on him beyond the arc. Evan Gordon made a nice move in the lane avoiding Alex Olah, who was looking for a charge, and he'd hit on an uncontested layup. Gordon also connected on 3-pointer in transition just after Hanner Mosquera-Perea checked in for Vonleh.
The Hoosiers scored 10 points in just under five minutes of game time to erase the six-point deficit and take a one-point lead at 36-35. Sheehey would get fouled and injure his ankle shortly after with Hanner Mosquera-Perea filling in and hitting both free throws to give the Hoosiers a 38-35 advantage. A Tre Demps 3-pointer tied the game at 38. This is where he'd start to get hot and essentially win the ballgame for the Wildcats.
A look at the rest of his run and Indiana's inability to answer on its end in the latest edition of Film Session:
Tied at 38, the Hoosiers set up in their matchup zone out of a timeout. Drew Crawford takes a high ball screen from Sanjay Lumpkin: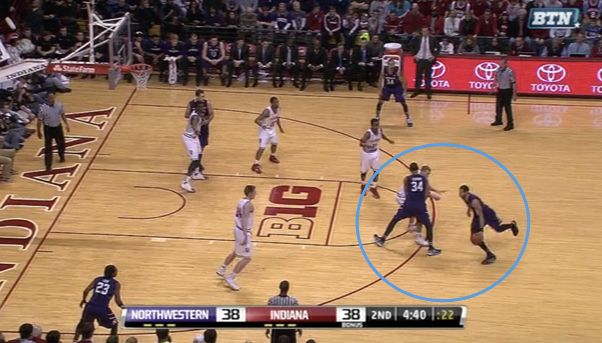 To stop the ball, Jeff Howard comes over from the left wing and that leaves JerShon Cobb open in the left corner: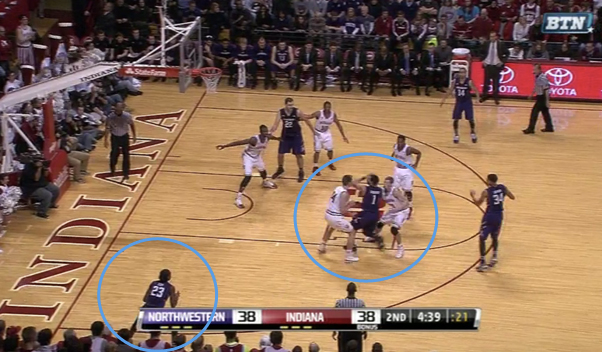 Cobb rises and shoots, but misses: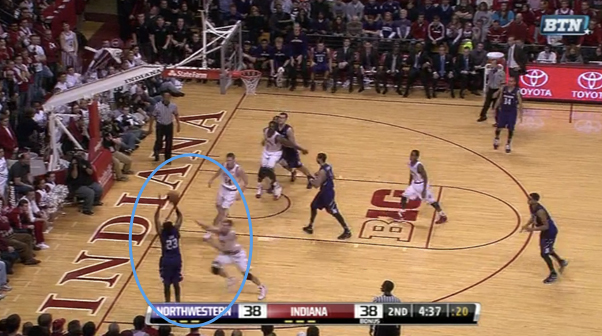 Alex Olah is able to to tap a rebound out to Crawford and the Wildcats get a chance to burn more clock and score. With less than 10 ticks left, Demps gets a high ball screen from Olah: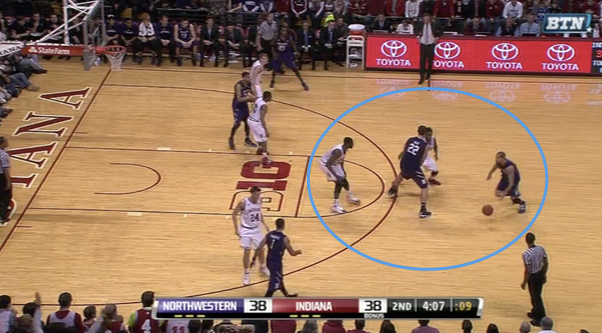 Ferrell goes over the ball screen and Vonleh looks like he may challenge, but slides back a bit to guard against the roll. This gives Demps some space and he rises … :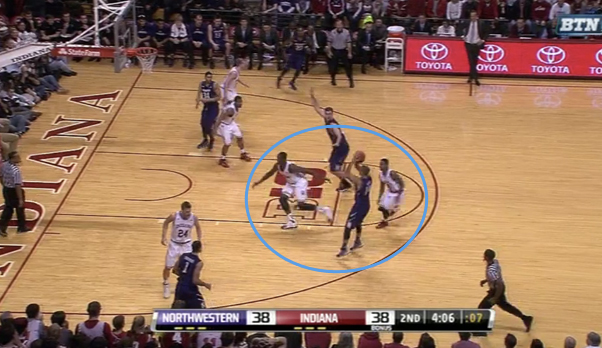 … And hits as Ferrell gets a late hand in: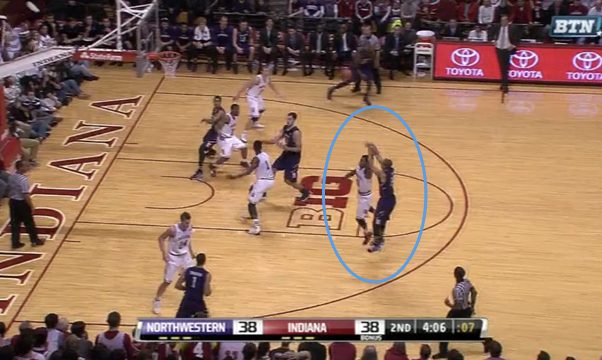 On the other end of the court, Vonleh is swarmed on the left block and this leaves Ferrell, Etherington and Gordon open beyond the arc. Vonleh opts to pass to Ferrell: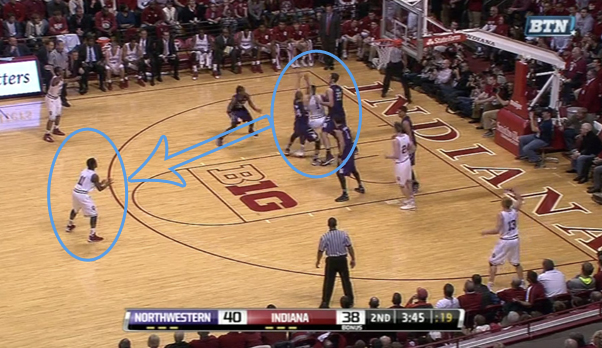 Ferrell fakes the shot on Crawford: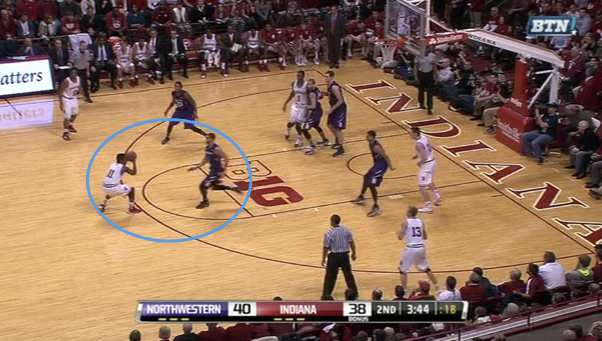 This gives him some space to take it to the hole. He got fouled and made both free throws: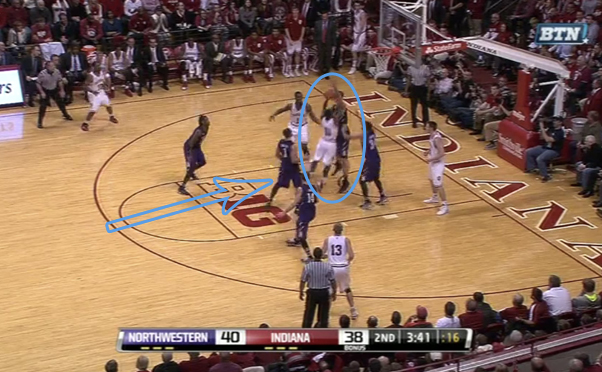 In this first sequence, Ferrell was able to match Demps' scoring.
Video:
Filed to: Northwestern Wildcats, Tre Demps