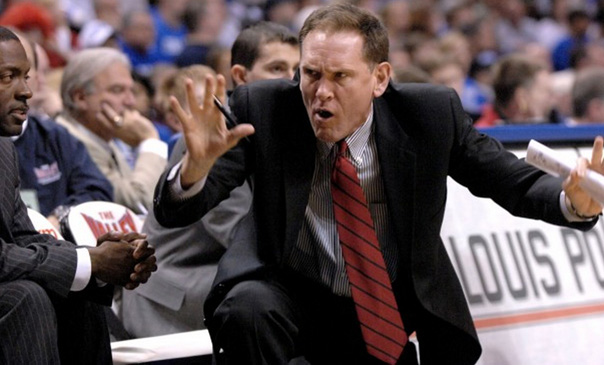 Indiana has named Rob Judson, formerly the head coach at Northern Illinois and an assistant coach at Illinois and Illinois State, as its new director of basketball operations, Inside the Hall has learned.
Judson, 56, was at Illinois from 1996 to 2001, Northern Illinois from 2001 through 2007 and at Southern Illinois from 2007 through this past summer, when he resigned.
Judson, who played at Illinois from 1977 to 1980, has more than 20 years of coaching experience and was 74-101 in six seasons as the head coach at Northern Illinois.
He replaces Calbert Cheaney, who left this past summer to join the coaching staff at Saint Louis University.
Indiana sent a press release confirming the hiring of Judson later Saturday morning. The full release, featuring quotes from Tom Crean, Judson, Oklahoma coach Lon Kruger and Western Illinois coach Jim Molinari, is available after the jump.
BLOOMINGTON, Ind. – Indiana University men's basketball coach Tom Crean has announced that coaching veteran Rob Judson will become the Hoosiers Director of Basketball Operations effective immediately. The Zion, Illinois native brings more than 30 years of experience to the IU staff including 24 years on the NCAA Division I level. He fills a vacancy created when Calbert Cheaney became an assistant coach at St. Louis University in August.

"Rob is someone who I have respected for a long time and he will bring a valuable presence to our program immediate," said
Crean. "His diverse experiences will be a great asset for our staff to rely on. He is well thought of in our profession and we are excited he will be part of our staff."

Judson also brings Big Ten experience to the program having played at Illinois from 1976-80, He set the Illinois career free-throw percentage record (.875), and earned Academic All-Big Ten laurels (1979 & 1980) and CoSIDA Academic All-America honors (1979). He was an assistant for Illinois from 1996-2001 where he served as a top recruiter for Lon Kruger and Bill Self and watched the Fightin Illini make four NCAA Tournament appearances in five years and win Big Ten crowns in 1998 and 2001. He also was credited with recruiting two Big Ten Players of the Year in Frank Williams and Brian Cook.

"It is exciting to have the opportunity to be a part of the Indiana University men's basketball program," said Judson. "I'm honored and humbled to be working with Coach Crean and his outstanding staff and am excited to begin right away."

After his stint at Illinois, Judson was named head coach at Northern Illinois University. He spent six years with the Huskies where he took over a team which won just five games the year before and led NIU to 12 wins in his first season. He then led the Huskies to the first of two 17-win seasons, with a 17-14 record in 2002-03, Judson's 2005-06 squad posted a 17-11 mark and won the only Mid-American Conference West Division Championship in NIU history. He then served as an assistant coach at Illinois State from 2007-13 and saw them post a 122-79 record during his stay and made four National Invitation Tournament appearances.

Judson began his coaching career immediately after graduating from Illinois when he became an assistant coach at Palatine High School in 1980. He became a head coach the following year at Wauconda High School where he stayed from 1981-83 and then became the head coach at Glenbrook South High School from 1984-89.

He began his collegiate experiences from 1989-91 when he was a part of the staff at Northern Illinois which won a Mid-Continent conference title in 1991. He then became an assistant coach at Bradley from 1991-96 where he helped the Braves to a Missouri Valley Conference championship in 1996. In his five years at Bradley, Judson helped the Braves to three-consecutive 20-win seasons (23-8, 20-10 and 22-8 during 1993-96), and three-straight postseason appearances.

All totaled, Judson has worked with teams that have earned six NCAA Tournament berths and four invitations to the NIT.

In 1990, Judson was inducted into the Illinois Basketball Coaches Association (IBCA) Hall of Fame as a player. He currently serves on that organization's Board of Directors. He earned a Bachelor of Arts degree in liberal arts from Illinois in 1980 and a master's degree in administration from Roosevelt University in 1983.

Judson and his wife, Dr. Kim Judson, have two daughters, Karin and Kristin, and a son, Matthew.

Lon Kruger, Oklahoma University
"Rob is a terrific basketball coach who has a passion for helping young men develop — both on and off the court. He will be an outstanding addition to the Indiana staff."

Jim Molinari, Western Illinois University
"Rob helped us build a successful program at Bradley. I am sure he will contribute to Indiana's continued success. Rob has done the right things on and off the court in our profession, so he is being blessed with a position in a special program with a high integrity coach."
Filed to: Rob Judson