The Inside the Hall Mailbag: January 17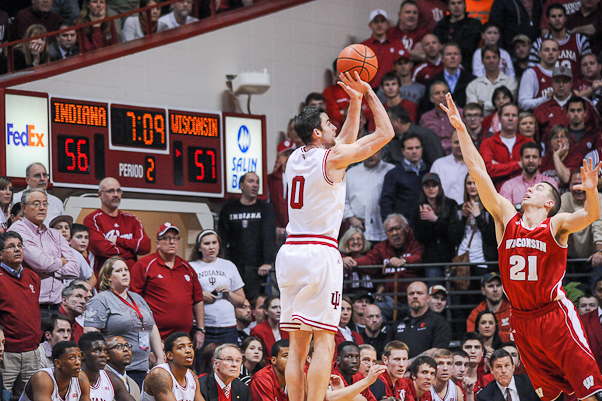 The Inside the Hall Mailbag is a collection of questions tweeted to us via Twitter (@insidethehall), submitted on our premium forum and sent to us via our Facebook page. Submit your questions and we'll answer as many as we can.
Allen Bowman on Facebook writes: It seems Will Sheehey has settled into a nice role over the past few games. Can you give your thoughts on how he's adjusting since the start of the season and is he in the mix for the 1000 point club at all?
Sheehey definitely appears to have settled and seems more comfortable on the floor over the past few games, I'd agree. With him, his role has changed so much over the past season but at the same time, he is really embracing the leadership role on the court. His shooting percentages are way down this season — he knows that — but there is nobody on this team wanting to get the most out of his teammates more than Sheehey. And he's made that adjustment extremely well.
As far as the 1,000-point chase goes, Sheehey is at 951 right now. So keep an eye on that over the next few games. — Jordan Littman
Joepop on the premium forum writes: I asked at the beginning of the year if Crean would be on the hotseat if IU didnt make the tourney, you answered that you didn't think so. How important were these last two wins to solidify his coaching future at IU?
I don't think they had much importance in solidifying his coaching future at Indiana. His future was solid before both games and it remains solid. The fact that there's speculation about Crean's future after Indiana won the Big Ten title outright last season for the first time in 20 years last season just seems extreme. I realize there's still disappointment over the Syracuse loss in the NCAA tournament, but as I wrote recently, perspective has been lost by those who are even discussing this. Crean is recruiting at a high level, he's getting kids who fit the program well and he's winning games. And while this fact has become lost on some critics, we saw on Tuesday night that he's a pretty good tactician as well. — Alex Bozich
Maedhros on the premium forum writes: Turnovers have been cut substantially in half the past few games, nearly to half of what they once were. Crean hinted at some new consequences for turnovers during practice. What's your take on the reason for the decrease, and is this something that can continue over the rest of the season?
Especially over the past two games, it seems like Indiana is starting to solve its turnover issue. As for the reason that is happening, I think players are making smarter passes and Crean isn't allowing for those "home run plays." That's partly why Troy Williams hasn't seen much action recently. As far as whether it can be sustainable, I think Crean and his coaching staff know what the underlying issues were and they will be continued to be addressed as the season goes on. So, short answer: Yes, it definitely can be sustainable. — Jordan Littman
@AssemblyCall on Twitter writes: When teams inevitably sag off of Stan to keep him out of lane, does he have any type of midrange game to make them pay?
That's a great question and it's one that may need to be answered soon by Robinson as defenses are going to begin making adjustments as they watch him on film. Right now, 24.7 percent of Robinson's shots are 2-point jumpers and he's shooting 38.9 percent on those attempts. That's not a terrible percentage, but it's not good, either.
The most impressive thing about Robinson from watching him is that he knows what he's good at and he sticks to it for the most part. He's taking 67.1 percent of his shot attempts at the rim and he's hitting on 57.1 percent of those shots. Getting to the rim and finishing is clearly the strong suit of Robinson's offensive game at this point, but he's going to have games where getting to the rim won't be as easy and he's going to have to knock down a couple of midrange shots to keep the defense honest. Whether he can do that consistently remains to be seen. — Alex Bozich
Geoff_85 on the premium forum writes: What does Indiana have to do over the next 5 or 6 games to get itself back in the NCAA tournament discussion? The upcoming slate is as follows: NW, @ MSU, Illinois, @ Nebraska, Michigan. What is a reasonable expectation out of those 5 games?
There's no way around it: Tuesday's win against Wisconsin was huge for the Hoosiers' NCAA tournament chances. They have a signature win and are now 2-2 in Big Ten play. And with some winnable games in their next five, they simply have to capitalize. In fact, winning more than half those games should be a reasonable goal for this team.
Remember, the Hoosiers play Northwestern, Nebraska and Penn State a combined six times this season. Those are six very, very winnable games (IU has one of those out of the way and it was on the road). Indiana has already beaten Wisconsin. If the Hoosiers can win four out of their next five, which is certainly a possibility looking at the schedule, they'd be 6-3 in Big Ten play and 16-6 overall. At that point, an NCAA tournament berth could become more and more of a possibility heading into the final stretch. — Jordan Littman
Jon Robling on Facebook writes: Is Coach Crean against Juco players, since he's never had one while at IU. It would seem that adding a frontcourt player for next year might be a route to go, especially from the Juco ranks. Any reason Coach Crean does not seem to look at Juco players?
Crean's first recruiting class actually had two junior college players in Devan Dumes and Tijan Jobe and the 2010 class had Guy-Marc Michel, who ended up being ruled ineligible by the NCAA. He's also recruited other junior college players like Stephen Hurt and Jameel McKay fairly heavily. So to answer your first question, no, he's not against junior college players and he has recruited several.
As for the prospect of it happening in 2014, I don't follow junior college recruiting closely at all and at this point, haven't heard of any names that are possibilities for Indiana to recruit. At a major program like Indiana, I'd argue that it's not always advisable to dip into the junior college ranks where you're looking at a player that obviously had an issue getting to the Division I level initially, whether it be from grades or some other issue. If we're talking about adding a big man this spring, the fifth year transfer or adding a player who opens things back up after a coaching change seem like the better ways to go. — Alex Bozich
FeatheryOne on the premium forum writes: It seems as though the chemistry is finally coming together for this young IU squad. Do you think that LF (Luke Fischer) leaving and Hollowell on the bench have a lot to do with this or is it just time playing its course?
In all honesty, I think it's a combination of all three of those factors. With a team that had eight freshmen, initially, it naturally takes time for the right chemistry to form, and I think this team is forming more and more of an identity as the season goes on. And everyone can see it. As far as the Fischer and Hollowell situations are concerned — whether it be homesickness or perhaps a lack of focus — I think any time you can rid negativity around a program, it's a positive. And over the past two games, you're certainly seeing those benefits. — Jordan Littman
tj21 on the premium forum writes: Can you provide a season stat / development update for all 3 incoming freshmen?
James Blackmon Jr. hasn't played since Dec. 28, but he's averaging 35.6 points per game for Marion. The Giants (6-3) play tonight against Logansport.
Robert Johnson most recently had 21 points, three rebounds, three assists and three steals as Richmond Benedictine Prep (15-3) beat No. 4 Virginia Episcopal, 67-65, on Jan. 13. We also talked to Johnson's coach, who gave us a comprehensive update on his progress.
Last weekend, Max Hoetzel had 15 points and seven rebounds as Wilbraham and Monson Academy fell 64-52 to St. Joseph's (N.J.) in an Under Armour event in Charlotte, North Carolina. Some footage of that game, captured from a web stream so it is a bit jumpy, is available below:
Filed to: Stanford Robinson, Will Sheehey