Robert Johnson's high school coach on his game, growth and future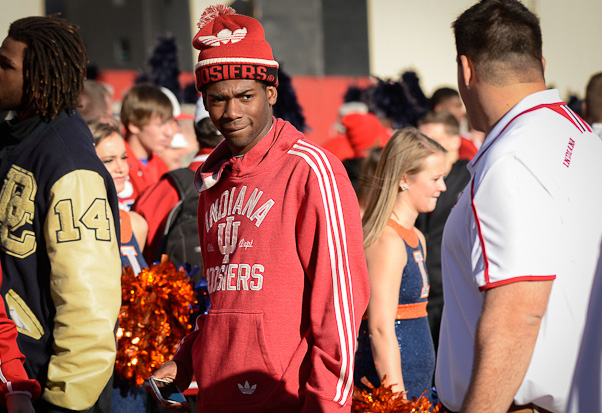 Ryan Marable, the coach at Benedictine Preparatory Academy in Richmond, Virginia, has known and worked with IU class of 2014 signee Robert Johnson for several years. He's watched as Johnson grew from a prospect with an early offer from UNC Greensboro to a top 50 player who was the subject of a major recruiting battle between Florida State, Indiana, North Carolina and Virginia.
Inside the Hall recently caught up with Marable for an in-depth conversation on Johnson and we discussed his growth in recent years, his toughness, the most underrated part of his game and much more.
Here's a complete transcript of our conversation with Marable:
Inside the Hall: Can you talk a little bit about how Robert has grown since you first started working with him until now. Obviously there's a lot of talk about his shooting, but where have you seen him grow the most?
Ryan Marable: I actually coached Robert in middle school, so I've known him since he was in the sixth grade. He's always been in love with the game of basketball and he's been one of those kids that kind of sits back and learns from other people's games. He's very mature in the fact that he can identify his weaknesses and then he goes out on his own or with a coach or his dad or whoever and works on his game on his own. He's probably one of the hardest working kids that I've ever been around. And we've been around some really successful basketball players.
He's really grown. His body has caught up to his game and that's helped him a lot. He's spent a lot of time in the weight room, strength and conditioning and that really took his game to the next level so he can get different shots off and actually go by people even with contact. I think that's helped. He re-classed as a junior. He was a young junior, so he re-classed and allowed his body to catch up to his game and to his mind. That's allowed him to kind of highlight facets of his game that were there, but he couldn't really exploit because of his physical limitations a lot of times.
ITH: I'm not sure how closely you've followed IU through the years or even Tom Crean going back to Marquette, but one of the things that he tries to look for in the guards that he recruits is guys that are tough or guys  that are scrappy. Talk a little bit about Robert and maybe how he fits into that. I've read a lot of things about his toughness, so I'm curious as to how you've seen that come along.
RM: I think Indiana, Michigan State, Ohio State, I love Big Ten basketball. Those guys always have the toughest kids around I think. That's one of the reasons I was drawn to the Indiana recruiting process for Robert. We both identified that Crean gets the best out of his players and he loves tough kids that can compete on a daily basis. I think that's why they are getting so many D.C. kids. Robert has that D.C. mentality of 'I'm going to take everything and every possession as a challenge.'
I think it's only going to get better when all he has to worry about is being a college athlete and not be worried about the recruiting process. He knows where he's at and he doesn't have to worry about anything besides going to class, getting good grades and being a college basketball player. In high school, the hoopla and the recruiting process can wear you down.
I think the sky is the limit for him. I feel like Crean, not only with X's and O's, but also the philosophy of Crean, he'll embrace that early on. He comes from a school similar to where Stan Robinson was with Paul VI (Catholic) that plays a legit high school schedule on a daily basis and has 12 college level basketball players in the program that compete on a daily basis in practice. He's not going to be in awe of the daily grind. He's not going to be in awe of the expectations to work hard every day, every single minute. He'll realize that the coaches care more for your personal well being and for your to reach your potential almost more sometimes than you do on a daily basis.
ITH: You talked about his physical attributes improving. How much more room is there to grow? I know one thing I've seen at Indiana under Je'Ney Jackson, who is the strength and conditioning coach, is that he's been able to do some amazing things with a lot of the players. When he gets into that, obviously the college weight program is a little different than high school, how much room do you see for him to grow in that aspect?
RM: I think Robert has kind of shown me, honestly, and guys that have known him for a while just how explosive his body can be. With just one, maybe two years of dedicating himself to the weight room on his own and not having a strength and conditioning coach or anything like that, I think once he gets some more flexibility in his body and when you're playing in the EYBL, you work out, but you're not in a strength and conditioning program like you will be in college.
He has room, with a healthy diet that he's going to get and a strength coach like you said, he has room to add 20 pounds to his frame without losing anything and just gaining strength and actual college strength and conditioning muscle without losing anything that he has now.
He's got kind of big shoulders and some room to grow in his shoulders and put on a pro body, I think.
ITH: Is there a part of his game that doesn't get discussed enough? Obviously there's talk about IU needing shooting and with him and James Blackmon Jr. coming in, that's going to fill a huge void, but is there a part of his game that maybe doesn't show up on the stat sheet or that's underrated that people don't realize that he's really good at?
RM: I think he's a great defender, honestly. He really understands the defensive part of the game. It's tough when you're getting guarded by two guys every game, sometimes three, to really put in the work that he does on the defensive end. He's guarding, on a consistent basis now, the other team's best player and it's not like we're playing against slouches. We're playing D1 guys, Huntington Prep and guys that are going to play at the mid-major, low D1 or even some high major kids. And he really embraces that aspect. Some kids that can shoot the ball, score the ball like him might not embrace it as much as he does but he really embraces the defensive end.
And I think he's going to be a kid that, once he does get a spring and summer under a strength and conditioning coach, he's going to be able to guard juniors and seniors at the Big Ten level right away.
ITH: I know one thing I talked to him and his dad about during the recruiting process was not having a defined position. Do you see him as a guy in college that's going to be able to play both guard positions or do you see him sliding into one of those spots?
RM: Is he going to be able to play 40 minutes at the point guard position and still be able to be an effective scorer? I don't think he's Steph Curry where he can do that. I think he can definitely play some spot minutes at the one and play 10 to 12, 15 minutes, if Yogi (Ferrell) is still there, and I think he would be.
He's the kind of guy, kind of like Victor (Oladipo), where he might be able to do point guard things after he rebounds the ball. He rebounds the ball well so he'll be able to just get a rebound and push it and make a point guard play in transition or in the half court. He makes great decisions. He rarely turns the ball over. Sometimes he does take some shots where he might miss a guy that's wide open, but when you're shooting 50 percent from the floor and you are a scorer, sometimes you miss a guy. I think at the next level, it's not going to be as easy for him to score, so he'll make the easier pass or the smart decision to be able to play that position.
ITH: Just from someone who coaches in the part of the country you're in, Indiana's done a good job of recruiting that area. What do you feel, not necessarily specific to Robert, but what do you think it is about Indiana that is appealing to kids from that part of the country? I know (Kenny) Johnson has done a really good job in the area and Crean was recruiting it before Kenny arrived, but is there anything you see that these kids like about IU?
RM: I think there's the trust factor with Crean doing great things with D.C. kids and this area of kids. There's a trust factor there with a guy like Victor Oladipo as an example. There's no better example outside of Dwyane Wade and it's not like Dwyane was from D.C.
I think the trust factor is really the biggest thing. And then you've got schools like North Carolina, the other blue bloods that have the tradition that Indiana has and they're getting guys from all over the country too, so they don't really have that niche of D.C guys. I think it's really just the relationships. I don't know if there's a lore of Indiana until they start getting recruited and then it's like 'wow, this place is special and has everything I want' and you've got Tom Crean and Kenny Johnson there as well.
Filed to: Robert Johnson, Ryan Marable