The Minute After: Wisconsin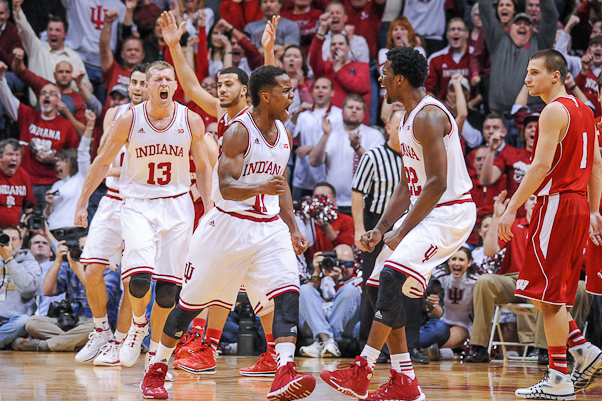 Thoughts on a 75-72 victory over the Badgers:
The Badgers came to Assembly Hall riding high, a team racking up impressive numbers and garnering much praise. A No. 3 ranking. Their best start in school history (16-0). With a win, they'd beat Indiana 13 straight times, a feat no other team has ever pulled off against the Hoosiers. They were a group that passed well — so well, in fact, that Dan Dakich said on the broadcast he'd never seen it any better — and rarely made mistakes, one that didn't beat itself. If the Hoosiers were going to win this one, they would need to play a near-perfect game.
But a funny thing happened with the students back in town and Assembly Hall at a fever pitch; these Badgers flinched. Save for the early stretch of the second half when Traevon Jackson went off on Troy Willliams and they amassed a 10-point lead, they were rarely dictating the terms. The efficient, smart Badgers looked frazzled. Their defense parted like the Red Sea in the paint and Yogi Ferrell and Stanford Robinson drove to the rim with ease. Its offense sputtered in the second half, as a number of long 3s that missed were the best shots this team that somehow always finds its way to good shots could get.
And the Hoosiers, as one fan put it, looked as if they've grown up two months over the past week. It all culminated in the program's first win over the Badgers since January 2007, when the Badgers entered Assembly Hall with a similar high ranking and riding a nice winning streak. A signature victory is finally in the books, and there's reason to believe more are on the way.
For the second straight game, Indiana valued the ball. Its turnover percentage of 13.9 was its best mark of the season. It turned it over just nine times. Ferrell had zero. Wisconsin entered this game with the second best turnover percentage in the country (12.7 percent), but left Assembly Hall with a 15.5 percent mark. The Badgers would capitalize a bit better here with a 17-2 advantage in points off turnovers. Still, if IU is up near the 20 percent mark, those 17 points are probably higher and the Badgers are more likely to keep their undefeated season afloat.
There were other numbers that went against the grain, too. Indiana got to the line just 10 times in this game (16.1 free throw rate), a season low. And after shooting well so far from 3-point range in Big Ten play, they made just 4-of-14 (28.6 percent). But the Hoosiers made up for it with a relentless attack to the rim. It scored 52 of its 75 points in the paint. Ferrell was just 1-of-8 from distance — hitting his only one late in the game to help Indiana to victory — but he was almost unstoppable attacking the rim.
Ferrell (along with Noah Vonleh) was also benched for a stretch in the second half after the first unit let Wisconsin build that 10-point lead and Tom Crean appeared unhappy with their play. A lineup that featured Jonny Marlin would make sure the game would stay close enough. When Ferrell and Vonleh returned, they both went right to work, their benching serving as some fuel for them to get back in the thick of it — quick. It was the second interesting lineup move during a crucial stretch of the second half for Crean in as many games and it paid off once again. Though, substituting Austin Etherington for Vonleh on defense late in this one didn't work as well, as Frank Kaminsky went right to work on Etherington for an and-1. (Crean said after the game he did this so all Indiana players could switch.)
There was much doom and gloom about this season not too long ago from the fan base, but these last two games have flipped the script. We're just four games into Big Ten season and the Hoosiers are on the rise.
Filed to: Wisconsin Badgers