Hoosiers looking to stop skid against efficient Badgers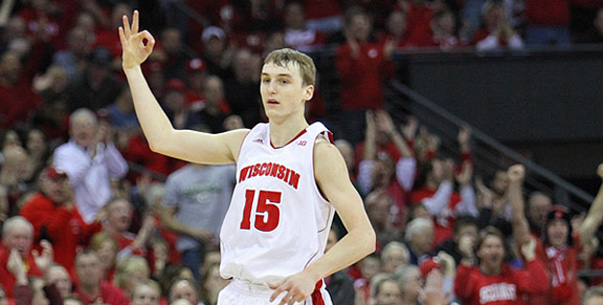 Forget the history that can be made tonight. Actually, both teams are. Indiana's battle in Assembly Hall tonight with No. 3 Wisconsin simply won't be an easy one.
Wisconsin is seeking its 13th straight win against the Hoosiers. No other team has done that in the 113-year history of Indiana basketball. The Hoosiers, coming off their first Big Ten win of the season, are seeking their third straight season beating a top five opponent, something that hasn't been done since 2001-2002.
All history aside, the Hoosiers know they are in for a major test against one of only four remaining undefeated teams in the nation. And like in years past against the Badgers, IU knows nothing will come easy tonight.
"An outstanding team with Wisconsin obviously, an outstanding program," Indiana coach Tom Crean said Monday on the weekly Big Ten conference call. "One that's just a very, very tough preparation. They're a very, very efficient and smart team."
The Badgers are especially tough to prepare for this season. For the first time ever in Wisconsin basketball, the Badgers are 16-0. They rank No. 4 in the country in offensive efficiency, No. 15 in effective field goal percentage (55.0) and No. 2 in turnover percentage (12.7). The defense? No. 12 in defensive efficiency, No. 2 in opponent's FTA/FGA ratio (24.3) and No. 29 in opponent's eFG% (44.3).
In short, nobody has figured out how to handle them for an entire 40 minutes. Their average margin of victory this season has been by 14.1 points.
"They're a real good team," freshman Noah Vonleh said. "They're real mature. They have a lot of older guys on the team. (Junior Frank) Kaminsky, (sophomore Sam) Dekker, they can step out and shoot. So we've got to communicate well on defense and stay on those guys."
Again, that won't be easy. As Wisconsin coach Bo Ryan starts five players with prior Big Ten experience — Kaminsky, Dekker, senior Ben Brust, junior Traevon Jackson and junior Josh Gasser, a lineup he has on the floor almost 30 percent of the time over the past five games — the Badgers know what's coming at them. They filtered noise into their practices to simulate playing at Assembly Hall, a building they have not lost in since 2007. Crean noted how they make the next pass, and if that doesn't create a scoring opportunity they pass again and again.
And though the Badgers are scoring 10.8 points per game more than last season, the Badgers haven't changed their type of offense. They still rank No. 303 in the nation in adjusted tempo and and average the 11th-longest time for each possession (20.3 seconds).
Perhaps the only difference? The Badgers are more efficient than ever. And that has Crean's full attention, especially knowing that the Badgers likely won't be intimidated come tonight.
"They've always had the experienced players that they can put other people around those guys because they totally understand how they win and how they want to play," he said. "They've always put excellent shooters on the court. I think what you have right now that's maybe a little bit different to me is they're not an above average passing team, they're a great passing team."
Sheehey injured last Thursday
During a practice last Thursday, senior Will Sheehey was injured after taking a hard fall and was actually a game-time decision for Saturday's game at Penn State.
Of course, Sheehey went on to play against the Nittany Lions and had a nine-point second half, igniting the Hoosiers to their first Big Ten win of the season.
"Will's just got an inner spirit that's really hard to characterize," Crean said. "It's hard to quantify it because it's so unique. He's got a great fire about him and I thought he brought it. I thought he was very, very passionate with his teammates and I thought it carried over."
Crean: Lineup 'could change tomorrow night'
On his weekly radio show on Monday night, Crean said tonight's starting lineup against Wisconsin is not set in stone.
Despite going with the same starting lineup for 14 of Indiana's first 16 games — one of sophomore Yogi Ferrell, Sheehey, Vonleh, sophomore Jeremy Hollowell and freshman Troy Williams — Crean recently benched Hollowell due to a lack of "focus" and started senior Evan Gordon in his place. When asked when Hollowell would return on Monday, associate head coach Steve McClain replied, "He'll play when he plays."
But Crean noted it isn't necessarily important who starts, pointing out he thinks it's more important he has players who can play at the start, in the middle and at the ends of games, much like how freshman Stanford Robinson, redshirt sophomore Austin Etherington and senior Jeff Howard did against Penn State on Saturday.
"The starting lineup, to me, it's fun because it gets you on that video board, it gets the fans to cheer for you, you hope it gets the game started right. But how we're playing in the middle and certainly how we're playing at the end has got a lot more value on a team than just the starting lineup."
Filed to: Will Sheehey, Wisconsin Badgers