The Minute After: Penn State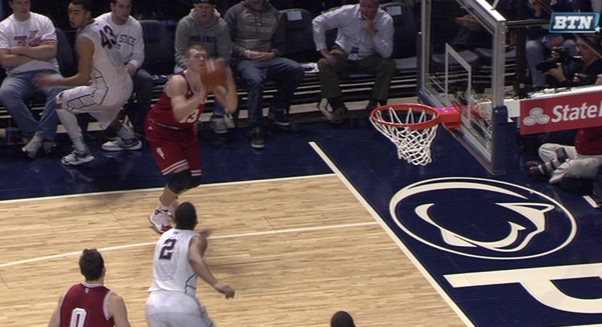 Thoughts on a 79-76 win in Happy Valley:
The candy stripes never left Jeremy Hollowell's body. Jeff Howard and Austin Etherington played crucial minutes during crunch time. Indiana has its first Big Ten victory, and Tom Crean's message is clear: Play smart, limit mistakes, do your job and you'll see the floor.
Indiana kept its turnover percentage under 20 percent (19.2 percent) for just the fifth time this season and its first time in Big Ten play. A lineup of Evan Gordon, Yogi Ferrell, Will Sheehey, Etherington and Howard may not scream athleticism or five-star talent, but it was one Crean rode for several minutes down the stretch and it kept Indiana right in this one. It did not make careless, dumb mistakes with the ball. While Penn State would get buckets, it also was a defensive lineup not lost or clueless on assignments and switches. It is possibly Indiana's most mistake-free lineup in a season where the Hoosiers entered the contest turning the ball over more than 326 other teams in the country.
Crean has stressed that each possession matters for weeks now, and for the first time this season he trotted out a lineup that personified this message. Over the final 11:25 of the game, the Hoosiers would turn the ball over just once.
Etherington may be mostly invisible on offense and susceptible against more athletic players on defense, but he knows what he's supposed to be doing and knows where he's supposed to be. He can be trusted on the floor in ways Troy Williams, despite doing some good things on occasion in this one, can't right now. He also stepped up and hit a huge 3-pointer with 1:22 to give the Hoosiers the lead. It was one they'd never relinquish. Noah Vonleh started this game in beast mode, but he was erratic and turnover-prone in the second half around the rim. When it starts going bad for Vonleh, it has often compounded this season. So Howard would play and get key rebounds, hit free throws (4-of-6) and play strong, sound defense down the stretch.
And when Vonleh did come in for an offense-defense switch late in this one, it wasn't a mindless dump into the post with the hope the freshman would be in control for a score. It was a pick-and-roll with Ferrell and him as the only IU offensive players on the left side of the floor. They ran it to perfection, as Vonleh ended the possession with an uncontested dunk at the 2:12 mark to tie the ballgame at 70.
It helped that Penn State had several players in foul trouble and IU capitalized in a huge way (29-of-35, 82.9 percent) — especially down the stretch, hitting big free throw after big free throw late. Penn State has now lost six games in which it led at halftime. The Nittany Lions have had their troubles closing games out and they aren't the toughest opponent. This helped, too. Stanford Robinson also chipped in during this one by creating for others and scoring (nine points), though he finished just 3-of-10 from the field.
But the biggest point is this: Indiana went out and won a toss-up game on the road because it limited mistakes and valued its possessions. This is smart basketball and a welcomed change from the carelessness with the ball we've seen so often this season.
Filed to: Austin Etherington, Jeff Howard