Hoosiers look for improvement, first Big Ten win at Penn State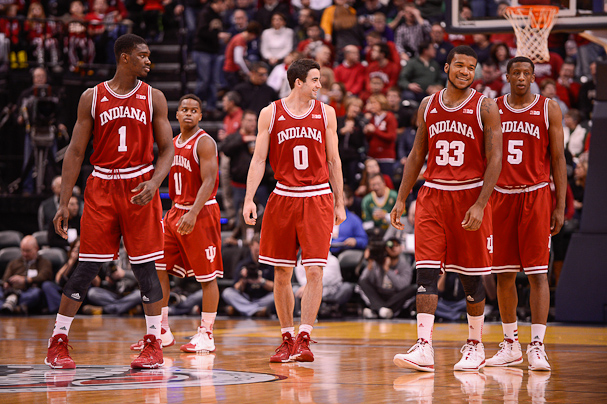 STATE COLLEGE, Pa. — After an 0-2 start to the Big Ten season, Indiana will attempt to avoid disaster on Saturday.
The Hoosiers (10-5, 0-2) traveled to Penn State on Friday and will face the Nittany Lions (9-7, 0-3) at 12 p.m. on Saturday, where they will attempt to avoid their first 0-3 start in Big Ten play since the 2010-2011 season.
It will also be Indiana's first game since last Saturday, a 17-point home loss to Michigan State.
"We are coming off a very good week of practice and preparation," Indiana coach Tom Crean said. "With the bye coming during the break, it has allowed us to work smart and spend more time on getting better both individually and as a team."
Perhaps the bye week came at a perfect time for the Hoosiers, too. After an overtime loss at Illinois that included 23 turnovers and the blowout loss at home to the Spartans, Crean had time to push the reset button this week. The Hoosiers have six games in the next 20 days, after all.
Crean said the team has worked on everything from building the identity of running and finishing better on offense to getting back on defense and challenging shots better. At the moment, Indiana ranks No. 327 in the nation in turnover percentage (22.2 percent), No. 292 in having its shot blocked (12.1 percent) and has allowed a 49.3 effective field goal percentage against major-conference opponents.
The numbers aren't pretty by any means, but with the second-least experienced team in the Big Ten, Crean is hoping they will improve starting with Saturday's game.
"We have to really stay in the moment as much as possible for our team to gain confidence," he said, "and that's what we're trying to do."
The Hoosiers will have a great opportunity to regain that confidence against the Nittany Lions. Crean won his first Big Ten road game as Indiana's coach at the Bryce Jordan Center in 2010, and the Hoosiers have won their past three games in the building. Penn State also doesn't force many turnovers and doesn't earn many offensive rebounds, which are two categories the Hoosiers hope to capitalize on.
But in Big Ten season, all bets are off. Especially with how up and down Indiana's start has already been, nothing will be guaranteed for the Hoosiers come Saturday afternoon. And that, Crean says, is worrisome.
"What you learn very quickly about the Big Ten is that every possession matters regardless of the time and score," he said. "Games can go in a different direction either way quickly.
"I expect we will see a physical, tough and demanding team, and we are going to have our work cut out for us."
Filed to: Penn State Nittany Lions, Tom Crean