Draft watch: A look at Noah Vonleh's stock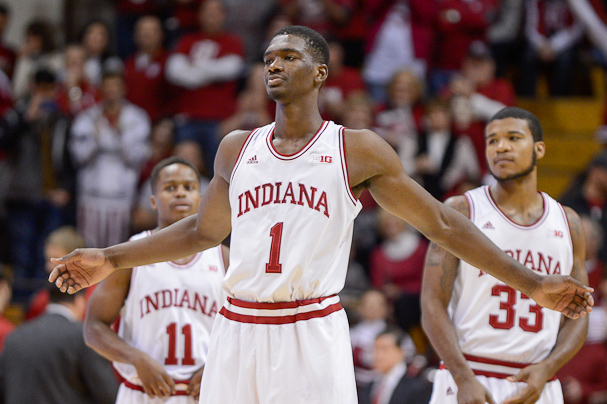 Noah Vonleh is averaging 11.8 points and 9.5 rebounds through the first 15 games of his freshman season at Indiana and his long term potential has vaulted him into the early discussion for the lottery of the 2014 NBA draft.
In our first draft watch of the 2013-2014 season, we take a look at where Vonleh's stock stands through two conference games as well as a brief glance at the pro prospects of some of IU's other players:
Noah Vonleh
ESPN: (9) Draft Express: (8) NBADraft.net: (15)
· Analysis: The start of Vonleh's season landed him in the lottery of various mock draft projections, but inconsistent play against the best competition IU has faced has removed him as a consensus lottery guy by the experts. Most recently, NBADraft.net dropped him down to No. 15 in their latest mock draft. CBSSports.com also has Vonleh at No. 16 in its most recent mock draft.
There's still plenty of season to play out for Vonleh, but it's clear that his decision is going to have a major impact on Indiana's 2014-2015 season. One major factor that Vonleh will have to consider is the potential benefit of coming back for another season and entering what figures to be a much weaker draft in 2015. Even though NBA players get a significant raise in their second contract from their rookie wages, there's also a sizeable difference in compensation from a top 3 or 4 pick to a late lottery pick.
· Expert opinion: "An extremely promising game against Illinois for Vonleh was followed up by a stinker against Michigan State. Against the Illini, Vonleh had 16 points and nine rebounds, getting most of his production at the free throw line where he shot 10-of-16 (for the year he shoots almost 72 percent from the stripe). But against Sparty, Vonleh struggled to carve out space and get in position to score, finishing with only five points. He did snare eight rebounds with his lanky frame and leaping ability, but as an offensive threat right now, Vonleh remains a work in progress. His upside and size has him inside the lottery at the moment, but figuring out his niche as an offensive player will be critical moving forward." – Paul Bukowski, SI.com.
Beyond Vonleh, Indiana doesn't have another player solidly on the NBA radar for the 2014 draft, but here's a quick roundup of where some of the Hoosiers rank:
· Yogi Ferrell: IU's sophomore floor leader comes in at No. 107 in Chad Ford's rankings at ESPN.com and No. 56 in the Draft Express mock draft for 2015.
· Will Sheehey: Sheehey was at one time thought of as a prospect that could potentially be a second round pick, but he's ranked just No. 97 overall according to Draft Express and No. 141 according to Ford and ESPN.com.
· Troy Williams: IU's freshman had risen all the way to No. 45 in Ford's rankings at ESPN.com, but his play in recent weeks has him on the decline. Currently, Ford ranks Williams as the No. 61 prospect.
Filed to: Noah Vonleh