Notebook: Blackmon Jr. nominated for McDonald's All-American game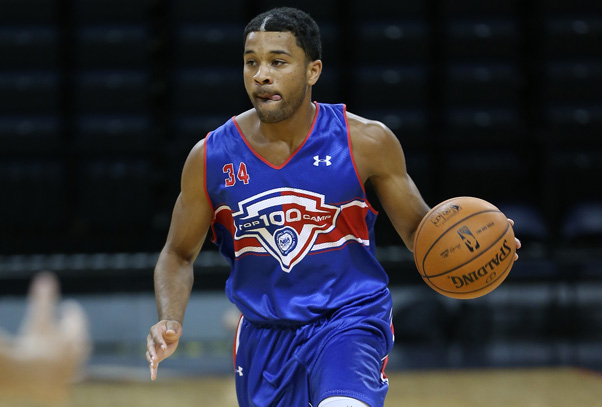 Class of 2014 Marion guard and IU signee James Blackmon Jr. will try to make it a fourth consecutive year in which the Hoosiers have signed a McDonald's All-American.
Blackmon Jr. was one of close to 1,000 nominees named for the game on Tuesday morning that will be played on Apr. 2 at the United Center in Chicago. The 24-man roster will be announced on Jan. 29 at 6:00 p.m. ET on ESPNU.
Cody Zeller was the first McDonald's All-American to sign with Indiana under Tom Crean in 2011, followed by Yogi Ferrell in 2012 and Noah Vonleh in 2013.
Blackmon Jr. is considered a serious contender to make the final roster, but has stiff competition at the guard spot including Isaiah Whitehead (Seton Hall), Rashad Vaughn (undecided), D'Angelo Russell (Ohio State), Grayson Allen (Duke), Dion Wiley (Maryland) and Devin Booker (Kentucky).
The other two nominees from Indiana are Park Tudor's Trevon Bluiett, who signed with Xavier and Tech's Trey Lyles, who inked with Kentucky.
Last month, Blackmon Jr., who is averaging 35.6 points this season, was named to the USA Basketball junior select national team.
Robert Johnson and Max Hoetzel were not nominated for the game. Johnson, a top 50 prospect nationally at Richmond (Va.) Benedictine Prep, was originally a member of the class of 2013, which made him ineligible for selection.
Crean asked about Fischer transfer on weekly radio show
On his weekly radio show Monday night, Crean was asked about the departure of Luke Fischer from the IU program. Fischer, who averaged 2.8 points and 2.1 rebounds in 13 non-conference games, announced on Sunday that he's transferring to Marquette.
Crean was asked by a caller if Fischer's reason for leaving was because he was homesick and while Crean stopped short of singling it out as the only reason, he didn't dispute the notion, either.
"Well, I think he chose to go Marquette, which we saw yesterday. It's close to his home. I would say he's closer to home," Crean said. "I don't think any of us had any doubt, when they walked out last week, that he wasn't going to be very far from his house. He did a good job here. He had very good future potential. There's no question that the injury set him back a little bit early on here and probably never quite where he wanted to be, although he was improving.
"We felt really good about his future. But, you know what, we're going to feel good about somebody else's future here when we sign someone. It's just the way it is. No ill will with him. Great family, great young man. We enjoyed him, enjoyed the process of recruiting him. I hope he's successful and he did a good job at Indiana while he was here."
Iowa's McCaffery suspended for outburst in loss to Wisconsin
The Big Ten announced on Tuesday morning that Iowa coach Fran McCaffery has been suspended one game for his actions in Iowa's 75-71 loss at Wisconsin on Sunday night.
According to the conference, McCaffery violated the league's sportsmanship policy with his actions towards the officials. McCaffery was assessed two technicals and ejected. Iowa has been fined $10,000 for McCaffery's actions.
He'll serve his suspension on Thursday when Iowa hosts Northwestern.
"I want to again apologize to the University of Iowa, my players, staff and the tremendous Hawkeye fans for my emotional reaction during Sunday's game," McCaffery said in a release on Tuesday. "I regret my actions and accept the Big Ten Conference's decision. I am ready to move on."
Filed to: James Blackmon Jr., Luke Fischer