The Minute After: Michigan State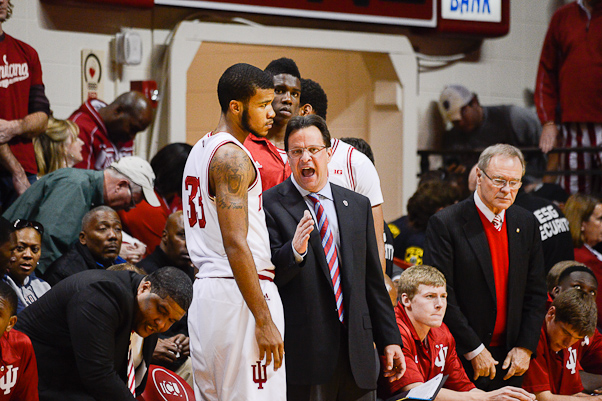 Thoughts on a 73-56 loss to the Spartans:
Seniors Keith Appling and Adreian Payne sat on the bench near the end of the first half, saddled with two fouls a piece. It mattered little. This Michigan State team defended well without them and fellow starters Garry Harris and Branden Dawson made sure points were still going upon the board. The Hoosiers trailed by nine at half and it was just about as close as they'd get the rest of the ball game.
Indiana paid itself little favors, made it so much harder, and that's just no path to victory against a Spartan team contending for a Big Ten championship, one looking for yet another Final Four trip with Tom Izzo at the helm.
Despite the boos, Harris, as he did last season under similar circumstances, was sensational in this one. When he wasn't ripping treys (5-of-10), the sophomore was stealing the ball from the Hoosiers (five) and scoring on the other end. He finished with a career-high 26 points in what was maybe his final trip to Assembly Hall. He showed the emotion of a confident, fearless kid and it's an attitude that will serve him well at the next level. Oh, to think how this season might be playing out a little differently had Harris opted for the cream and crimson.  
We could harp on the turnovers (23.5 turnover percentage), but there was so much more that doomed the Hoosiers in this one. The Spartans were tough at the rim (season-high nine blocks) and so Indiana failed to get easy buckets in the paint; IU shot just 36.8 percent on 2-pointers. The Hoosiers were also bested on the offensive boards (31.2 vs. 29.4 offensive rebounding percentage). Michigan State's ability to keep possessions alive and hit some dagger second (or third) chance buckets took the life out of Indiana.
The Hoosiers did a pretty good job of getting to the line (41.6 percent free throw rate), but they missed the front end of some crucial 1-and-1 opportunities in the first half and finished the game just 13-of-20 (65 percent) from the charity stripe. Michigan State packed it in and limited IU in transition, forcing Indiana to often have to make a go of it in the halfcourt. The Hoosiers did, however, shoot it well from 3-point distance once again (5-of-10, 50 percent). But add it all up and Indiana scored just a measly .896 points per possession while giving up 1.11 to MSU.
Will Sheehey played with spirit, taking out a referee while diving for a loose ball and getting in some words with a host of Spartans on the court. He finished a perfect 3-of-3 from distance and 2-of-2 from the line en route to 13 points. Stanford Robinson continues to make the case. Jeremy Hollowell took a quick 3-pointer during a possession in the first half and Crean had some words for him during the next stoppage of play in the huddle. Whether Crean was berating him, and what was said, I don't know. But we do know Robinson got the start in place of Hollowell in the second half and he finished the game with a career-high 13 points.
Robinson hit two jump shots (4-of-6) and turned the ball over just once. He did lose Harris on occasion in the first half, but Tom Crean continues to trust him defending the opposing team's top players. Indiana desperately needs more options on offense and maybe that's going to be Robinson's role. The fact that he's a two-way player helps, too.
It's a tough loss and Indiana now has one week to prepare for Penn State in Happy Valley. It's winnable, but if the Hoosiers keep making things hard, it isn't going to come easy.
Filed to: Gary Harris, Michigan State Spartans