Perspective needed for transition season in Bloomington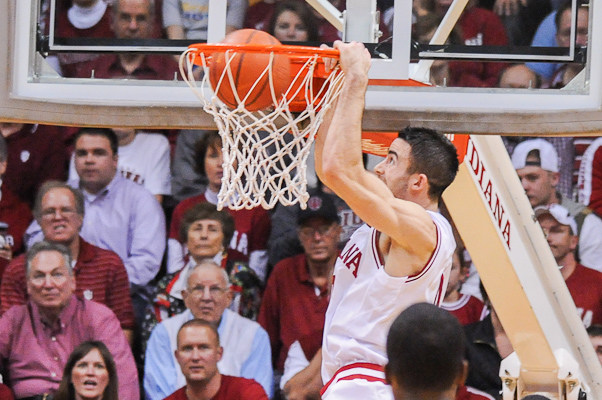 Perspective is often missing from the vocabulary of the diehard, passionate sports fan. I've been guilty of it, you've been guilty of it, we've all been guilty of it.
A common theme amongst fan bases across all of the major sports is this: A palpable thirst for winning.
Enhancements in technology, such as social media, and the endless availability of information have only served to make fans more knowledgeable about their respective teams and thus, even more fanatical.
Winning in Bloomington the past two seasons has become the norm. The Hoosiers won 56 games over the past two seasons, including an outright Big Ten championship for the first time in 20 years last season. This resurrection, led by Tom Crean, came after a trip to the abyss that's been well documented, but is now in the past and no longer a major part of the discussion because, well, it's over.
The future is now for Indiana basketball and this season's 10-4 start has been met with a wide range of opinion from one of college basketball's most engaged and intelligent groups of fans. Many have stayed the course while IU tries to progress with the country's 322nd most experienced team while others are second guessing every timeout, turnover or substitution.
It's become both fascinating and exhausting to follow all of the dialogue.
What's not up for debate, however, is the reality of what this season is for Indiana. It's a year of transition. There will be no Big Ten or national championship. There may not even be a NCAA tournament appearance. The preseason polls told us Indiana was a top 25 team. It's taken less than half of the season to learn that the polls were wrong, at least for now.
So where exactly does perspective tie into all of this?
Let's start with the aforementioned experience gap that was hit with a missile when Cody Zeller and Victor Oladipo improved to the point where they could leave early for the NBA and become top four draft picks.
When the ink dried on the National Letters of Intent for the class of 2013 last November, raise your hand if you had Oladipo pegged as a national player of the year candidate and lottery pick. As Oladipo and Zeller learn the ropes in the NBA, Indiana is trotting out lineups full of young players and a pair of older guys — Evan Gordon and Will Sheehey — neither of which has ever been 'the guy'. Both players were pivotal losses, along with Christian Watford and Jordan Hulls, and to think any of the four were easily replaceable, regardless of what the recruiting rankings might say, was wrong.
That's not to say Indiana can't get a lot better — it can — as the season moves along.
While it's true the Hoosiers don't have a marquee win on the resume, they also don't have a truly bad loss, either. With the exception of the Syracuse game, Indiana has been in every game until the last couple of minutes. Two of the losses have been one-possession games against a certain NCAA tournament team (UConn) and another (Illinois) that could easily get there.
With 17 Big Ten games remaining, there is opportunity to make adjustments and improvements. Whether that happens should ultimately judge whether this season is a success.
Also a candidate for a lesson in perspective is the notion that the recent decision of Luke Fischer to leave Bloomington, when paired with the transfers of Remy Abell and Maurice Creek, should set off some kind of alarm of a larger problem brewing.
Each situation is different and while the true reasoning behind Fischer's decision to leave may never become public, attrition is at an all-time high in college hoops. It's a difficult loss for Indiana because it hurts depth at a key position this season and beyond, but it can be overcome and ultimately, will have to be overcome.
IU's success over the past two seasons is in large part responsible for expectations of another season of winning big.
The reality, however, is that it's a year of transition for Indiana basketball.
Filed to: Evan Gordon, Tom Crean, Will Sheehey