What to Expect: Michigan State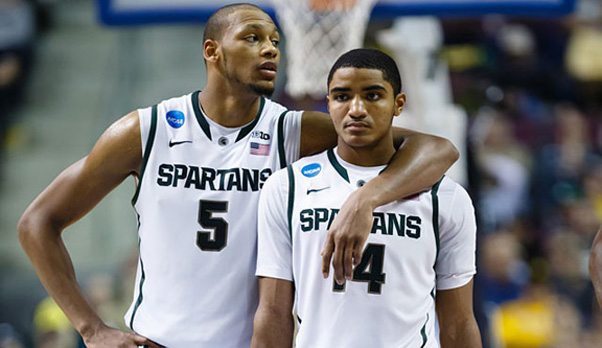 Indiana gets an opportunity to add a marquee win to its resume on Saturday afternoon as the Hoosiers welcome No. 5 Michigan State to Assembly Hall.
The game will be broadcast at 2 p.m. on CBS and on the IU radio network (Sirius 91, XM 91):
Indiana hasn't built a resume worthy of NCAA tournament consideration to this point. The good news is that it can begin doing just that on Saturday.
The Hoosiers actually received a favorable Big Ten schedule this season, avoiding road games at Ohio State and Iowa and getting a shot at four top 25 teams inside Assembly Hall. The first of those four top 25 teams to come to Bloomington is Michigan State, which had been ranked No. 1 nationally before falling at home to North Carolina in the Big Ten/ACC Challenge last month.
While many picked the Spartans to win the Big Ten in the preseason, both Michigan State and Ohio State will likely be chasing Wisconsin thanks to the schedule makers. Bo Ryan's Badgers do not play in East Lansing or Columbus, so the road to the Big Ten title goes through the Kohl Center.
For now, the focus for Tom Izzo is getting his first win in Bloomington since Feb. 16, 2010 and getting his team off to a 2-0 Big Ten start against a young IU team that will be hungry to make a statement.
PERSONNEL
Not only does Izzo boast one of the most talented starting units in the country, he also has one of the most experienced lineups. Keith Appling and Adreian Payne are battle tested seniors to go along with junior Branden Dawson and sophomores Denzel Valentine and Gary Harris.
Appling again has the point guard reigns and is off to a fantastic start. Whether he can continue it through Big Ten play is a major factor in Michigan State's quest to win the league. Appling has an effective field goal percentage of 57.9, which is largely driven by an improved 3-point stroke. After shooting just 32 percent from distance as a junior, Appling is up to 46.7 percent as a senior. His 15.8 points per game are third on the team and his turnover rate is down while his assist rate is up.
Joining him in the backcourt are Harris, the preseason Big Ten player of the year, and Valentine, who does a little bit of everything. It's been a rough start to the season for Harris, who has again battled an injury and is shooting very poorly from 3-point range at 31.2 percent. The bad news for Big Ten opponents is that Harris is still averaging a team-best 17.9 points despite the shooting struggles. Given that he shot close to 50 percent on 3s in conference play last season, he's due to start hitting.
Valentine is a solid defensive rebounder (15.5 DR%) and facilitator (23.5 assist rate) that does what Michigan State needs him to do, which is limit mistakes and do the little things. Junior guard Travis Trice is MSU's most prominent sub as his 7.8 points per game are fifth best on the team. Trice is shooting 45.2 percent on 3s.
In the frontcourt, Payne continues to prove that he belongs in the discussion as one of the nation's best bigs and Dawson is showing off a vastly improved game. A teammate of Will Sheehey and Yogi Ferrell in the World University Games over the summer in Russia, Payne is second on the team in scoring at 17.0 points per game and second in rebounding at 8.1. He continues to hit 3s at a high rate (44.4 percent) and can protect the rim (3.8 block percentage).
Dawson, a former McDonald's All-American, appears to be finally be putting it all together. An elite rebounder, Dawson is hitting 59.2 percent of his 2s and has a team-best offensive rebounding percentage of 12.4. The backup options in the frontcourt are still a bit unsettled as freshman Gavin Schilling, sophomore Matt Costello and freshman Kenny Kaminski combined for 26 minutes of action in the Big Ten opener at Penn State.
TEMPO-FREE PREVIEW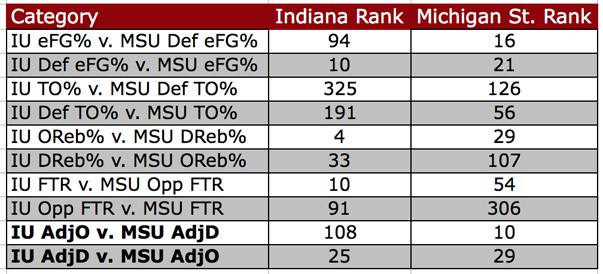 This is yet another opportunity to reverse the turnover trend for Indiana against a team that isn't forcing them at a rate that jumps off the page. Our old friend Justin Albers charted IU's turnovers against Illinois and determined that 18 of the 23 were either "unforced or careless." With three games and counting of 20 or more turnovers, this is again the No. 1 area to watch for the Hoosiers.
Where IU should be able to have an advantage is in getting to the foul line. The Spartans are ranked No. 306 nationally in free throw rate (FTA/FGA) while Indiana is No. 10. Getting to the line 30 times was a big reason Indiana was able to keep things close in Champaign and the Hoosiers again need a big effort in that department on Saturday afternoon.
IU may also be able to do some damage on the offensive glass in spots, but Michigan State has been very solid in keeping opponents off the boards with the 33rd best defensive rebounding percentage.
WHAT IT COMES DOWN TO
The Pomeroy prediction is a very close game, with Michigan State winning 75-73 with a 58 percent win probability for the Spartans. Of Indiana's home games with the league's likely top four (MSU, Ohio State, Iowa and Wisconsin), it's the second best chance for a win, according to Pomeroy.
It's become a broken record, but the problem is so glaring that it's reality. Turnovers will again be the major factor in the outcome for Indiana. In three of the Hoosiers four losses, they've posted ridiculously high turnover rates: Connecticut (28), Syracuse (27.8) and Illinois (29). It's tough to imagine Indiana duplicating the 3-point shooting it displayed in Champaign, so getting on the offensive glass, getting to the foul line and cutting down the mistakes whenever possible are all critical factors.
On the line for Indiana is defending home court, which is essential to this team's NCAA tournament hopes and also avoiding its first 0-2 Big Ten start since the 2010-2011 season.
All tempo-free stats via KenPom.com.
Filed to: Michigan State Spartans