The Minute After: Illinois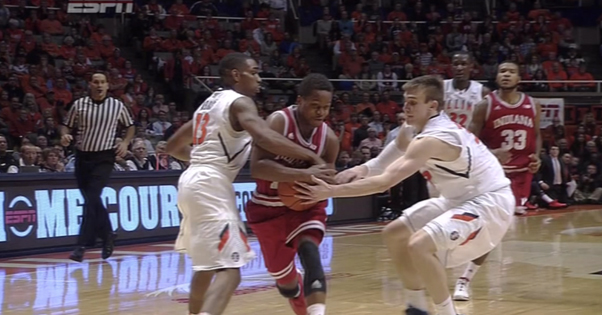 Thoughts on an 83-80 overtime loss to the Illini:
Illinois, a team knocking on the door of the Top 25, provided the Hoosiers plenty of chances to pull out a victory in their first Big Ten contest of the season. But in a wild, back-and-forth affair, these young Hoosiers fell short once again to a quality opponent.
Start here: Yogi Ferrell played sensational. He showed no fear on his way to a career-high 30 points. Ferrell hit 5-of-8 from 3-point range — several of them coming in key moments when the Hoosiers really needed a bucket. (None were bigger than a 3-pointer he hit with four seconds remaining in overtime to still give IU a puncher's chance.)
But Ferrell also had two wild, ill-advised turnovers on bad passes to Hanner Mosquera-Perea late in regulation as Noah Vonleh sat on the bench with four fouls. Those tossed away crucial possessions for the Hoosiers, even though Evan Gordon had a shot at the buzzer that could have won it in regulation. (Some of you may be wondering why Vonleh, despite the foul troubles, sat for so long at the end of the contest and in overtime with timeouts there for him to be subbed in.)
And that 3-pointer he hit late was just Indiana's first field goal since the 6:44 mark in the second half. Sure, Indiana made up for it some from the free throw line (24-of-30, 80 percent). And it helped that Illinois was dreadful from distance (2-of-17, 11.8 percent). But turn the ball over on 29 percent of your possessions and go 11-of-29 in the second half and OT (including 1-of-8 in overtime with freshman Stanford Robinson taking a number of wild attempts in the lane as your main point of attack) and it's simply not going to be a recipe for victory in the Big Ten — especially on the road.
Vonleh was crucial for the Hoosiers on both ends of the floor. He was an absolute beast in the first half down low as the Illini's frontline couldn't handle him. He also hit two 3-pointers in the first half and that might not be the last time we see him hitting from distance; he's been steadily working on that kind of range. The freshman finished with 16 points, nine rebounds and four blocks, including a key one late in regulation on Rayvonte Rice to give Indiana a chance to win it before the second-half buzzer sounded. Rice was the Illini's best player today (29 points, eight rebounds) and one that was also mouthing off a bit to both Will Sheehey and Tom Crean in this one.
Illinois may have missed a ton of 3-pointers, but they crushed Indiana, 32-12, in the points in the paint department as a host of guards were able to get into the lane off the perimeter in offensive sets for scores. (We linked to this piece about IU's rim defense late last week and with Luke Fischer now gone, it may become an even bigger area of concern.) And while the Hoosiers won the offensive rebounding battle (42.4 OR% vs. 29.2 OR%), it was the Illini who converted more second-chance points (13 to 9).
Glass half full says Indiana played a near Top 25 team to overtime on the road in just its first Big Ten game of the season and had some huge games out of their best players. Glass half empty says it just might be one of those years where the Hoosiers can't get over the hump.
Filed to: Illinois Fighting Illini, Noah Vonleh, Yogi Ferrell