Hoosiers and Illini to battle in Champaign; Crean elaborates on Fischer's departure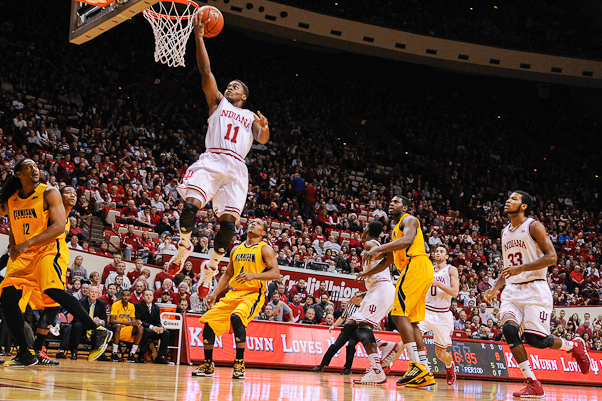 Indiana fans might like to forget the last time the Hoosiers played in Champaign, Ill.
On Feb. 7 earlier this year, the then-No. 1 Hoosiers went into Illinois and collapsed, losing on a buzzer-beating layup to an unranked Illini squad. Almost 11 months later, on the final day of the calendar year at 3 p.m. ET today, the two teams will face off again at the State Farm Center.
This time, though, it will be under a completely different set of circumstances.
Both teams have undergone significant changes heading into today's Big Ten opener. Illinois (11-2) lost three of its five leading scorers in seniors D.J. Richardson, Brandon Paul and Tyler Griffey, and Indiana (10-3) lost four of its five starters over the offseason.
And while both teams are unranked in the early goings of the 2013-2014 season, each has adjusted to their new set of circumstances. Which makes today's game that much more interesting: It's a test to gauge where both teams are at right now.
"In order for us to win, we've just got to stay together," sophomore guard Yogi Ferrell said on Monday before the team left for Champaign. "Don't get into all the hype, all the outside stuff. We know it's going to be loud in there, even more than last year. So we're ready for it."
As much as Indiana's team dynamic has changed over the past 11 months, with Ferrell and senior Will Sheehey becoming the faces of the program, Illinois has changed, as well.
With the departures of Paul, Richardson and Griffey, Illini coach John Groce has simply instilled a next-man-up system, as new and familiar faces have propelled his team to early wins against UNLV and No. 25 Missouri. They are running the same system as last season, Indiana coach Tom Crean noted on Monday, but they're also playing to the new strengths of their team.
Illinois returned Tracy Abrams, Joseph Bertrand, Nnanna Egwu to the mix, but Groce also brought in seniors such as Drake transfer Rayvonte Rice and Illinois State transfer Jon Ekey in addition to freshmen Malcolm Hill, Kendrick Nunn and Jaylon Tate. And through the Illini's first 13 games, they have not missed a beat.
"They've got one of the more experienced teams of understanding how to play basketball; how to win," Crean said. "John is a great coach — I mean not a good coach, a great coach. There's no doubt about that.
"There's not a lot of things that you look at and say they don't do. And I think what they do is they really, really play hard. I mean really play hard. That Missouri win was impressive."
In particular, the Hoosiers have been impressed with Rice, who is leading the Illini with an average 18.2 points per game. The 6-foot-4, 235-pound guard also is averaging 5.5 rebounds per game and plays the most minutes out of anyone on Illinois's entire roster. Crean called him a "bulldozer" in getting to the basket.
"I mean, he's been playing college basketball for a while, so he knows how to play," Sheehey said. "He's got a good feel for it and they run a good offense, so he can get into spots and likes to score.
"He's a big guy, he's strong. He gets you where he wants on the court. So you've got to make sure you stay in front of him and make sure you don't give him too many angles."
As the Hoosiers prepare for their conference opener today, they know they will not only have to match the Illini's intensity, but also counteract their strengths — offensive rebounding, not turning the ball over, limiting opponents in getting to the free throw line and holding them to only a 45.6 effective field percentage are just some of them — if they want to come out of Champaign with a win.
Like the game on Feb. 7, it won't be easy, but both teams have changed. And the Hoosiers are ready for the challenge.
"They're playing like an experienced team, and we're going to have to go in there and we're going to have to match that intensity, that emotion," Crean said. "But we also have to match that intelligence they play with.
"They're hard to beat there. They don't beat themselves."
Crean elaborates on Fischer's departure
Perhaps the biggest news that came out of Bloomington on Monday happened only minutes before Crean spoke to the media, as it was announced that freshman Luke Fischer had chosen to transfer from the program and seek playing opportunities elsewhere.
The 6-foot-11, 230-pound center from Germantown, Wis., had played in all 13 of Indiana's games and was averaging 10 minutes per game, even posting a career-high 10 points in his latest — and final — outing on Dec. 22 against Kennesaw State.
Crean said Fischer informed him of his desire to transfer at around 10 a.m. Monday morning and that his team will move on from there.
"It is what it is, and you wish him the best," Crean said. "We'll miss his potential. We'll miss him as a person. He did an outstanding job here, academically. He's an excellent young man. And we move right on. The team moves right on, practice moves right on, and we just go. That's really what it was."
Fischer's departure, though, leaves Indiana thin on the front-court. The Hoosiers now have only three players on their roster taller than 6-foot-8, and 7-foot center Peter Jurkin has played a total of 10 minutes this entire season. They do have 6-foot-10 freshman Noah Vonleh and 6-foot-9 forward Hanner Mosquera-Perea, who have both played significant minutes this season, but Fischer's departure leaves Indiana without a natural post player. Crean hopes, however, that will simply lead for another player to step up.
"It creates more opportunity," Crean said. "I mean Luke had good potential, there's no doubt about that. But it just creates people to take advantage of the opportunity, that's all you can really ask for. That's really what it is. Time doesn't wait for anybody. You've just got to go, and that's exactly where we're at."
Filed to: Illinois Fighting Illini, Luke Fischer, Tom Crean