Ferrell leads IU to win over Kennesaw State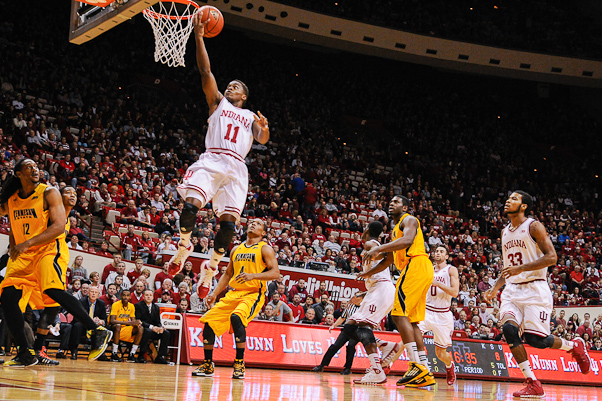 Long before this season even started, much had been made about Yogi Ferrell's improvements over the summer: how much his game and leadership had improved, how perhaps his shooting, specifically, had come a long way. And how his newfound scoring potential would be a significant need for a team that lost 77 percent of its 3-point shooting production from only one season ago.
Well, 13 games into Indiana's 2013-2014 season, Ferrell has become that overall player the Hoosiers have desperately needed. He has scored double digits in every game he's played thus far. He has at least had two assists in every game this season.
And on Sunday, in the Hoosiers' non-conference finale against Kennesaw State, Ferrell once again showed how valuable of an asset he could be to the Hoosiers. His 25 points off 8-of-12 shooting (3-of-6 on three-pointers), six rebounds and five assists paced Indiana (10-3) in its 90-66 win over the Owls.
"(He) just played at a high speed and played," Indiana coach Tom Crean said of Ferrell. "Made the game easier for his teammates. If it was there, he passed it. If it wasn't, he shot it. It sounds mundane and simple, and maybe for him it is that simple."
Only a season ago, Ferrell was Indiana's lone freshman in its starting lineup on a team that had two seniors, a junior and a sophomore that went on to play professional basketball. Ferrell, who was primarily a facilitator as a freshman, was vaulted into a leadership role from the moment this season began as the team's point guard.
And he has produced, too. From averaging 7.6 points last season to 16.8 this season; from 0.64 3-pointers made per game clip as a freshman to 2.7 made per game this season; to raising his assist rate and cutting his turnover percentage, Ferrell has become the scorer and distributor Indiana needs.
On top of it all, Ferrell has also been asked to set the pace for Indiana. And Crean wants him to play fast. He did just that on Sunday, and he has been able to find rhythm to his game heading into Big Ten season.
But when asked how he has been able to do it all, Ferrell said it comes down to just playing the game.
"Well, I think it's just pushing the ball really," he said. "I'm trying to find different outlets and just find different ways to score. Kind of just playing the game really. Just trying to make the game as simple as possible."
Turnovers remain an issue
For the second time in three days, Indiana turned the ball over 20 times.
Though the Hoosiers won big, the style of sloppiness has them alarmed. On multiple occasions on Sunday, much like on Friday against Nicholls State, poor passing decisions led to turnovers — a season-high — as the Owls converted 18 points off turnovers on the night.
"(There's) a few things we need to work on," Ferrell said. "Of course, taking care of that ball. That definitely starts with me and Will (Sheehey). We're definitely going to get on guys a lot harder. We can't afford to give teams the ball in the Big Ten."
Many of Indiana's turnovers, though, have come as a byproduct of its quick pace. Crean talked about how his team spent much of this week working toward its desired identity: playing fast and through the paint, however, it is still a work in progress. And with Big Ten season right around the corner, continue to turn the ball over will spell trouble ahead.
"We have to be able to develop consistency and decision making," Crean said. "Style of play for us has got to be very, very clear that we have to do things at a high level. Whether it's successful or not, the ball goes through the paint, we challenge shots, we talk on defense, we get to the glass, we get out and play.
"We've got a bunch of guys that want to do it right. They just don't get it yet. We don't understand yet how valuable that basketball has got to be every possession."
Fischer getting into a groove
For three straight plays in the first half against Kennesaw State, freshman Luke Fischer showed the potential brings to the table as a 6-foot-11 center.
With 10:42 left in the half, Fischer received a pass from sophomore Austin Etherington and dunked it. He then ran down the floor, altered the ensuing Kennesaw State shot and ran all the way back, beating every Kennesaw State defender and converting a long Evan Gordon pass into a breakaway dunk.
Fischer finished Sunday's game with a career-high 10 points, three blocks and two rebounds in only 10 minutes of floor time. And the more he plays, the more comfortable he says he is feeling on the court.
"I think ever since this past week started, coach really had us running full in practice," he said. "That's just translated to games. We've been doing it all week long."
Fischer tore his labrum in late September going for a rebound in practice and missed much of Indiana's preseason. But in three of Indiana's past five games, he's scored at least six points. And according to Sheehey, interior scoring is just the start of the contributions Fischer can make to the team.
"He's more comfortable in practice, really been more aggressive," Sheehey said. "(That's) really been translating into the games. He is posting hard, playing hard on defense which translates into offense as well. Maybe he had a block or steal on one end, ran down had a dunk on the other end. If he continues to do that, he'll be a very good player for us."
Filed to: Luke Fischer, Yogi Ferrell