What to Expect: Nicholls State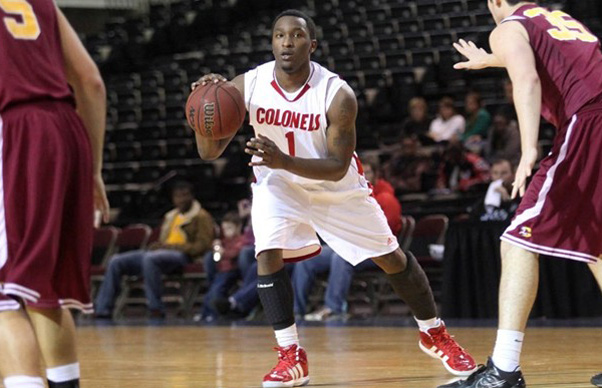 After a loss to Notre Dame in the Crossroads Classic six days ago, Indiana returns to action with a pair of games this weekend at Assembly Hall. First up is Nicholls State (3-5) on Friday night.
The game will be broadcast at 7 p.m. ET on BTN with Dave Revsine and Stephen Bardo on the call and on the IU radio network (Sirius 85, XM 85):
Indiana opens the Big Ten season in 11 days at Illinois and that might be the next time we learn anything of significance about the Hoosiers. That's because the Hoosiers have two of the nation's worst teams coming to Assembly Hall this weekend in Nicholls State and Kennesaw State.
Nicholls State, which makes its second trip to Assembly Hall (2005 was the first), hasn't had a winning season since 2009, but guarantee games like tonight's and one last month against Memphis go a long way in keeping the school's athletic department viable financially.
For the Hoosiers, it's a chance to stay engaged and focused on improvement before taking some time off for the holidays, but to expect a challenge in either game might be asking too much considering the competition.
NICHOLLS STATE PERSONNEL
The Colonels are led by 6-foot-2 senior guard Dantrell Thomas (pictured), who is the program's leading scorer (14.9 ppg) and second leading rebounder (4.9 rpg), but is just an average player from an efficiency standpoint. Thomas is making 54.2 percent of his 2s and gets to the line at a decent rate (48.1 percent free throw rate). However, he was just 10-of-60 last season on 3-pointers and is off to another shaky start at 2-of-9 in his senior season.
The only other Nicholls State averaging double figures in scoring is 6-foot-3 senior guard Jeremy Smith, who has the team's best effective field goal percentage at 53.9. A third guard, Shane Rillieux, also starts and plays a team-high 30.4 minutes per game but isn't much of a scoring threat (5.6 ppg). T.J. Carpenter, a 6-foot-4 sophomore guard who comes off the bench, is the team's best 3-point shooter at 43.8 percent.
The frontcourt is essentially a by-committee approach as JaMarkus Horace (4.3 ppg, 3.5 rpg) and Liam Thomas (2.9 ppg, 3.4 rpg) typically start, but two reserves, Sam McBeath (4.3 ppg, 5.7 rpg) and Ja'Dante' Frye (2.1 ppg, 2.1 rpg) also play regularly.
TEMPO-FREE PREVIEW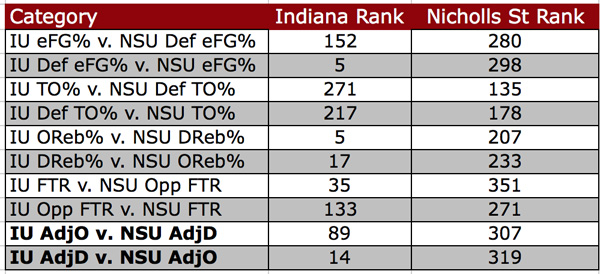 Rather than going too in-depth on what is a lopsided matchup, here are a couple of things that stand out when examining the Nicholls State profile:
· A fouling epidemic: This is not an exaggeration. Nicholls State is fouling its opponents at a rate that suggests the new rules instituted this season are of no consequence to the Colonels. When your opponents have taken 289 free throws in eight games for a free throw rate (FTA/FGA) of 80.7, well, that's just unthinkable and a recipe for losing.
· Rebounding is going to be extremely one sided: Not only is Nicholls State missing a lot of shots (45.2 eFG%), the Colonels aren't rebounding many of their misses (just 29.5 percent). The Hoosiers have dominated small conference teams on the glass and tonight should be no different.
WHAT IT COMES DOWN TO
Indiana should have no problem pulling away from Nicholls State and winning comfortably. Vegas likes the Hoosiers by 27.5 and the KenPom projection likes IU to win by 25.
The problem with playing lesser competition, at times, is having a letdown or a lapse in the midst of a blowout. It's happened several times early this season, but it's worth keeping an eye on how engaged the Hoosiers stay throughout the game.
Looking at the bigger picture, this weekend's games should move Indiana to 10-3 heading into Big Ten play but without a win to hang its hat on. The unforgiving grind of the Big Ten awaits soon enough, and we're close to figuring out how well the Hoosiers are prepared to meet the challenge.
(Photo Credit: Nicholls Athletics)
All tempo-free stats via KenPom.com.
Filed to: Nicholls State Colonels