The Minute After: Nicholls State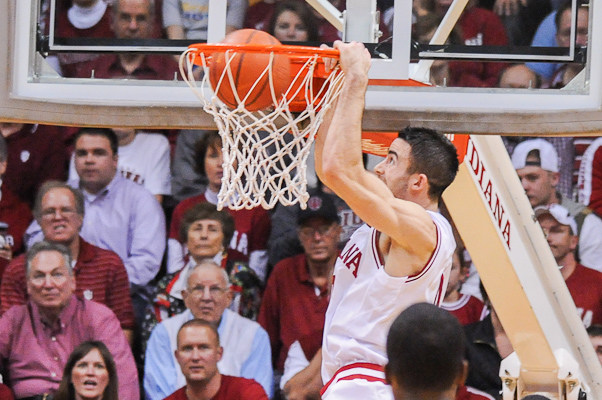 Thoughts on a 79-66 win against the Colonels:
A long layoff after a disappointing loss, practice, finals, a later-arriving crowd, the holiday season. It all collided in this last week for the Hoosiers. So Friday night's affair amounted to a rough start. Sluggish, sloppy play saw those higher in the rotation supplanted for Jonny Marlin and Collin Hartman before the break.
But Yogi Ferrell put on a show for a stretch in the second half and it was enough for the Hoosiers to get the win and move onward. Ferrell dished out seven of his eight assists after the break — one that included a laser to Hanner Mosquera-Perea for an and-1 dunk. Indiana also had a strong 60.2 eFG%. Equally impressive, it sported a free throw rate (FTA/FGA) of 79.5. (The latter mark was to be expected with the Colonels' fouling habits.) The Hoosiers also took an appropriate amount of 3-pointers this time around and shot it well (5-of-12, 41.7%.)
Jeremy Hollowell scored 14 points on 6-of-9 shooting and Will Sheehey now has back-to-back solid offensive games (4-of-8, 2-of-2 from 3-point land, 14 points).
Still, some lingering doubts remain.
Though Indiana looked for Vonleh in the post to start the game, he had trouble establishing himself. The freshman took just four field goals all game and scored only six points. After an impressive double-double stretch to start the season, Vonleh has been inconsistent — as all 18-year-olds can be. Indiana coughed up the ball on 28.2 percent of their possessions against a defense KenPom ranks in the 300s in the nation. Every starter turned it over twice or more except Vonleh (one turnover). Devin Davis had three of his own.
Indiana has the athletes to run. And it plays a style that can lead to easy buckets, quick scores and a bunch of trips to the line. But add this team's turnover issues into the mix, and it becomes hard to strike the balance between opportunity and failure with such a style. Consider this, too: Indiana's transition offense (48.1 eFG%) is scoring at a lower clip than its halfcourt offense (51.5 eFG%). And this: Indiana's defense ranks higher than its offense from an efficiency standpoint (No. 18th ranked D, No. 79 ranked O, per KenPom). Its also shown the ability to rebound the ball at a high level on the offensive end.
All of it is some evidence that Indiana might consider slowing things down once Big Ten season hits. (Maybe it'll happen anyway as better talent won't let them leak out so much in transition.)
Whatever the case, time's running out. Only one game separates these youthful Hoosiers from a trip to Champaign. As Yogi Ferrell said after the game "that Big Ten is no joke."
Indiana's young group of players is about to find that out.
Filed to: Nicholls State Colonels, Yogi Ferrell