Indiana takes week following Notre Dame loss to focus on itself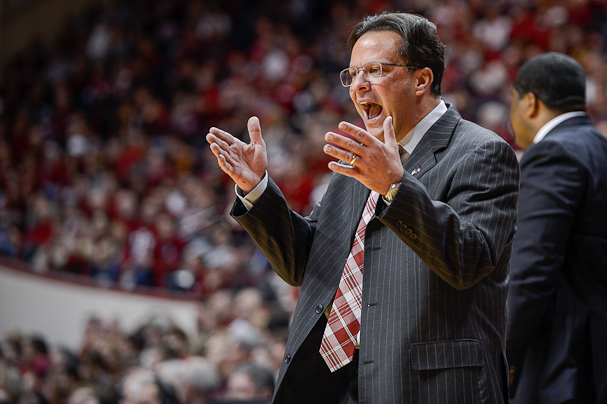 Less than one week ago, Indiana coach Tom Crean walked off the court at Bankers Life Fieldhouse questioning his entire team's identity following a 79-72 loss to Notre Dame in the Crossroads Classic.
After all, not only did his team give up an effective field goal percentage of 51.9 percent, its second worst output of the season for a team that typically holds opponents to a number in the low 40's, it also got dominated inside the paint as the Hoosiers could not get much interior offense — or defense — rolling.
With more than five days of rest and practice, though, as his team has taken final exams all week, it has allowed Crean to take a look at what his team needs to do to get better. And coming off last Saturday's loss heading into tonight's game against Nicholls State (3-5) at 7 p.m., his players are eager to bounce back, as well.
"As far as our week, we've been very, very locked in to getting better, without question," Crean said on Thursday night during his pregame press conference. "I think everybody recognizes on our team that there is a lot of room for improvement. The biggest thing is just establishing more and more what our style of play is and where we want to take it to."
For Crean, he knows exactly what that style of play needs to be. When his team has had success this season thus far through its first 11 games, the pace has been quick. When his team wins, it gets to the free throw line often, controls the rebounding battle, gets the ball inside and plays effective defense. The Hoosiers rank No. 14 in the nation in defensive efficiency and No. 5 in opponent effective field goal percentage.
But when the Hoosiers struggle, it is when they are forced into a halfcourt offense and cannot get the ball into the paint or the type of ball movement they desire. It happened, most notably, against Notre Dame last Saturday and against Syracuse on Dec. 3.
Crean knows it, too. He has looked at the numbers, and he knows what his team has to do in order to play to a recipe to win.
"Our style of play needs to be a lot of different people contributing," he said. "Our style of play needs to be forcing the tempo on both ends. Our style of play needs to be moving the ball constantly, getting the ball through the paint, whether it's a drive or a post-up, no matter what the defense is.
"Every time that we play through the paint, we get great things. And it's amazing how much more that perimeter opens up when we do that. And that's exactly how we have to play."
But Crean also takes responsibility for his team's shortcomings thus far, too. With three losses, Indiana is without a marquee win in its non-conference season. With six freshmen and another four sophomores getting playing time, his team is still very inexperienced and perhaps does not have the in-game awareness that an experienced team has. And with Big Ten season looming in only a matter of weeks against teams much more experienced than IU, that awareness could prove to be a huge flaw.
Again, he believes that will come, but it will only be through continuing to build on the team's identity and doing what it does best.
"I think it's understanding momentum and 5-,6-,7-, 8-point differentials and what we have to get right now," Crean said. "And a lot of that comes through moving the ball, reverse it, play it through the paint and play it through the post.
"We've got to keep playing every game the same way. Every game is different, but you've got to go with the same mindset of attack."
Nicholls State attack intrigues Crean
Though the numbers might not be pretty — the Colonels are ranked No. 319 nationally in offensive efficiency according to KenPom.com — Nicholls State's offensive attack has Crean intrigued.
Nicholls State runs a five-man set that Crean said he has never seen before, one that involves lots of cutting, middle drives and backcuts. There will be shot fakes, and Crean estimates the Colonels will also tend to take mid-range shots and open 3-pointers.
"They want you to screw up and they're going to run it until you do, in a lot of ways, until they get the shot that they want," Crean said. "It's somewhat deliberate but creative in the sense that some of the cuts are unique.
"So we've got to be really sharp in how aggressive we are, who we're guarding, the way we want to guard them."
Filed to: Nicholls State Colonels, Tom Crean