IU to make "major facility related" announcement today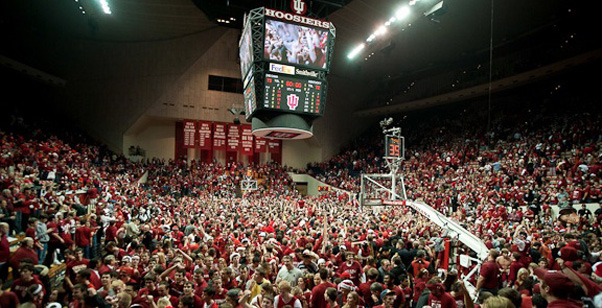 Update: Per a pair of tweets from Bob Kravitz, Assembly Hall will be renamed Simon Skjodt Assembly Hall in 2016 after $40 million in renovations to the building are complete.
—
Indiana University president Michael McRobbie will make a "major facility related" announcement today at 2:30 p.m. ET at Assembly Hall.
In October, athletics directory Fred Glass told Inside the Hall that an announcement on the future of Assembly Hall could come later this year.
Here's an excerpt from our story in October:
For a building that has been around for more than 40 years, it has flaws. The steps are at different lengths. Not all the seating is considered "premier." A segment of fans want the building torn down and replaced with a new, state-of-the-art arena. That's not happening, Glass said. But he is quick to admit Assembly Hall needs renovations, especially to make it more "fan-friendly." He is ready to lead that effort.
"I really try to never go to the bathroom there if I can because the restrooms there are so nasty," Glass said. "We just need to do better with that sort of thing."
Some of those improvements, which Glass said will include the concourse and the overall environment of the building, will be made as part of IU's major fundraising campaign for its upcoming bicentennial in 2020. Though IU's athletic department has not definitively selected which projects they will pursue, one or more Assembly Hall renovations are at the top of the wish list.
An announcement could come as early as the end of the calendar year.
"I think we need to do some things to improve it as a venue," Glass said. "But not anything that would dramatically change the bowl or the essence of the place."
Following McRobbie's announcement, Glass will be made available to the media to discuss the announcement.
Filed to: Assembly Hall, Fred Glass