Five takeaways from Indiana's loss to Notre Dame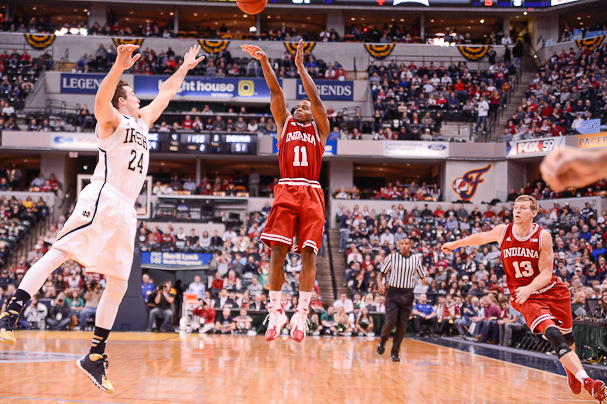 Indiana dropped its third game of the season on Saturday afternoon in the Crossroads Classic at Bankers Life Fieldhouse. The Hoosiers fell 79-72 to Notre Dame, squandering their last opportunity for a resume building non-conference win.
Here's a look at five takeaways from the loss to the Fighting Irish:
· Indiana failed to play to its strengths offensively: Whether you want to credit Notre Dame for forcing Indiana to operate on the perimeter or blame the Hoosiers for failing to get the ball into the post against the zone, this game featured far too many perimeter shots from IU.
The Hoosiers hoisted 31.7 percent of their shot attempts from behind the 3-point arc and another 39.7 percent of their shots were 2-point jumpers. For a team that's built on getting the ball inside either on post feeds to Noah Vonleh or getting to the basket using the dribble-drive offense, to have 71.4 percent of your shot attempts coming on jump shots is too high.
"Like I told our guys: We made one more three than Notre Dame did and lost the game," Indiana coach Tom Crean said. "That's not a good trade off … We're not a team that's going to be successful shooting a lot of jump shots."
· Notre Dame didn't shoot well from the perimeter, but …: The Fighting Irish hit just 30 percent from behind the 3-point arc, a figure that came in 10 percent below their season average. A lot of the looks were open, but failed to go down. The defense inside the arc was a much different story.
Notre Dame took 46.3 percent of its attempts on Saturday at the rim and hit on 48 percent, which isn't great, but the overriding point is that the Fighting Irish did a much better job of finding high percentage shots and knocking them down.
· Will Sheehey comes alive and the freshman go (mostly) silent: It was the breakout game that Indiana needed offensively from its senior from Stuart, Florida. Will Sheehey tied his career-high with 22 points on 9-of-15 shooting from the field and was as effective as ever in the midrange game.
When he's at his best, there are few better in the country at moving without the ball than Sheehey and he was the only Hoosier that was consistently hurting the zone.
But as these things typically go, Sheehey's performance came on an afternoon when IU's freshman played poorly overall. Noah Vonleh had eight points and six rebounds, but had trouble guarding Garrick Sherman. Stanford Robinson had six points, but three careless turnovers. And Devin Davis, Luke Fischer and Troy Williams combined for 0 points on 0-of-7 shooting.
· Indiana beaten soundly at the foul line: The Hoosiers have enjoyed a healthy advantage over opponents at getting to the line this season, but on Saturday, it was Notre Dame that easily won the free throw battle.
The Fighting Irish shot 30 free throws compared to just 16 for the Hoosiers. Notre Dame's free throw rate (FTA/FGA) of 55.6 perecnt was the highest for an Indiana opponent. Crean said postgame that failing to get the ball into the post was a major reason that Indiana didn't get to the line enough.
"There's nothing wrong with shooting jump shots as long as you're playing through the post," he said.
That didn't happen enough as Vonleh, IU's most efficient post scorer, attempted just five shots.
· The Crossroads Classic feels stale: Two years ago, the Crossroads Classic had a considerable amount of buzz as it was the inaugural version of the event. Last year had some sizzle with the Hoosiers being ranked No. 1 coming into Bankers Life Fieldhouse.
This year's event just felt tired overall despite an announced sellout. There were a ton of empty seats in the upper level and IU brought more fans than the other three schools involved combined.
While the idea of playing a neutral court game in Indianapolis each season is an excellent one, it's certainly fair to ask what Butler, Notre Dame and Purdue are bringing that IU couldn't get from playing a game on its own with a new opponent each year.
Filed to: Notre Dame Fighting Irish