The Minute After: Notre Dame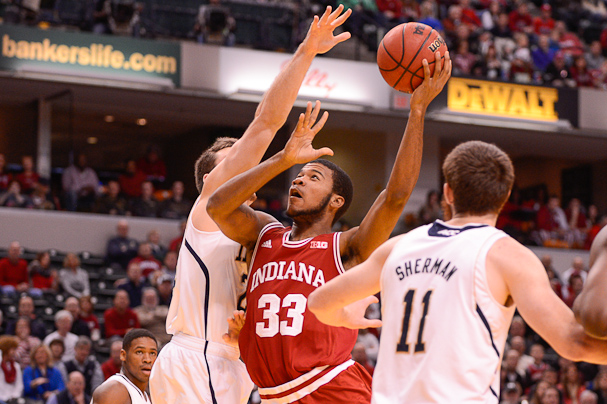 Thoughts on a 79-72 loss to Notre Dame:
Try as they might, the Hoosiers just couldn't get over the hump in Indianapolis today. It was a game IU never led, despite threatening to take the lead on several occasions. The Hoosiers trailed by just two with two minutes to go, but they had trouble getting anything to go through the hoop their last few possessions. Yogi Ferrell missed three shots and the front end of a one-and-one (He did score Indiana's only points of the last two minutes on a made 3-pointer with 5.2 seconds left). Will Sheehey missed a trailing 3-pointer. Evan Gordon missed a 3-pointer as time expired.
Indiana entered today's game with the ninth best adjusted defensive efficiency mark in the country per KenPom, but its defense today was lacking, especially in the first half. They got killed inside in the first 20 minutes, as fifth-year senior Garrick Sherman had 13 at the break as Noah Vonleh had trouble containing him. Indiana also lost Notre Dame players in transition before and after halftime, allowing the Irish to get some easy looks. Indiana also didn't stay close with sharpshooter Pat Connaughton too many times in the second half. He hit 3-of-4 from distance over the final 20 minutes and was once left wide open as the Hoosiers curiously tried to sink into a zone during one possession. Jerian Grant didn't shoot it great (5-of-14), but he was a perfect 11-of-11 from the line en route to 23 points.
After Will Sheehey's past four rough outings on offense, he came alive early and often in this one. Notre Dame zoned Indiana up and there was Sheehey cutting to the middle of the zone and hitting mid-range jumpers time and again. The senior also hit a 3-pointer this afternoon and finished 9-of-15 for 22 points, which tied a career high. Evan Gordon started out the contest by continuing with his hot hand, but it cooled as the game wore on. He finished just 3-11 from the field, all three coming from beyond the arc. For a team that struggles from distance, Indiana was decent in Indianapolis today (7-of-20, 35 percent). Stanford Robinson (six points) gave the Hoosiers a spark during a crucial period in the second half when Sheehey and Noah Vonleh sat on the bench with three fouls a piece and IU had an offensively challenged lineup on the court for a stretch.
Indiana has excelled at getting to the line this season, but it didn't happen much today. Notre Dame did a nice job of contesting without fouling around the rim and had the size and athleticism to not let the Hoosiers run all over them. Indiana's free throw rate (FTA/FGA) was just 25.4 percent, well below its season average of 54.8 percent, though they did shoot it well when they got there (13-of-16, 81.3 percent). Notre Dame, on the other hand, got to the line 30 times (55.6% free throw rate) and made 23 of those attempts.
With no legitimate tests between now and its New Year's Eve matchup with Illinois, Indiana failed to pick up a marquee non-conference win for its NCAA tournament resume. They'll have to use the brutal Big Ten season to stack some wins against good teams, and that's no easy task.
Filed to: Notre Dame Fighting Irish