Indiana focused on stopping efficient Notre Dame offense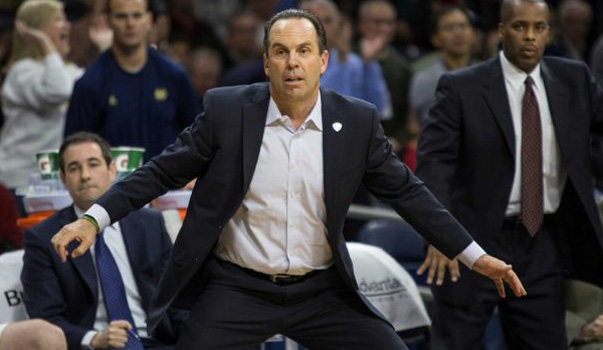 After his team lost to North Dakota State, 73-69, on Wednesday, Notre Dame coach Mike Brey said his team needed more confidence on the court.
Especially on the offensive side, after his team had its second-worst shooting performance on the season (43.8 effective field goal percentage), his biggest worry was that his team has lost its offensive rhythm.
"For a program that's kind of hung its hat on being efficient offensively, I just think this week, not the greatest of rhythms," he said on his teleconference with the media on Thursday. "I think it's a little bit of confidence with stuff. That's why I think in practice, you've got to play a little bit. You've got to step up. I want guys to keep taking shots."
Heading into today's game in Indianapolis as part of the 2013 Crossroads Classic, Indiana is well-aware of those shooting struggles. But for the Hoosiers, stopping the Fighting Irish's offense will still be priority number one.
"I know they didn't have great scoring the other night, but they're fully capable," Indiana coach Tom Crean said on Friday. "They're always one of the better shooting teams in the country. I don't think this team is any different."
Even including their loss against North Dakota State, the Irish have one of the most efficient offenses in the country: their adjusted efficiency, according to Ken Pomeroy's ratings, is 28th best nationally. Led by its 3-point shooting, Notre Dame has scored an average of 81.4 points per game with a 3-point shooting percentage of 40.6 percent and an effective field goal percentage of 54.6. In fact, four of its five starters — guards Jerian Grant, Pat Connaughton, Eric Atkins and Demetrius Jackson — have already made at least 13 shots from behind the 3-point arc this season.
In addition to their perimeter shooting prowess, though, the Irish also have an interior presence in 6-foot-11 senior Garrick Sherman, who averages 14.1 points and 7.7 rebounds per game.
The Hoosiers know the Irish can rely on both their interior and perimeter offense for productivity. Which, according to freshman Troy Williams, make it that much more of a challenge come tipoff at 3:15 p.m. today.
"I'm expecting them to hit some big time shots, a lot of 3-point shooters on the team," Williams said. "I'm just hoping we can do well on defense against them. Just taking away their airspace on their step-back 3-point shooters and making sure we can stop Sherman from scoring and shooting over the shoulder. Those would be the two biggest things."
But how Notre Dame gets its offense rolling has Indiana's attention. Crean said his team will have to watch for Notre Dame's spacing and especially know when and when not to switch, defensively. On Wednesday, he thought the Irish simply did not make shots. Indiana wants a repeat performance today.
"They run a lot of sets to a 'T', they move the ball very well and they get it out in transition," he said. "We've just been focusing on transition defense and kind of just guarding their personnel. We just need to play disciplined on defense. If we break down, we've got to help each other. It's definitely going to take a team effort.
"If we guard our yard and stay to their tendencies, we'll be OK."
Davis and Williams active
Crean said that both Williams and freshman Devin Davis will be available to play in today's game.
Williams had injured himself on the final play of Indiana's 81-54 win over Oakland on Tuesday when he leaped over multiple chairs in the waning seconds going after the ball, but he was dunking in practice on Friday.
Davis, meanwhile, re-aggravated a sprained ankle last Saturday in IU's win over North Florida and missed Tuesday's game against the Golden Grizzlies.
Williams has started all 10 of Indiana's games, averaging 9.1 points and 5.4 rebounds per game, while Davis is playing 11 minutes per game and averaging 3.4 points and 4.4 rebounds.
(Photo credit: Robert Franklin, Associated Press)
Filed to: Devin Davis, Notre Dame Fighting Irish, Troy Williams