Sheehey continuing to adjust to new role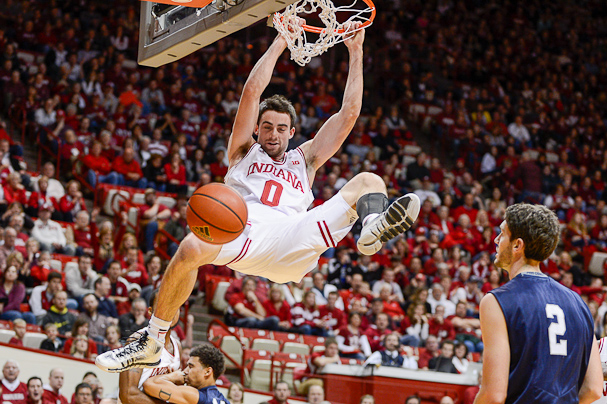 Indiana coach Tom Crean knows he is asking for a lot from Will Sheehey.
In the Hoosiers' first 10 games of the 2013-2014 season, Crean has bestowed the role of starter, leader, defender, scorer and rebounder on a player who has typically come off the bench for much of his career as a sixth man.
Through those 10 games, the results have been mixed. But nonetheless, Crean wouldn't have done it if he didn't think Sheehey would be capable of it.
"You don't ask anybody to do anything they're not capable of," he said on Monday. "Will's capable of a lot."
His role change started right when this season did, as he arrived in practice to a team that lost four starters, its three seniors and two of its three juniors on scholarship from last season's squad. Sheehey was the only returning upperclassman on scholarship, and he was expected to play in a starting role from day one.
But with a team that also has eight freshmen and another six sophomores, Crean has needed Sheehey to take on a leadership role, as well. In fact, Crean thinks of Sheehey as an extension of the coach on the floor, where Sheehey has been assigned the role of making sure sets are run correctly, making sure the freshmen are in the right place on the court.
"Yeah, you know, with our team, during practice he explains things that he's done in the past, and he kind of makes sure that we run it right," senior transfer Evan Gordon said. "And if we don't, even if we get a stop on the defensive side, we'll have to run it again. And he's done a great job with that."
In addition to his new role, Sheehey has also been asked to maintain what he has done both offensively and defensively. In his past two seasons, he has had an effective field goal percentage of higher than 54. In that same span, he came off the bench to provide energy and a spark for the Hoosiers, defending some of the best offensive players each opponent had.
For Crean, he wants Sheehey to be Indiana's epitome of a team leader.
"It's a demanding position because there are so many young guys, but that's the hand we're dealt and that's the hand he's dealt right now," Crean said on Monday. "And the more he does with that, the better he'll be. But don't get me wrong, he's doing a very good job. It's just the expectations and demands on him are very high because he's capable of it."
But it hasn't been an easy transition. His offensive numbers have taken a significant turn downward in the early portions of this season. His effective field goal percentage is down to 46.2. He is only shooting 20.8 percent on 3-point attempts. His rebounding rates are down. And one of the biggest worries Crean has is making sure that leadership is consistent, that Sheehey can't afford to have lapses.
"Certainly when you're trying to expand your game and expand your role like he's doing, it's another challenge in the sense that really making sure that your teammates know where they need to be, what they need to do on the court," Crean said. "And really I think the biggest thing is, when things get tight, can they look to him as not only a voice of reason, but a picture of confidence? I think that's exactly what you want an upperclassmen that's been down the line to be."
In the Hoosiers' most recent game on Tuesday against Oakland, Sheehey struggled from the field and went 0-for-5, only his third time in the past two seasons he went an entire 40 minutes without making a shot. The shooting confidence might not be there, but he had his best rebounding game (3 offensive, 5 defensive) since the season opener against Chicago State and also held the nation's top 3-point scorer, Travis Bader, to an 0-for-10 clip from 3.
It hasn't been a smooth ride, but Sheehey is continuing to adjust to his new role. Though perhaps he has not found consistency on offense yet, Crean knows Sheehey is capable of it. After all, his defensive and leadership performance has already been impressive, in his eyes.
"Those are the things that we need," Crean said. "The offense will come for guys. It's when they're putting their effort and concentration into so many other areas that really make the difference for us."
Filed to: Will Sheehey