Five takeaways from Indiana's win over Oakland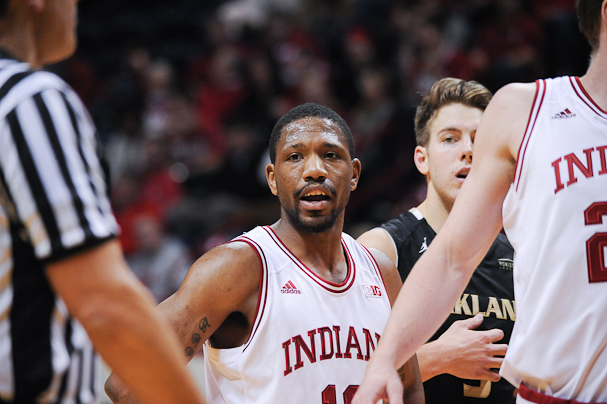 Indiana picked up its eighth win over the season in convincing fashion on Tuesday night with an 81-54 rout of Oakland at Assembly Hall.
Here's a look at five takeaways from the victory over the Golden Grizzlies:
· Indiana's first half offense was stellar: Indiana fans were spoiled by the team's offense the past two seasons. Game in and game out, the Hoosiers produced an offense that was high scoring, efficient and a lot of fun to watch.
This season, it's decidedly different as Indiana has stretches where it looks great and then goes long periods without producing a field goal. Against Oakland, the Hoosiers were very good in the first half, scoring 1.41 points per possession and posting an effective field goal percentage of 66.6.
So why was Indiana effective offensively through the game's first 20 minutes?
You can certainly point to the 16 points on 6-of-6 shooting by Evan Gordon as a reason, but Troy Williams (4-of-6), Jeremy Hollowell (3-of-5) and Noah Vonleh (3-of-5) all pitched in to give the Hoosiers balance. We've written plenty about Indiana needing consistent scoring options beyond Yogi Ferrell and Vonleh and last night, seven different players scored six or more points, led by Gordon's season-high 26.
· Gordon gaining confidence: He's received far less notoriety than his older brother Eric and even his younger brother, Eron, but Evan Gordon is finding his niche as a scorer off the bench for an Indiana team that desperately needs the production.
In Tuesday's win, Gordon backed a 15-point night against North Florida with 26 points on 10-of-12 shooting. Gordon said he hasn't really changed his approach, but it's clear that he's become more aggressive in looking for his offense over the past two games.
"I think if you watch the game you can see that the team is moving the ball a little bit more," Gordon said. "I've gotten open. I've stayed a little bit more aggressive than I usually have been, but it's just kind of the ball movement, really."
Indiana doesn't need Gordon to become it's go-to scorer, but if he can consistently put up double figures (or close to it) and shoot relatively well from the perimeter, the offense should take a step forward from where it's been thus far.
· Indiana shuts down Travis Bader: Oakland coach Greg Kampe shrugged off the performance of Travis Bader in his postgame comments and said that Indiana's defense on him was "nothing he hasn't seen."
Bader entered Assembly Hall leading the country in 3-pointers made, but didn't make one all night and finished 2-of-15 from the field. While it's true that Bader had some open looks that he just missed, he was also harassed for most of the night by Will Sheehey.
Tom Crean also credited his team's ability to switch on defense as a big reason for its success on Bader.
"When you can switch the way our guards and wings and forwards can, that's a real plus, and it's got to become a real strength for us because what it does is it lets you determine as they get smarter here because they understand the game better and understand what we're trying to do," he said. "Some nights you're switching, sometimes you're not. Sometimes you're flowing into a zone, sometimes you're not. We'll get so much more well versed. We're going to get so much better with our defense as time goes on, being able to try to game plan and take things out."
· Luke Fischer is beginning to emerge: One of the early storylines this season was the improvement of Hanner Mosquera-Perea, but as the season moves along, Luke Fischer appears to have the inside track as Indiana's most reliable frontcourt option not named Noah Vonleh.
Fischer is getting healthier each day after a torn labrum forced him to miss significant preseason time and over IU's last two games, he's put up 12 points and nine rebounds in 21 minutes. Fischer's fundamentals such as being able to seal his man, get good position defensively and block out don't show up in the box score. But those skills ultimately play a big part in helping to win games.
Fischer again played without a brace on his shoulder on Tuesday and talked about the differences he feels without the brace.
"The brace really restricted how high I could raise my arm because that was the main problem with it, and then also just the whole comfort factor," he said. "I just have full movement and I'm not afraid to re-hurt it anymore or anything like that."
· Greg Kampe's postgame comments were interesting: If you haven't watched his press conference yet, it's certainly worth the five minutes. Here's a quick sampling of some of the more entertaining quotes from the Oakland coach:
– On Indiana: "Tonight Indiana was really good. Coming in, after watching them on film, I wouldn't have considered them an upper echelon team, but after playing against them tonight I think that's the best a team has played against us."
– On his team's 2-8 start and its strength of schedule: "I don't care what our record is. I really don't. I could go to my grave and they could put my record on the tombstone and it could say `10-190 against BCS schools,' and we will continue to play more."
– On Evan Gordon: "I didn't even know who (Evan Gordon) was, and he comes in and scores 20,000 points. I couldn't tell you who he was tonight."
Filed to: Evan Gordon, Luke Fischer, Oakland Golden Grizzlies