Hoosiers get hot, cruise to 89-68 win over North Florida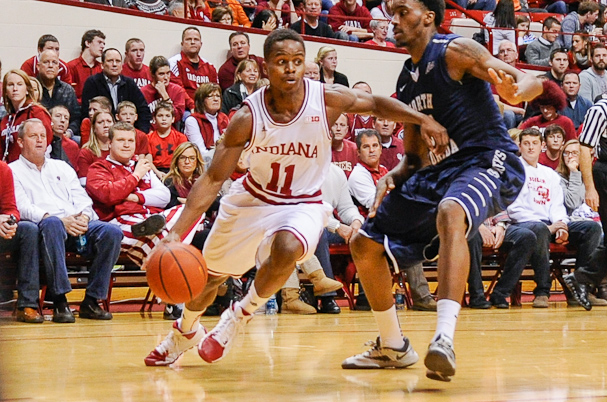 In the days leading up to Saturday night's matchup against North Florida, Indiana coach Tom Crean told his players that whatever happened at Syracuse would just be a "short-term setback."
And when the Ospreys started the game in a 2-3 zone on defense, the Hoosiers adjusted accordingly. Instead of settling into shots, Indiana increased its tempo, moved the ball with high efficiency and found a rhythm.
By the end of the half, the Hoosiers (7-2) had a 17-point lead and were well on their way to an 89-68 victory in front of an announced sell-out crowd at Assembly Hall.
"I thought our guys did a fantastic job of playing the way that they need to play to be successful over a long period of time," Crean said. "It wasn't a perfect, complete 40-minute game, but they were striving for it."
Along the way, the Hoosiers had 17 assists, a season high, and 11 turnovers, a season low. Indiana was finding open shooters. Other than a 3:21 stretch from the 11:52 to the 8:31 mark in the first half in which they had six turnovers, they also didn't attempt unfeasible passes.
"One of our goals tonight was to cut down on our turnovers, but more importantly get more assists, get more baskets," Crean said. "And we set a goal of anywhere from 17 or above (assists), and we hit it. It's amazing what happens when we pass the ball like that and the turnovers do cut down."
When Indiana got those open shots in the first half, especially from the perimeter, the team finally knocked them down. The Hoosiers had five first-half 3-pointers with Jeremy Hollowell, Yogi Ferrell, Evan Gordon and Austin Etherington contributing to the effort.
Off turnovers, they converted. They had 16 points off 12 turnovers in the first half. On the fast break, Indiana had 11 points in the first half and another eight in the second. By the time the game ended, Indiana had played the way it had wanted to all along.
"We know we're athletic and we know we're going to play at a fast pace compared to last year where we aren't able to play in the half-court as well," Etherington said. "We just know we've got to run and score off the transition points like we did tonight."
Gordon leads Indiana with 15 points
When Indiana recruited Gordon from Arizona State this past spring, Crean anticipated him to have games like he did on Saturday night.
"We saw a lot left in the tank that he could get better at," Crean said. "We didn't just see a guy that had played four years of college basketball that was coming in for his fifth year. We wouldn't have done it. We saw a guy that could make improvements. We saw a guy that could have a bigger role. We saw a guy that could really, really be a stellar defender."
Against North Florida, Gordon played 19 minutes and had his most productive game thus far as a Hoosier. He made seven shots on nine attempts and led IU with 15 points.
"You know, our team shared the ball," Gordon said. "I was open, and it's not going to be somebody's night every night, but tonight it was mine. And I just had to make sure I knocked down the open shot."
But scoring wasn't the only facet of Gordon's game that propelled the Hoosiers to their seventh win of the season. In addition to starting the game 7-for-7 shooting, he had another four rebounds, two assists, one steal and only two turnovers on the night.
"He's always been comfortable, it just happened to be tonight where he got the points that he got," Etherington said of his teammate. "You know, he works as hard like anyone else, and he deserves what he got tonight. Everyone's happy for him."
Other notes
· Davis reinjures ankle: After seeing no more than two minutes of game action in the first half, freshman Devin Davis limped off the court with 4:36 remaining in the first half and did not return to the game. Following the Hoosiers' win, an Indiana spokesman said that Davis "retweaked" the ankle injury he received at Syracuse, though there was no word as to if he will miss any additional playing time.
· Etherington finding his groove: Though he had hit only three 3-pointers in his entire career before Saturday night, Etherington made two 3-pointers on three attempts against North Florida in a six-point effort.
Following the game, Etherington said he has really been trying to improve his shooting. "Always hitting shots when you come into a game boosts your confidence, and (tonight) definitely helps," he said. "I just go out in practice as hard as I can and concentrate on hitting shots and transferring it to the game."
Filed to: Evan Gordon, North Florida Ospreys, Tom Crean