What to Expect: North Florida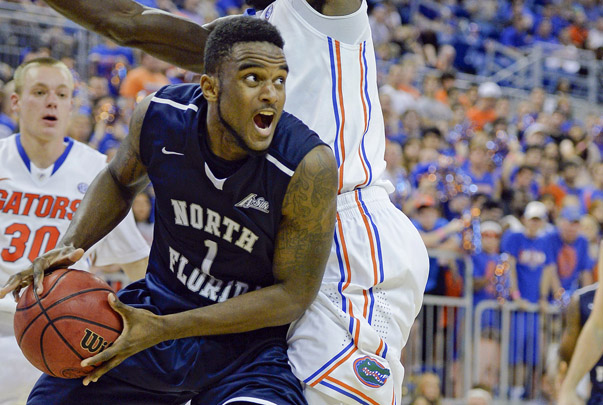 After three days off following a 69-52 loss to Syracuse in the Big Ten/ACC Challenge, Indiana returns to Assembly Hall for a meeting with North Florida.
The Ospreys are 5-5 with two wins coming over non-Division I competition and losses to Florida, Ohio State and Alabama. The game will be broadcast live on the Big Ten Network at 7:30 and on the IU radio network (Sirius 112, XM 203):
Indiana's loss to Syracuse in the 2013 NCAA tournament put an abrupt end to one of the best seasons in the recent history of the program.
An outright Big Ten championship, a No. 1 seed and three top 10 road wins were quickly forgotten as an opportunity to reach the Final Four for the first time in 11 years dominated the conversation.
Tuesday's loss to Syracuse is obviously much different.
It's early December and while the Hoosiers played poorly, the loss is relatively meaningless except for minor seeding implications come March. What is important is how Indiana responds to it, regardless of the level of competition that awaits in Assembly Hall.
As one of the youngest teams in the country that has a lot of room to grow, it's important that Indiana learns from the experience and then quickly moves on.
With plenty of basketball left to play, including a Big Ten season that tips off in less than four weeks, the games that will determine the direction of the season are on the not-too-distant horizon.
PERSONNEL
Picked to finish fifth in the Atlantic Sun conference by the league's coaches, North Florida again looks like a team that will fail to reach the postseason under fifth-year coach Matt Driscoll.
That's not necessarily an indictment on the coaching ability of Driscoll as taking a low-major team beyond the conference tournament is difficult, especially at a program that was NAIA when it was founded in 1992.
Senior Travis Wallace (pictured), a preseason all-conference selection in the Atlantic Sun, is the primarily player to watch on Saturday. At 6-foot-6, he's an undersized big man who produces. Wallace averages a team-high 12.4 points and has an effective field goal percentage of 58.2, which ranks 234th nationally through Thursday's games. He's also the team's best rebounder (12.4 OR%, 20.5 DR%).
Only one other Osprey, 6-foot freshman guard Dallas Moore, is scoring in double figures. Moore is hitting 44.4 percent of his 3s and is a decent distributor (20.2 assist rate) with a turnover rate (25.2) that needs work.
Beau Beach, a 6-foot-8 forward, likes to step out and shoot from the perimeter as 51 of his 80 field goal attempts have been 3s. Freshman forward Chris Davenport is the team's best defensive rebounder (25.7 DR%) and is hitting more than 60 percent of his 2s. Charles McRoy, a 6-foot-6 senior, has started 9 of 10 games and is fourth on the team in scoring at 7.5 points per game.
TEMPO-FREE GLANCE
Like many of the low major opponents that come for guarantee games in the pre-conference season, North Florida has a KenPom profile that suggests it may be in for a long evening on Saturday.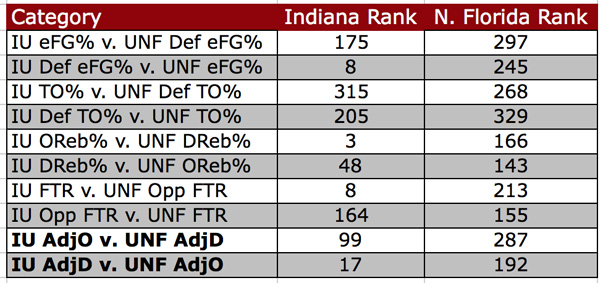 There's little here that suggests that Indiana is in for a significant test. North Florida is an average 3-point shooting team (34.5 percent), but awful inside the arc (44.6 percent on 2s). Given that IU currently ranks as the 17th best defense according to Pomeroy and North Florida is turning it over on 22.5 percent of its possessions, this looks like another game where the Hoosiers could shine defensively.
On the other side of the ball, North Florida is going to struggle to contain Indiana on the offensive glass and while the Hoosiers have been turnover prone thus far (315th nationally in turnover percentage), the Ospreys aren't turning teams over enough to where it figures to be a significant factor.
WHAT IT COMES DOWN TO
With just five games remaining before traveling to Illinois on New Year's Eve for the start of Big Ten play, the Hoosiers only figure to get a major test once. That test will likely come against Notre Dame in the Crossroads Classic on Dec. 13.
The four other contests — North Florida, Oakland, Nicholls State and Kennesaw State — all have a predicted winning percentage for the Hoosiers of more than 92% according to KenPom.
For Indiana, this is an opportunity to get back on track following a disappointing performance and to also begin improving on areas that need work, like taking care of the ball and getting better shots, before the meat of the schedule arrives.
All tempo-free stats via KenPom.com.
(Photo credit: Associated Press)
Filed to: North Florida Ospreys