Five takeaways from Indiana's win over Evansville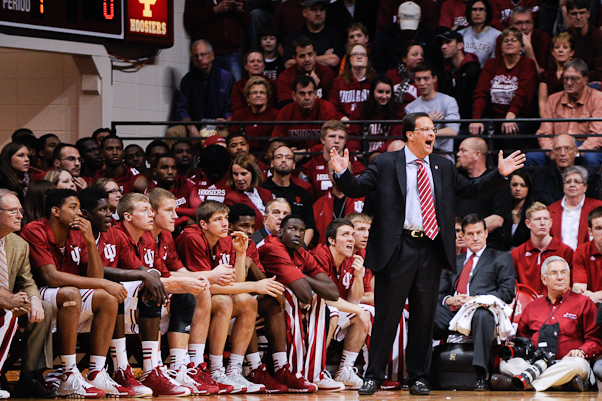 Indiana moved to 6-1 with a comfortable 77-46 win over Evansville on Tuesday night in Assembly Hall. Here's a look at five takeaways from the rout of the Purple Aces:
· Evansville's offense never gets going: Led by D.J. Balentine, who entered Tuesday's game with a scoring average of 29.6 points per game, the Evansville offense boasted some of the nation's best numbers coming into Assembly Hall. The Purple Aces ranked in the top 25 nationally in both offensive efficiency and effective field goal percentage at tip-off.
When the final buzzer sounded, the Hoosiers had limited Evansville to a season-low in points (46) and a season-high in turnovers (15). Balentine finished with 14 points on just 5-of-17 shooting. And the nation's top 3-point shooting team managed to hit just 3-of-16 in Assembly Hall. Evansville coach Marty Simmons had a pretty simple explanation for why his team his struggled.
"They just executed their defense well," Simmons said. "They did a lot of good things and we just weren't patient. Their communication, they switched up some things on us and got us stagnant. We just have to do a better job."
· Hollowell's career-night: There will likely be better performances down the road in the career of sophomore Jeremy Hollowell. But Tuesday's performance was Hollowell's best from an offensive standpoint in his young career and he did it coming off the bench for the first time this season. In 17 minutes, Hollowell scored 18 points on 4-of-8 shooting from the field and 8-of-9 free throws.
Hollowell was replaced in the starting lineup by senior Jeff Howard and said afterward that he didn't view coming off the bench as a big deal.
"Coach made his decision, Jeff came in, he did a great job," Hollowell said. "He capitalized on his opportunity, and it was coach's decision and we went with it."
· Vonleh gets back on track: After a scoreless performance against UConn in the 2K Sports Classic championship on Friday, freshman Noah Vonleh bounced back with his fifth double-double in seven games.
Vonleh scored 13 points and grabbed 12 rebounds in just 19 minutes. Judging by his performance and his postgame comments, the UConn game is squarely in his rearview mirror.
"It was a great learning experience (against UConn)," he said. "I've just got to pump my feet more on the screens and just have my hand straight up when I'm playing a guy and don't put my elbow up into the defender arm because I got an offensive foul today like I did in the UConn game."
· Howard's spot start: While he's unlikely to become a fixture in IU's starting lineup with a road trip to Syracuse on the immediate horizon, senior walk-on Jeff Howard started his first career game on Tuesday and finished with two points and three rebounds in 15 minutes.
Howard's numbers don't jump off the page, but he made solid plays from the get-go as the Hoosiers opened the game on a 12-0 run. The Westfield product said he didn't find out he would be in the lineup until right before tip.
"Coach did what he did for his reasons and I just came in and brought to the team what I bring to the team and that's pretty much it," Howard said. "I just try to talk a lot, being a senior, helping some guys out on the floor, defensively, a lot of stuff like that. Just energy, little things. Obviously I'm not going to score a lot of points but I have to defend, rebound and talk."
· 3-point shooting still a struggle, offensive rebounding still a plus: The Hoosiers entered Tuesday's game shooting just 28.6 percent on 3-pointers (279th nationally) and that number will fall even further after a 4-of-16 performance from the perimeter.
The Hoosiers did, however, once again dominate the offensive glass as they pulled down 47.5 percent of their misses and scored 19 second chance points.
Filed to: Jeff Howard, Noah Vonleh