Indiana impressive in 102-84 win over Washington; Connecticut next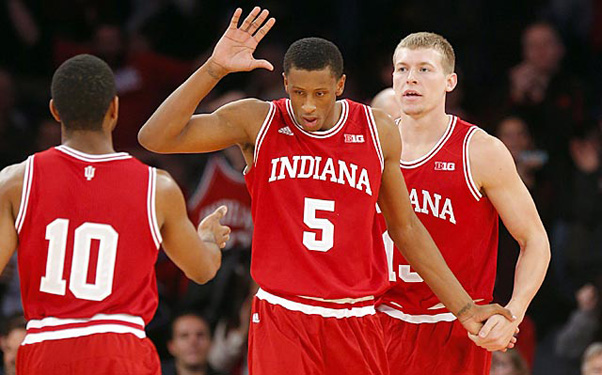 NEW YORK — Before Indiana left for its first road trip of the 2013-2014 season on Tuesday evening, coach Tom Crean said his team's biggest challenge was to ensure that its identity traveled outside Assembly Hall. He wanted his team to rebound, play strong transition defense and limit turnovers while maintaining a fast-paced offense.
Well, after Indiana defeated Washington, 102-84, on Thursday evening at Madison Square Garden in the 2K Sports Classic semifinals, so far it seems Crean has gotten his wish. In the Hoosiers' 18-point win, the Huskies did not lead once. Indiana outrebounded Washington on its way to 27 second chance points, turned the ball over a season-low 13 times, eclipsed the 100-point mark for the third time in five games and allowed only eight fast break points.
The win put the Hoosiers in to tonight's final against No. 18 Connecticut, who escaped an upset to Boston College, 72-70.
"We got off to as good a start as we could have possibly had for a team that is in this environment for the first time," Crean said following the Hoosiers' win against Washington. "So many guys are on the road for the first time. And our guys, they continued to take it from there. We got ahead, we stayed ahead."
Starting with a 9-0 run to open the game, Indiana held the reins from the start and did not give them up.
The Huskies, dominated on the boards, gave up 54 points in the paint, allowing the Hoosiers to dominate early and pull away when necessary.
"I think the main story of the whole game was they got a lot of second shots," Washington senior C.J. Wilcox said, who finished with 24 points. "They hit us first and we made runs to come back, but every time we started to come back, they'd get an offensive board and a foul and an and-one and they'd bring the score back up. So I think the main thing was us getting beat on our own boards."
And in the foul battle that has been made so significant due to the NCAA's rule changes, Washington gave Indiana 36 free throw attempts, of which the Hoosiers converted 31. It allowed Indiana to extend its lead to 22 points with 6:52 left in the game and eventually breeze to its fifth win of the season.
"I think they got great confidence from the start, and I think that was important," Crean said. "We rebounded the ball, but we got those baskets and we kind of settled in. All of the sudden, we were back on a 94-foot court and it wasn't about where we were playing and who we were playing. It was about the fact that we could be successful with this."
Freshmen dominate in Hoosier win
For a first game away from Assembly Hall, Indiana's six freshmen on scholarship played as if they were veterans on Thursday night. At least that's what it seemed like to senior Will Sheehey.
"I think guys tonight, I was a little bit surprised at how poised they were with this atmosphere," he said. "Not only was it our first road game, but it was also in probably one of the most hectic places in the world. So yeah, those guys really brought it today and I'm proud of them."
There was 6-foot-7 Troy Williams, who had a breakout game in front of an announced 10,064 at the Garden. His 22 points led Indiana, but Williams also had eight rebounds — four of which were offensive — one steal and only one turnover. Williams dominated the offensive paint on Thursday as well, making 8-of-10 2-point field goals that consisted of contested layups and a highlight-worthy reverse throw-down. It was his most impressive outing yet.
"Well when you're active on defense it translates into offense, and I think that really helped him out," Sheehey said. "I think he got a lot of baskets from just being around the rim. You know, he's a similar player when it comes to that like Victor (Oladipo) was last year where he's just kind of always in the right place in the right time underneath the basket.
"So as long as he's around the basket on both ends of the floor, he'll pick up those points where they're hustle points, really."
Noah Vonleh also put together another strong outing with 18 points, nine rebounds and two steals.
"He wanted another rebound tonight," Crean said. "Somewhere, he saw he needed another rebound, but we decided to get him out at the end. But I had a feeling he might be missing that free throw to try to rebound his own miss. He has got a great desire to improve."
Vonleh's season averages now sit at 15.4 points and 11.8 rebounds per game. After IU's win, Washington coach Lorenzo Romar had nothing but high praise for the freshman.
"I think when it's all said and done, he has a chance to be right up there," he said. "He's really talented. You just look at his rebounds per minute, and that tells the whole story with him, I think. You can just see, he's just tough. He's just going to keep getting better."
Three of Indiana's other freshmen, Stan Robinson (6), Devin Davis (4) and Luke Fischer (3) also scored on the night, as the five combined for more than half of the Hoosiers' 102 points.
Other notes
· Hoosiers to take on the (other) Huskies: Following the Boston College-Washington game at 5 p.m. today, Indiana will face No. 18 UConn at approximately 7:30 p.m. The game will be televised on ESPN2. The Huskies are led by 6-foot-1 senior guard Shabazz Napier, who is averaging 14.8 points, 8.4 rebounds and 6.6 assists per game, and 6-foot-9 junior DeAndre Daniels, who scored 23 points on Thursday. Crean said UConn presents "hard matchups" for his team.
· Ferrell continues to score: Sophomore Yogi Ferrell had his third straight 20-plus-point performance on Thursday, pouring in 20 points against Washington. He is now averaging 23.3 points in his past three outings and will look to continue that streak against UConn, a team that opponents only shoot 35 percent on, tonight.
· Connecticut hot from 3: Despite its worst outing of the season on 3-pointers (2-of-14) on Thursday, UConn came into the 2K Sports Classic as the nation's No. 1 3-point shooting team with a 52.6 percent clip from beyond the arc. And it has Crean's attention. He said following his team's win over Washington that he doesn't think he's ever coached against a team that has shot that well from beyond the arc.
(Photo credit: Jim O'Connor, USA Today Sports)
Filed to: Connecticut Huskies, Noah Vonleh, Tom Crean, Troy Williams, Washington Huskies