Five takeaways from Indiana's win over Washington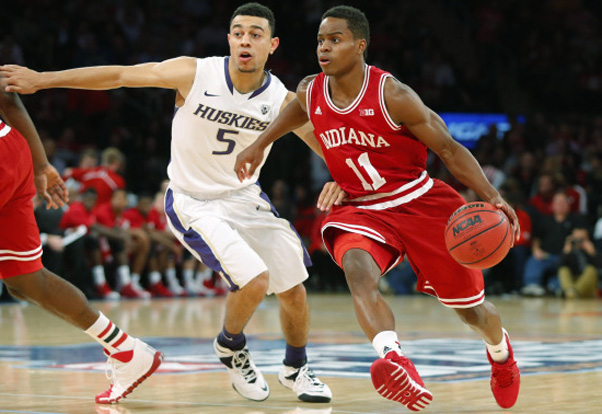 Indiana moved to 5-0 with a 102-84 win over Washington on Thursday night in the semifinals of the 2K Sports Classic at Madison Square Garden.
Here's a look at five takeaways from IU's comfortable win over the Huskies:
· Hoosiers start fast and never really let up: Going into IU's first game away from Assembly Hall, one of the storylines to watch was how the young Hoosiers would handle the stage of Madison Square Garden. Even with a Washington team with limited frontline depth as the opponent, surely Indiana would get some early resistance as it looked for a fifth win in five games, right?
Wrong.
It was nearly a perfect start as Indiana scored the game's first nine points and never let Washington believe it had a chance to stay in the game. There were some short lulls on both sides of the ball throughout the game, but Indiana shared the ball relatively well (16 assists) and its balanced scoring totals bear that out.
· Four double figure scorers: When Indiana was at its best a season ago, the Hoosiers were spreading the ball around and getting double figure scoring outputs from multiple players. The season is young, but Thursday's performance was impressive from a balance perspective from both the starters and the bench.
Indiana had four players in double figures as Troy Williams netted 22 points, Yogi Ferrell added 20, Noah Vonleh had 18 and Will Sheehey chipped in 16. Three of the four shot better than 50 percent from the floor. The bench also did its part to contribute as seven Hoosier reserves found their way into the scoring column.
· Indiana dominates the glass: The Hoosiers shot well (53.7 eFG%), but when they missed, the points came from the offensive glass. Indiana rebounded 58.8 percent of its missed shots and scored 27 second chance points.
Washington coach Lorenzo Romar pointed to the rebounding as a major reason that his team was soundly beaten.
"We knew Indiana was a really good offensive rebounding team," Romar said. "But what they did just decided the game on the boards. Right away they just established themselves with like 15 offensive rebounds in the first half. That's tough to overcome if a team does that to you."
Indiana will have its share of nights when it doesn't shoot well, but offensive rebounding should become a consistent staple for this group and an essential part of its repertoire.
· A bit more on the freshmen: Vonleh has received most of the recognition early for among Indiana's freshmen, but it was Troy Williams who stole the show on Thursday. To go along with his game-high 22 points, Williams also had eight rebounds and a dunk attempt that missed but may still end up on the highlight reel.
As for Vonleh, he again established his presence in the paint and nearly amassed his fifth straight double-double, falling one rebound shy. It's rare to say this about a young post player, but Vonleh has a plan when he catches the ball deep and rarely hesitates when executing it.
Stanford Robinson also scored six points in just six minutes of action and looks like a candidate to increase his minutes as he continues to round back into form following a knee injury.
· Free throws again fuel offense: Tom Crean said before departing for New York that his team's leadership and rebounding needed to make the trip. The Hoosiers appeared to have brought both on Thursday along with a strong knack for getting to the foul line.
The Hoosiers entered Thursday night's game ranked 17th nationally in free throw rate, measured as free throws attempted divided by field goals attempted. Indiana actually hit below its average free throw rate against Washington, but still posted a mark of 54.5 percent, which will win a lot of games.
But more importantly than getting to the line, Indiana knocked down 31 of its 36 attempts for 86.1 percent, nearly 13 percent better than its season average entering the game.
(Photo credit: Jim O'Connor, USA Today Sports)
Filed to: Troy Williams, Washington Huskies, Yogi Ferrell