What to Expect: Washington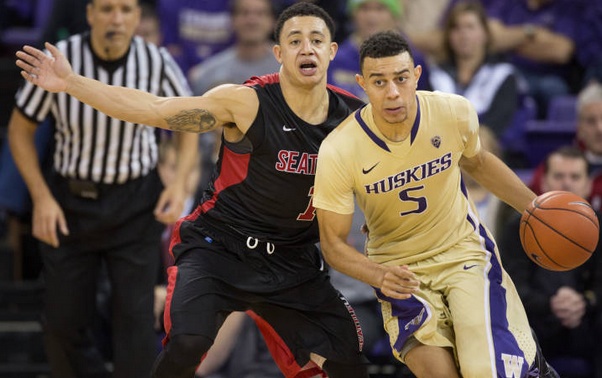 Indiana travels to New York City on Thursday evening where it will meet the Washington Huskies in the first of two games in two nights in the 2K Sports Classic benefiting the Wounded Warrior Project. It will be the first appearance for the Hoosiers in Madison Square Garden since they defeated Pittsburgh, 74-64, on Dec. 8, 2009.
The game will be broadcast live at approximately 9 p.m. ET on ESPN with John Saunders, Fran Fraschilla and Jeff Goodman on the call, as well as on the IU radio network.
The season is just four games young, but the competition level will ramp up this week for Indiana as the Hoosiers face Washington on Thursday night and either Boston College or Connecticut on Friday night in New York.
It's not that Washington is better than IU's last opponent, Stony Brook, but the challenge is likely to be greater given that it is the first game outside of Assembly Hall this season. Playing on the road and neutral courts wasn't particularly difficult for a team that spent a good portion of last season at No. 1 in the polls, but for a team with plenty of young players who haven't had the experience, it could be a different story.
Nonetheless, the experience will ultimately be a valuable one as Indiana will step away from one of the greatest homecourt advantages in college basketball in Assembly Hall to the bright lights of New York City and Madison Square Garden.
Indiana's first opponent, Washington, is 2-1 with wins over Seattle and Eastern Washington and a loss to UC Irvine. All three games were at home. The Huskies are in a bit of flux as they finished last season a disappointing 18-16 and most projections for this season have Lorenzo Romar's club finishing eighth or lower in the Pac-12 and safely outside of the NCAA tournament.
PERSONNEL
Just one game after the season even got underway, Romar had lost two rotation players in Jernard Jarreau and Desmond Simmons, which has significantly hampered Washington's frontcourt depth.
The 6-foot-10 Jarreau, who scored 17 points in one of the team's exhibition games, will miss the season with an ACL tear. The 6-foot-7 Simmons, who averaged 4.9 points and 6.5 rebounds last season, is out for four to six more weeks after undergoing arthroscopic knee surgery.
Fortunately, Washington's strengths lie in its backcourt where it has senior C.J. Wilcox, one of the best shooters in the Pac-12, and freshman point guard Nigel Williams-Goss, a McDonald's All-American. Wilcox hit close to 37 percent of his 3-pointers a season ago and is averaging a team-high 20.3 points through three games.
Williams-Goss, a teammate of IU freshman Stanford Robinson last season at Findlay Prep in Las Vegas, was a major recruiting win for Romar and has posted an assist rate of 37.3 percent while averaging 5.3 assists in his first three games. Sophomore guard Andrew Andrews starts as a third guard and is tied with Williams-Goss for second in scoring at 13.7 points per game.
With limited depth, Washington is only going seven players deep early. Freshman guard Darin Johnson is averaging 11.3 points in 27 minutes per game off the bench, but he is a woeful shooter thus far (36.3 eFG%). Junior guard Mike Anderson is the team's best defensive rebounder (23.7 DR%) and is second on the team in rebounds with 7.3 per game in 24 minutes a night off the bench.
The frontcourt situation is extremely limited due to the Jarreau and Simmons injuries with junior Shawn Kemp Jr. and Perris Blackwell, a graduate senior transfer from San Francisco, as the only two players to log significant minutes to-date. Blackwell has been very good on the offensive glass with an offensive rebound percentage of 14.4 through three games. Anderson and Kemp Jr. are both foul prone, which could be problematic against Indiana.
A TEMPO-FREE LOOK
For the first time this season, Indiana will meet an opponent who likes to play just as fast as the Hoosiers.
Romar's teams typically like to get up and down, but that wasn't the case last season as the Huskies ranked 183rd nationally in adjusted possessions per game. So far this season, it's been back to the norm as Washington is 40th nationally in adjusted possessions per game (73.8), which is just a bit slower than Indiana (6th nationally, 76.8).
The impressive thing about Washington's pace is how well it has been able to take care of the ball. The Huskies are turning it over on just 11.5 percent of their possessions. For comparison's sake, Indiana is coughing it up on 19.8 percent of its possessions.
Where the Hoosiers appear to have a decided advantage is on the offensive glass, shooting the basketball and erasing shots around the basket. Washington is shooting just 24.5 percent on 3-pointers (313th nationally) and just 46.9 percent on 2-pointers (212th nationally). They get to the line at a fairly healthy clip, but Indiana is getting there more frequently and if the game is called tightly, it should favor the depth of the Hoosiers despite Washington being the better shooting team from the line.
Washington is getting more than 13 percent of its shot attempts blocked (284th nationally) and Indiana is currently the seventh-best shot blocking team in the country, so that's another area that could favor the Hoosiers.
WHAT IT COMES DOWN TO
It's impossible to predict how a young team will play in its first trip away from home (or subsequent trips, for that matter), so cautious optimism is probably a fair way to describe Indiana's chances going into this game. The Huskies have a very good backcourt with Wilcox and Williams-Goss, but Yogi Ferrell is playing just as well as either of those guys thus far.
Turnovers are certainly a concern, especially with Washington's willingness to push the pace and its ability to take care of the ball better than Indiana so far. That, however, can easily be negated if Washington fails to shoot it better and also defend better than it has so far, as opponents have posted an effective field goal percentage of 54.5 percent, ranking 285th nationally.
The Ferrell and Williams-Goss matchup is pivotal for Indiana as is Will Sheehey keeping Wilcox, who is on NBA draft boards as a potential second round pick, in check on the perimeter. Look for Indiana to again establish Noah Vonleh early in the post and play inside-out with Vonleh attacking a frontcourt that cannot afford early foul trouble.
The Pomeroy prediction favors Indiana by eight, 88-80, and the Vegas line is currently Indiana by 7.5.
QUICK FACTS ON WASHINGTON
Established: 1861
Students: 42,970
Notable athletics alumni: Hope Solo, Tim Lincecum, Brandon Roy, Nate Robinson, Warren Moon
All tempo-free stats from KenPom.com.
(Photo credit: University of Washington Athletics)
Filed to: Washington Huskies