Hoosiers need leadership, rebounding on trip to MSG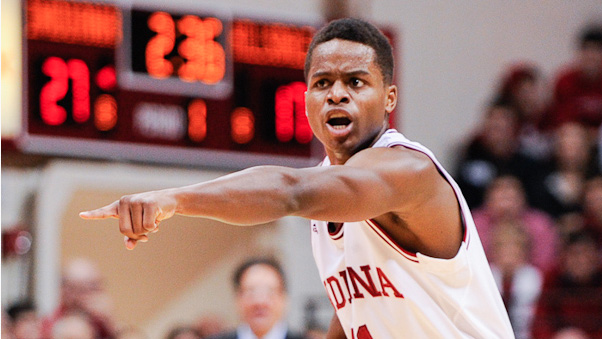 Traveling on the road for the first time this season, Indiana coach Tom Crean made it clear to his players that their upcoming trip to New York City was for business first.
So what did he do as the Hoosiers prepared to fly to the Big Apple for Thursday's 2K Sports Classic semifinal against Washington?
His staff booked a hotel for his players right near Times Square.
"I think the bottom line is we want them to have fun," Crean said on Tuesday, just before the Hoosiers' flight to New York. "We want them to see New York, and that's why we stay where we stay. I want them to experience that. They'll see an NBA game Wednesday night at Madison Square Garden — the Pacers and the Knicks.
"But like I said to them, when we sit down to watch film, we can't be 15 minutes in and now I'm locked in. When we get to practice, we can't be 20 minutes in and now they've realized they're in practice."
Such a delicate balance between being concentrated rather than distracted is one of Crean's top concerns heading into the Hoosiers' road opener. With a team that is so young and has dominated the boards early — IU is 11th nationally with an offensive rebounding percentage of 45.2 — Crean said much like his team's rebounding, its leadership has to travel as well.
IU's bigger test thus far will come from playing under the lights at MSG amidst the hustle and bustle of New York City against the Washington Huskies, a team known for its speed.
Led by freshman McDonald's All-American point guard Nigel Williams-Goss, Washington's attack is based in transition, Indiana believes. Crean and several players noted on Tuesday that the Huskies are the quickest team they will have played so far this season. And if they do not get back on defense quickly on Thursday night and force the Huskies into a halfcourt offense, Washington could do what Indiana fears — find the open man and score. A lot.
"We want to go in and get established that our identity has got to travel," Crean said. "And the bottom line is taking care of the basketball and getting back in transition, no question."
One of Williams-Goss's main outlets, senior C.J. Wilcox, is averaging 20.3 points per game and is shooting 35 percent from beyond the 3-point arc this season.
"This is going to be our biggest game," sophomore Yogi Ferrell said. "It's really going to test our transition defense. Coaches have been preparing us well and we've been working on that. That's going to be the biggest thing for us is getting back, stopping the ball and trying to get the win."
But should Indiana get back into transition defense, the Hoosiers have a chance at stifling the Huskies' attack. Overall, Washington is shooting only 41.1 percent from the field and 24.5 percent on 3-point attempts. However, the Huskies are still averaging 84 points per game. Part of that comes from its free-throw shooting, in which Washington ranks 22nd in the nation with 34.7 attempts per game.
Washington's lone loss was to UC Irvine on Nov. 14, an 86-72 home defeat in which the team shot only 37.5 percent.
"They get to the line a lot off the break," Crean said. "They're very, very good at attacking off the break. So transition defense, and again, this is where the new rules really play into it. We've got to really be able to exploit the same things."
As much success as Washington has had in getting to the free throw line this season, no other team in the nation has taken more free throw attempts than Indiana (162) in four games or less. And as much as Washington likes to play fast, so does Indiana.
Should Thursday's game come down to determination and will, the Hoosiers hope they will be ready to answer the challenge.
"You kind of just have to show these young guys it's all business," Ferrell said. "We can always have our fun down there in our off time, but when we step on that court, we're there to win. We don't want to come out of New York with any losses, so we'll do our part to get those young guys focused and get them what they need to do to come out with a win."
Filed to: Washington Huskies