Five takeaways from Indiana's win over Stony Brook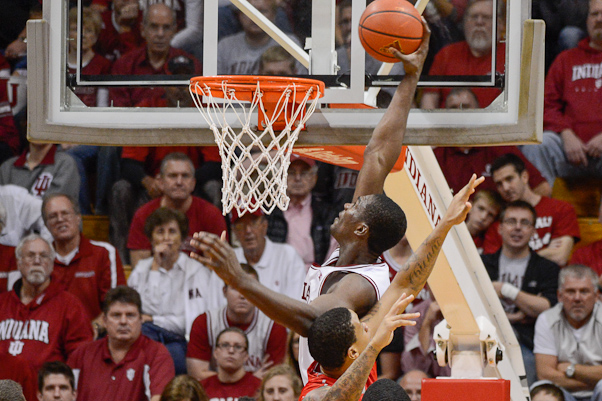 In its most well rounded performance of the season thus far, Indiana soundly defeated Stony Brook, 90-74, on Sunday night at Assembly Hall in the 2K Sports Classic.
Here's a look at five takeaways from IU's fourth win:
· Vonleh's historic start continues: For the fourth straight game, freshman Noah Vonleh posted a double double and made it look relatively easy. The Haverhill (Mass.) product posted 18 points and 15 rebounds and committed just one foul. Through four games, the opposition has yet to have an answer for stopping him.
What's so impressive about the start is how fundamentally sound Vonleh has been in the post. He knows how to establish position and is making it easy for his teammates to get him the ball. Once he catches the ball, Vonleh's arsenal of moves is diverse for a first year player of his size and he executes his moves without hesitation. There will be times when Vonleh struggles offensively this season, but his rebounding and ability to use his length to change the game defensively can both become constants in his production.
· Offensive rebounding, free throw rate are major strengths: We knew the shooting wouldn't be able to keep pace with last year's group, but two other key metrics from a season ago have continued through the first four games this season. Indiana is rebounding 45.4 percent of its misses and has a free throw rate (FTA/FGA) of 65.6 percent.
The free throw rate isn't terribly surprising given Indiana's athleticism and relentless approach in attacking the basket, especially against inferior competition. The offensive rebounding is going to be pivotal as the season moves along because Indiana is going to have plenty of games where it doesn't shoot particularly well and creating extra opportunities is a way to overcome that.
· Ferrell showing confidence in perimeter game: Through four games, sophomore Yogi Ferrell is 11-of-27 from behind the 3-point line. Ferrell, who only made 23 shots from behind the arc all of last season, has looked very good taking shots off the dribble. If he's able to continue making 3-pointers at a respectable rate, he becomes a nightmare matchup because of his ability to get into the lane and finish or find a teammate.
Also encouraging through four games for Ferrell is his assist rate compared to his turnover rate. Last year, he posted an assist rate of 25.7 percent compared to a turnover rate of 24.5 percent. This year, he's at 29.6 percent on his assist rate and 15.2 percent on his turnover rate.
· Mosquera-Perea provides first half spark: It was a brief stretch of play, but Hanner Mosquera-Perea again showed signs that he's a different player than he was a season ago. Mosquera-Perea entered the game at the 15:11 mark of the first half and by the time he checked out with 11:34 to go, he'd amassed six quick points and flashed a few moves around the basket that he couldn't make as a freshman.
The downside, of course, is that Mosquera-Perea had two fouls in that span that forced him to the bench and his four fouls in the game limited him to just eight total minutes. The Colombia native is far from a finished product, but his continued improvement is one of the many bright spots through four games.
· Hoosiers prevail despite little from Sheehey: After scoring the game's first seven points, senior Will Sheehey found himself saddled with foul trouble. The last foul of his night was an attempt to impede the progress of a Stony Brook player who was chasing the ball out of bounce. It was a play that Indiana simply cannot afford to have one of its leaders make, regardless of the situation, and Tom Crean let Sheehey know that as he made his way to the bench. In his postgame comments, Crean iterated that he expects more from Sheehey.
"There were certain energy levels of things all night of guys that I didn't like, and that situation when you just get right back in (to the game), Will's better than that," Crean said. "Will will be fine. Will's better than that. But to me, I've got to see it on film. You can't ride the guy out of bounds there. Will's intent is excellent. There is no question about that.
"But we have high expectations like I said. It doesn't matter if you're a freshman or it doesn't matter if you're a senior. If we and if I don't hold them accountable for making those adjustments that they can make, well, then what am I? You know what I mean? I love every one of them. You know, I love them to death, but we've got to have more. We needed more from him tonight."
Filed to: Hanner Mosquera-Perea, Noah Vonleh, Stony Brook Seawolves, Yogi Ferrell