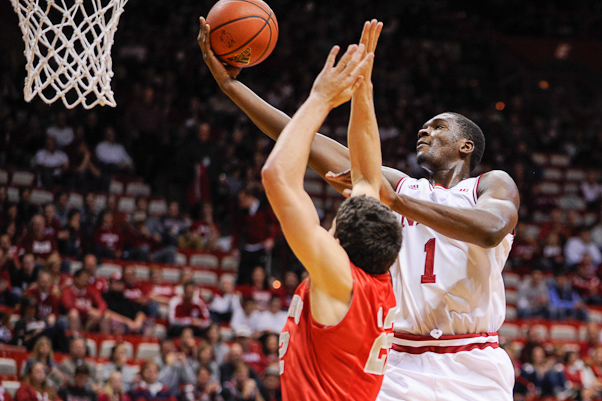 Thoughts on a 90-74 win over the Seawolves: 
On paper, Stony Brook looked like another sneaky early test for the Hoosiers, a veteran team with some strong individual talent. But the Hoosiers had a lead coast-to-coast in this one, and aside for a few runs here and there where the Seawolves threatened, Indiana pretty much controlled the game en route to its fourth straight victory to open the season.
It was a brand of ball we've come to expect from this Tom Crean squad: Get to the foul line again and again and again, score in transition, utilize all the athleticism to overwhelm the opponent. The Hoosiers wasted no time attacking the hoop and visiting the charity stripe. The fouls really piled up by the final buzzer. 55 in total. Two Seawolves fouled out, another three had four fouls. Will Sheehey fouled out late. Hanner Mosquera-Perea had four. (The new rules continue to make these early Indiana games free throw fests.)
At half, the Hoosiers had amassed a whooping 140.0 free throw rate (FTA/FGA). But they hit on just 15-of-28 (53.6 percent). For the game, the Hoosiers made just 30-of-49 (61.2 percent). Had they been more efficient from the line, this could have been a bigger blowout, the Hoosiers flirting with and perhaps surpassing the century mark once again.
Noah Vonleh gave the Seawolves early trouble around the bucket, but he hit on just 6-of-12 free throws in the first half and just 6-of-14 for the game. But Vonleh more than made up for it in other areas. He posted yet another double-double with 18 points and 15 rebounds to go along with two steals and a block. Vonleh feasted on a few putbacks, once tipping in his own miss and another time grabbing a rebound and having enough space to dunk it back home strong. Vonleh keeps finding new ways to dip and dive for buckets in the post, and his ability to use both hands with a variety of moves might keep him similarly effective when the competition improves.
Yogi Ferrell had another dominant performance, scoring 24 points (3-of-7 from distance, 7-of-10 from the line, 7-of-16 from the field), dishing out six assists and turning the ball over just twice. Yogi is becoming increasingly comfortable bombing a quick 3-pointer with a defender not far from him on one play and on the next zipping by the defender and scoring at the rim. It's a balance that makes him a tough cover. Evan Gordon had perhaps his finest game in the cream and crimson, scoring 12 points on a couple nice scores at the cup.
The Seawolves came into the game shooting 42.9 percent from distance, but hit just 20 percent (3-of-15) tonight. They'd also been turning the ball over at just a 13.6 percent clip, but the Hoosiers turned them over on 17.5 percent of their possessions tonight.
Indiana will head to New York for games against Washington and either UConn or Boston College at the end of the week, and the Syracuse ACC-Big Ten Challenge game looms not long after. Tougher tests to be sure, but so far so good for a young squad that continues to improve.
Filed to: Noah Vonleh, Stony Brook Seawolves, Yogi Ferrell