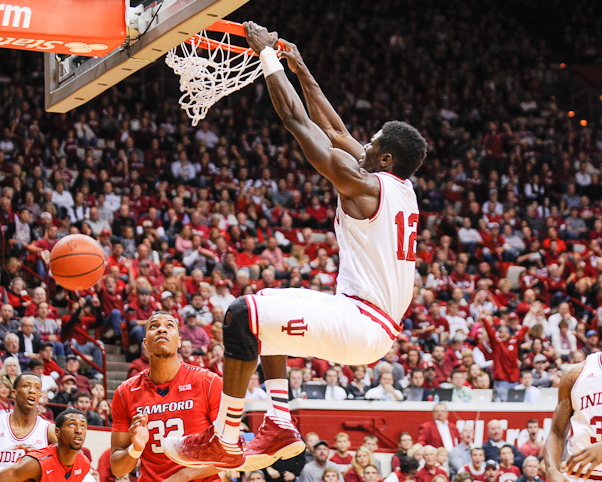 Thoughts on a 105-59 win over Samford:
The Hoosiers were on point from the get-go tonight.
They established Noah Vonleh early and played downhill for pretty much the whole first half. Eight blocks — including three from freshman Luke Fischer, who had his best game so far this season — led to several quick scores on the other end. They kept coming and coming and Samford simply had no answers. Hanner Mosquera-Perea threw a couple down with serious authority. Troy Williams had a tip-in slam and some other nice scores at the cup. Yogi Ferrell threw a few impressive passes to his teammates and finished the half with five assists.
Collin Hartman even got in on the action, faking a 3-pointer, pulling up inside the arc and hitting. He would dive on the floor for a loose ball not much long after, much to the delight of coach Tom Crean and IU fans. The Hoosiers' defense was strong and limited opportunities.The only way the Bulldogs were able to slow them down was to foul. By half, IU was 16-of-21 from the line and up 54-25.
The second half brought similar returns.
Instead of blocks being the catalyst for the break, it was steals (10 steals and 10 blocks in total tonight for IU). And Ferrell really began to shine, hitting 3-pointer after 3-pointer (5-of-7 for the contest). He would end the game with a career-high 26 points. Ferrell's ability to hit the 3-ball, drive to the rim for scores and find his teammates all over the halfcourt tonight (six assists) made him that complete point guard he's working so hard to be. Vonleh posted another double double (13 points, 10 rebounds) and became the first Hoosier freshman ever to start his career with three straight double-doubles. Williams was close to one of his own (10 points, eight rebounds).
Mosquera-Perea, after his highlight reel dunks in the first half, perhaps saved his best for last. Off an Austin Etherington miss, the sophomore grabbed the ball with his right hand outside the backboard area and ripped it back through the rim for a putback dunk. Shortly after, the Big Ten Network showed Williams' reaction on the bench, a slo-mo cackle at just how filthy a display of athleticism it was. It was the exclamation point on a night where the Hoosiers were simply unstoppable and never took their foot off the gas.
By the time it was all over, the Hoosiers scored 105 points, good for a seriously dominant 1.34 points per possession. There is much for this young squad to feel good about and grow upon after this one. But they can't bask in tonight's glory all weekend. Stony Brook comes to Assembly Hall on Sunday. KenPom ranks the squad 76th in the country, and the Seawolves are sure to present a tougher challenge than the Bulldogs.
Filed to: Samford Bulldogs