Sheehey's second half effort fuels Indiana victory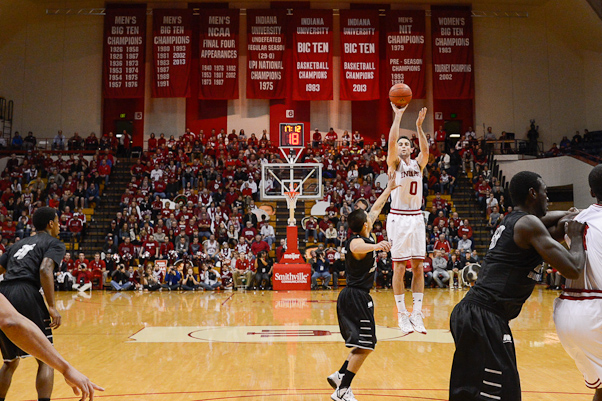 It started with a jump shot and ended with a 3-pointer.
Will Sheehey's second-half performance, a 15-point and 4-assist effort on 6-of-10 shooting, propelled Indiana to its second victory of the season on Tuesday night, a 73-72 win over LIU Brooklyn at Assembly Hall. It came after a first half in which the 6-foot-7 senior went 0-for-8 from the field and 0-for-6 on 3-pointers.
When Indiana needed its senior most, he provided 19 minutes and 45 seconds of action in the second half.
"In the first half, myself, Yogi and a couple of guys weren't letting it happen," Sheehey said. "In the second half, we made plays for each other. And that's why we won."
The jump shot was Sheehey's first. After Sheehey's 0-for-8 first half effort in which his team was down by three points at the break, 2 minutes and 25 seconds into the second half he had the chance to give Indiana its first lead since the 12:46 mark of the opening half. It was a mid-range jump shot from the left side of the court, off a Yogi Ferrell pass. He drained it, and Indiana led, 41-40.
From there, Sheehey would make another three consecutive baskets, including his first 3-pointer of the game and another that gave the Hoosiers a 53-52 lead after trailing 48-43 at one point. By the 2:46 mark of the second half, he was up to 13 total points. Finally, after a first half in which his only points came from free throws, Sheehey had come alive.
"The shots that I took in the second half were a lot more open than the shots in the first half," Sheehey said. "They came off penetration, they came off Yogi two or three times making a fantastic play in the lane and finding me wide open.
"Really, it's just guys making plays for others."
But the 2:46 mark was only the beginning of Sheehey's second-half heroics. Trailing 70-67, freshman Noah Vonleh threw a long pass from the top of the key to Sheehey, who was standing at the right baseline. He took a 3-pointer attempt and drained it. Tie game.
Less than a minute later, with 1:55 left, senior Evan Gordon threw a cross-court pass from the right baseline to the left wing, where once again, Sheehey stood wide open just behind the 3-point line. Without hesitation, the senior jumped and hit the shot. LIU Brooklyn never fully answered, and the Hoosiers won the game.
So, how big of an impact did Sheehey have in the second half? He scored or assisted on 10 of the Hoosiers' 16 baskets in the second half. And on four separate occasions, he either tied the game or gave Indiana the lead, including the lead that the Hoosiers never lost at the end.
"I knew Will would knock those shots at the end," Ferrell said, "Because he does that every day for us."
Crean has high praise for LIU's Jason Brickman
Before Tuesday evening's game, Crean compared LIU Brooklyn guard Jason Brickman to Aaron Craft. Brickman, a senior from San Antonio, led the NCAA last season with 8.5 assists per game and had 14 in the Blackbirds' opening game against Saint Peter's.
Tuesday night, Brickman scored 11 points and had 10 assists, contributing to seven of LIU's 11 baskets in the second half.
"That young man, Brickman, he's just trying to carve you up with making passes," Indiana coach Tom Crean said. "And when we didn't trust what we were supposed to do, we paid.
"Every time we came off and helped because we thought we were going to get beat on penetration, he kicked it for an open three, or he kicked it out to the side or he found a slip guy."
So when LIU was down one point with less than 15 seconds to go, the ball was in Brickman's hands. He missed a layup with 4.8 seconds to go, and after IU's Devin Davis missed a free throw on the ensuing play, Brickman again had the chance to win the game for the Blackbirds. On a floater 3-point attempt over Yogi Ferrell, Brickman's shot fell just short of the basket, brushing the front side of the rim as the buzzer expired.
"He almost got us," Crean said. "He almost got us."
Hoosiers rebound from rough first half
Sheehey wasn't the only Hoosier to struggle from the floor in the first half. In a 28-percent shooting effort (11-for-40), Indiana converted only one 3-point shot out of 16 attempts and trailed at the break, 36-33.
In addition to Sheehey's 0-for-6 effort from beyond the arc, Ferrell went 1-for-5 and Gordon 0-for-4.
The second half, though, was a different story. Indiana shot 6-for-10 from behind the arc and 16-of-31 overall, with the trifecta of Sheehey, Vonleh and freshman Troy Williams shooting a combined 12-for-19. Ferrell, who only shot 2-of-6 overall on the half, actually converted two of his three 3-point attempts.
"It was two different games," Crean said. "What was there for us was not what we needed to take. And that's why early on in the game, we shot so many jump shots than rather really diving into what the game was giving us. And I think that's one of the biggest reasons that we shot the ball so much better as the game went on.
"It's invaluable to have a game where guys can get this kind of experience in their college life this early. And they deserve a ton of credit, because I think we really had to win tonight. I think we won."
Noah Vonleh gets second double double 
Playing in only his second college game, Vonleh once again produced a double double. The 6-foot-10 freshman recorded 17 points and 11 rebounds in the Hoosiers' victory, only days after he scored 11 points and added 14 rebounds in the opening game of his college career against Chicago State.
"I thought tonight was great growth," Crean said. "I thought he was much better tonight than he even was on Friday with understanding what the game was.
"Noah, for a long time, has been the biggest player on the court. Now, he's got to be as athletic and as versatile as any player on the court, and he's learning a lot about that."
Filed to: Noah Vonleh, Tom Crean, Will Sheehey