Indiana sets free throw record in 100-72 win over Chicago State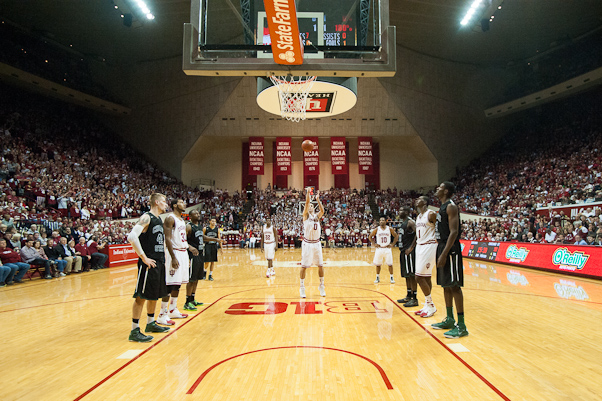 The play sequence that summed up the night: With 43 seconds left in Indiana's 100-72 victory in its season opener against Chicago State, redshirt sophomore Jonny Marlin was fouled. He drained both free throws.
Though the two free throws were unremarkable, the context in which it happened were anything but. Marlin's shots were Indiana's 44th and 45th made free throws on the night, an IU record, in front of an announced 17,472 Friday night at Assembly Hall. It broke a 58-year record of 43 made attempts set against Michigan in 1955 and repeated in 1997 against Ohio State.
"We knew they were going to get up in presses and we prepared for it this week," sophomore Jeremy Hollowell said after the game. "With the new rules, we wanted to take advantage of it and attack the basket and get fouls. I think we did a good job of that."
Only months after the NCAA passed new rules that make hand-checking fouls much more common, Chicago State fell victim in its first game of the season. The Cougars were called for 36 personal fouls, which led to 55 IU free throw attempts. The Hoosiers made 45 of those, an 81.8 percent mark, and set the school record in the first game they could do so.
"With the new rules, like Jeremy said, we just wanted to take advantage of the touch fouls that the ref was going to be calling," freshman Devin Davis said. "We were kind of used to the start-stop because we go over the touch fouls in practice. And every foul, we shoot free throws."
The free throw shooting, though, was just the beginning of Indiana's record-breaking night. The Hoosiers blocked 13 Chicago State shots, the second-most in school history (14 at Penn State in 2000) and most ever against a non-conference opponent. Sophomore Jeremy Hollowell led with four blocks. Davis and fellow freshman Troy Williams each added three.
It's no secret that Indiana is an athletic team, but the fact that the Hoosiers nearly broke the school record for blocks in their first game and were able to get to the line as often as they did? Indiana coach Tom Crean approves.
"You know, for a first game, our guys showed a lot of the upside that's there," Crean said. "A lot of the athleticism. 13 blocks was phenomenal. The free throw record, that was amazing when you really think about how long the Indiana basketball program has historically been known for not only free throw shooting, but the free throw attempts and making more free throws than their opponents attempt.
"It's a big deal for us to get to the line."
Vonleh gets double double in debut
As Noah Vonleh entered the Assembly Hall media room after IU's victory, the 6-foot-10 freshman couldn't wipe a smile off his face.
Playing in his first regular season game as a Hoosier, Vonleh played roles from taking the opening tip to bringing the ball upcourt and recorded a double double in his debut, posting a total of 11 points and 14 rebounds.
"Coach Crean, he wants me to be real versatile in our offense," Vonleh said. "So he said whoever gets the ball, just push it up the court. We're just going to keep working hard and getting better, so hopefully I can continue to get more double doubles."
But his double double wasn't the only impressive part of Vonleh's performance. After shooting 0-for-8 from the free throw line in Indiana's two exhibitions, Vonleh went 5-for-5 from the line on Friday night.
All it took, Vonleh said, was for him to calm himself down.
"Just focus on the shot and I'll make it," he said. "Before, I felt like I was just rushing myself."
"I hope Noah Vonleh gets some positive tweets from some of you after a couple of the exhibition games.  And don't be taking any credit for motivating him," Crean added. "He's in the gym.  I mean, he spends more time — just joking — but he spends more time in the gym right now working on his free throws, and it was great to see him rewarded for that."
Hollowell's big night
Starting in his first regular season game as an Indiana Hoosier on Friday night as a guard, the 6-foot-8 Hollowell said he felt "real comfortable" on the court.
The result? Hollowell had a career-high 16 points, four blocks (also a career high) and four rebounds.
"I think he's one of the most complete players on this team because he's so versatile," Chicago State coach Tracy Dildy said after the game. "His skill level at his height is major. He's going to play for a lot of money when coach Crean gets through with him at Indiana."
Hollowell's success came from both ends of the floor Friday night. Taking Crean's "defense creates offense" statement to heart, his four blocks helped Indiana to its first 100-point effort of the season.
"He's got a chance to be a very central figure on this team on both ends of the floor," Crean said.
The one block Hollowell remembers most? In the second half, as Chicago State's Nate Duhon led a fastbreak against Yogi Ferrell, Hollowell soared in and swatted Duhon's right-handed layup attempt out of bounds. Other than that, though, Hollowell didn't remember much from the night.
"I don't even really remember any of my other blocks, to tell you the truth," he said. "But I guess I had four, so I'll take it."
Other notes
·  Indiana's record-setting night did not come without its flaws. The Hoosiers turned the ball over 19 times, which would have tied for its worst performance in all of its 2012-2013 season. Indiana also shot 1-of-8 on 3-pointers. The fewest makes the Hoosiers had all of last season? Two.
·  Put simply, Chicago State struggled Friday night. The Cougars shot 21-for-81 overall and were outrebounded 62-36 against an Indiana team that had eight freshmen make their debuts. Chicago State also shot 8-for-36 from beyond the arc, with junior Clarke Rosenberg providing seven of those eight makes. "(Thursday) we had guys at practice taking pictures here, so we knew it was going to be tough," Dildy said after the game.
· Indiana had six players i n double figure scoring, with senior Will Sheehey, Williams, Ferrell and Davis joining Hollowell and Vonleh with at least 10 points. Williams was second in scoring with 13 points, himself, and Ferrell and Vonleh followed with 11.
Filed to: Chicago State Cougars, Jeremy Hollowell, Noah Vonleh