Five takeaways from Indiana's win over Chicago State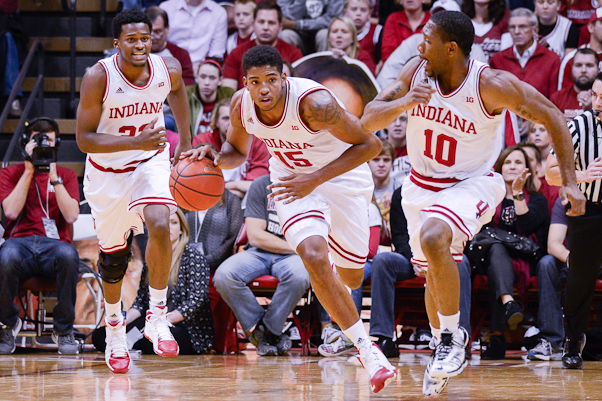 In its 2013-2014 season opener on Friday night in Assembly Hall in front of an announced sellout crowd, Indiana crushed Chicago State, 100-72.
Here's a look at five takeaways from Indiana's first win:
· The kids can play: It would be unwise to draw conclusions from a guarantee game in early November, but now that we've had a chance to see a healthy sample of IU's freshman class, it is fair to say that Tom Crean assembled a well-rounded group. Without going in-depth on any specific player, this class brings athleticism, length and an urgency to attack. There will be plenty of bumps in the road for this group as it learns to play against more disciplined opponents that don't commit fouls at such an alarming rate, but there's no denying that this class has the talent to eventually mold into something special.
· Vonleh establishes himself early: Noah Vonleh didn't waste any time inserting himself into the fray in his debut. The freshman from Haverhill (Mass.) scored Indiana's first five points, including a layup in which he was fouled and also hit the free throw. In total, Vonleh's line was impressive: 11 points, 14 rebounds, three blocks, two turnovers and an assist in 22 minutes. He also hit all five of his free throw attempts after going 0-for-8 in the preseason. Vonleh is currently Indiana's best option to start at the five and putting him there gives the Hoosiers a starting unit that features five guys who can handle the ball. The soft spoken, humble freshman offered this assessment of his night: "I'm going to keep working hard and getting better and hopefully I can keep getting double doubles."
· Indiana is still learning to use its length despite blocking 13 shots: The Hoosiers nearly tied a school record for blocks in a game last night and this group is still in the infancy stages of learning how to use length to its advantage. Many of the blocks came off of pure ability and had nothing to do with IU's positioning, which speaks to how long this group is and also how much room for improvement remains. Crean was encouraged with his young team's progress from the exhibitions to the opener, but knows there's far more he can get out of this group defensively. "I think it's certainly got the capabilities (of blocking a lot of shots), and I don't think we're even challenged," he said. "I'm more concerned about the shot challenges especially on the perimeter, I should say. But I thought from game one to game two in the exhibition season, we really did a better job with our length. Not just because the deflections are up, but I thought we played longer."
· Depth could turn into one of this team's primary strengths: As Crean has noted for several years, depth isn't defined by how many guys see the floor. It's defined by being able to go to your bench without a significant drop off. Last season, Indiana didn't have that luxury as guys like Derek Elston, Maurice Creek and Remy Abell were too inconsistent. How deep these Hoosiers will go once into the bench once the meat of the schedule arrives remains to be seen, but there are nine or ten guys who are in the early mix for rotation minutes. The most impressive bench cog last night was Devin Davis, who scored 10 points and grabbed nine rebounds in his first game.
· 19 turnovers isn't so bad when you consider the pace: IU had 19 turnovers, a figure that stands out when you examine the box score. A traditional box doesn't show possessions though. IU had 86 possessions last night, which is seven more than it had in any non-conference game last season and 12 more than it had in any Big Ten game. That equates to a turnover percentage of 22 (the same figure the Hoosiers had in last year's opener), which isn't awful for a team that is constantly trying to run. Obviously the pace isn't indicative of what's to come the rest of the way as things will most definitely slow down, but in the context of how this game was played, IU wasn't overly careless with the ball.
Filed to: Chicago State Cougars, Devin Davis, Noah Vonleh